Best Supporting Actor Christoph Waltz Press Room Quotes
Christoph Waltz Talks Dizzying Award Season in Oscar Press Room!
Christoph Waltz took home the best supporting actor Oscar for his work in Inglourious Basterds and, after answering a handful of questions in German, he chatted about the whole experience in the press room. Here's highlights: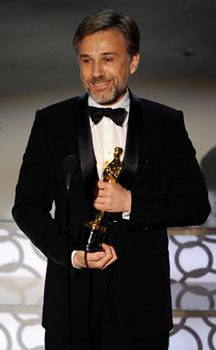 Describing American award season: "Dizzying. It's mind boggling. It's fantastic. It's very intense and it takes a long time. I couldn't have possibly imagined it would be like that. Tomorrow I'll probably be sorry that it's over."
On Quentin: "When you meet someone like Quentin, he brings back a lot of what you initially intended to do [as an actor]."
On seeing the Oscar coming as soon as he read the script: "I saw that [the part] was really good, but this I didn't see coming. I was too busy, there was too much to do. I couldn't think of awards. I would advise every actor not to think of awards before starting a job."