POPSUGAR
/ sponsored by /
Stan
Best TV Reboots to watch on Stan
The Revival Renaissance: Why We're All Obsessed With the Shows of Yesteryear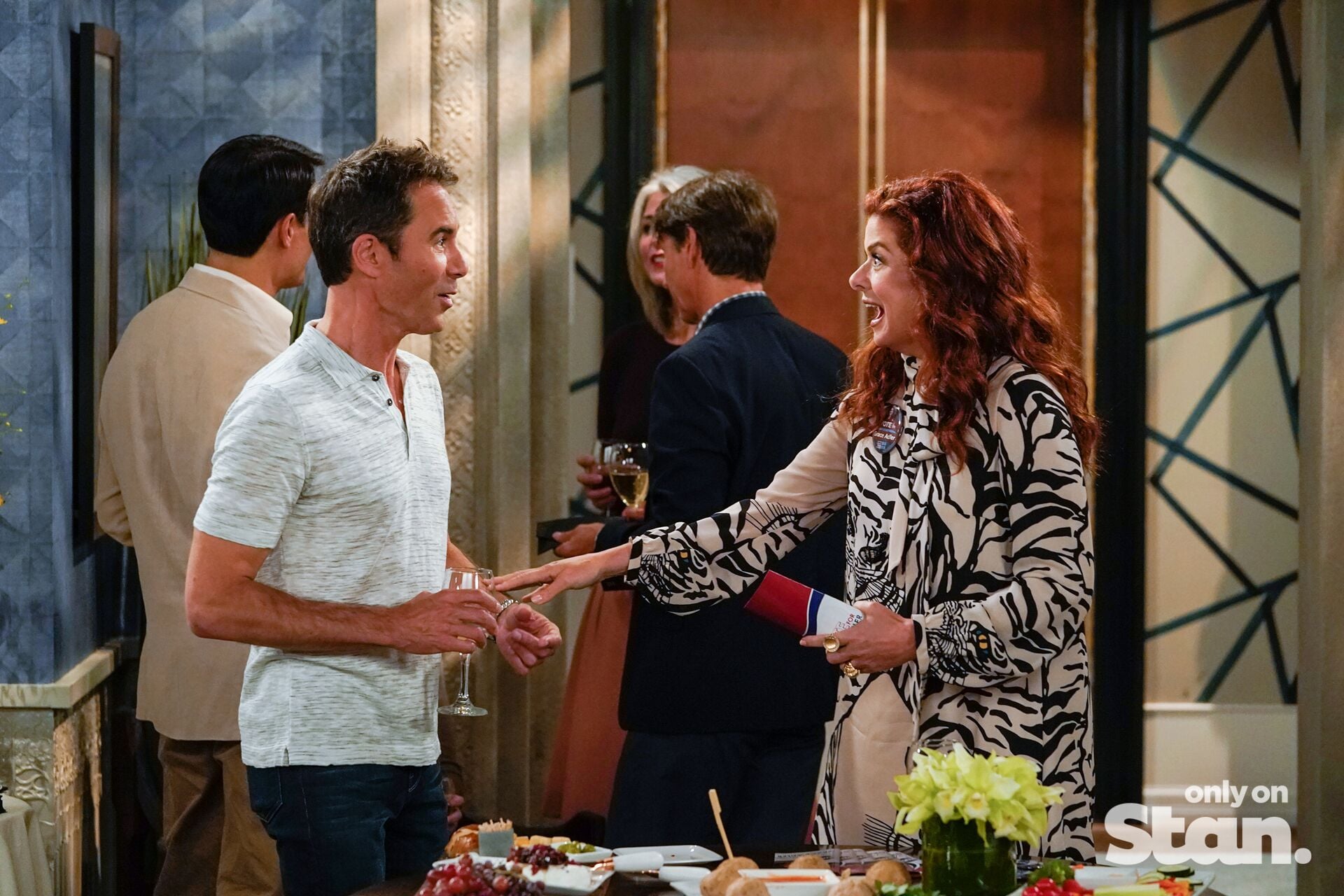 It's pretty safe to say that we are currently living through a revival renaissance. From Gilmore Girls, to Full House, to Prison Break, there have been dozens of TV shows with producers who have thrown their hat in the reboot ring in the hopes of recapturing the magic of its original run. As rapid as the rise in the number of TV reboots has been, what is perhaps less prevalent is the number of shows that have managed to successfully maintain the popularity that made it such a viable candidate for a reboot in the first place.
Two shows that have received acclaim from viewers and audiences alike are the revivals of Will & Grace and Twin Peaks on Stan. Although it may seem like a long bow to draw to connect two shows that on the surface appear to have little in common — one, a light-hearted sitcom and the other, a surreal hybrid of mystery, horror and drama, both shows invoke a very specific feeling of nostalgia that audiences in 2018 desire.
The ending to the original series run of Will & Grace was a melancholy although realistic depiction of the effects of time — Will and Grace had both moved on from their friendship and developed their own separate family lives. However, perhaps due to a sense of the urgency from audiences to be transported to an arguably simpler time, the reboot instead scraps the original ending, picks up as if none if it happened, and puts it all down to a strange dream of Grace's. The audience can indulge in the fact that although the pop culture references have changed, the characters haven't, and it's a comforting feeling. Similarly, as trippy as Twin Peaks is, both in the original and the revival, it exists in its own unique genre entirely separate from any tangible, real life politics or events.

In contrast, even before it was cancelled due to the backlash from racist comments made by its star Roseanne Barr, the reboot of Roseanne copped critique for its titular characters' vehement support of President Donald Trump, as well as her open wariness of her Muslim neighbours. Long gone was the Roseanne of yesteryear that struck a chord with audiences for its relatable depiction of middle-class suburban family life, instead replaced with a politically-charged show that failed to connect in a time of division and tension both in the US and across the world. Similarly, the TV reboot of the cult-classic movie Heathers was removed from American screens indefinitely due to its focus on gun violence, although Stan has since picked the show up in the hopes the issue of gun control will hit less close to home for an Australian audience.
From the reaction to Roseanne along with several other reboots, or even proposed reboots (a planned reboot of Buffy the Vampire Slayer has drawn backlash for its intention to replace the entire original cast), it can be deduced that audiences are craving familiarity in a time of vast societal and political change across the globe. Hence, the revivals of both Will & Grace and Twin Peaks have fared much better. Whether it's escapism or just pure entertainment, it's worked.
Now, one can't help but almost expect for other hit shows of decades gone by to follow suit. Would a show such as Friends, bounded so greatly but its depiction of happy-go-lucky, 20-something life, work if it were to depict its characters as aging, responsibility-burdened well, friends? Guess we'll just have to wait to tune in and see if it ever gets the green light!
Image Source: Stan