Beyoncé With Jay Z, In Cow & Pizza Prints After Going Vegan
Beyoncé Wears What She Can't Eat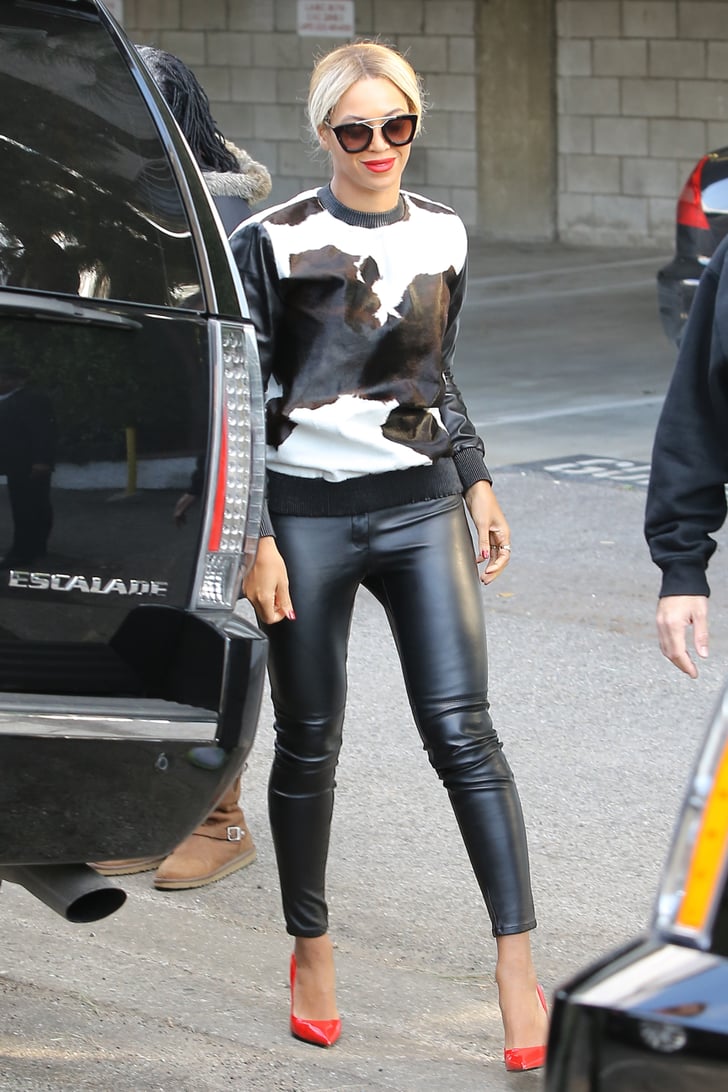 Apparently Beyoncé Knowles's 22-day vegan challenge doesn't extend to her wardrobe! The singer was spotted wearing a cow-print shirt while leaving Crossroads in LA on Saturday with Jay Z, who announced the couple's vegan plans on his site earlier this week. "Why now?" he wrote. "There's something spiritual to me about it being my 44th birthday and the serendipity behind the number of days in this challenge: 22 (2+2=4), coupled with the fact that the challenge ends on Christmas Day. It just feels right!"
Since starting the challenge, Beyoncé has taken to Instagram to post pictures of her vegan meals, while her fashion choices sing a different tune. Saturday's cow print wasn't her first food-related look — she was also seen wearing a head-to-toe pizza outfit to Cafe Gratitude on Thursday, plus a fox fur coat and leather pants on Friday. Maybe she's already missing the meat and cheese?
The couple's diet challenge comes at a busy time for both singers. The night before Jay Z's birthday, Beyoncé took the stage in LA for a star-studded concert. We spotted several celebrities at her Staples Center tour stop, including Kate Mara and Zoe Saldana. During the show, the singer paid tribute to another star, saying, "I dedicate this song to Paul Walker," before performing "I Will Always Love You."