Big Brother 2014 Eviction Interview With David Hodis
David Says Priya Wanted the Big Brother Final to Be Between the Two of Them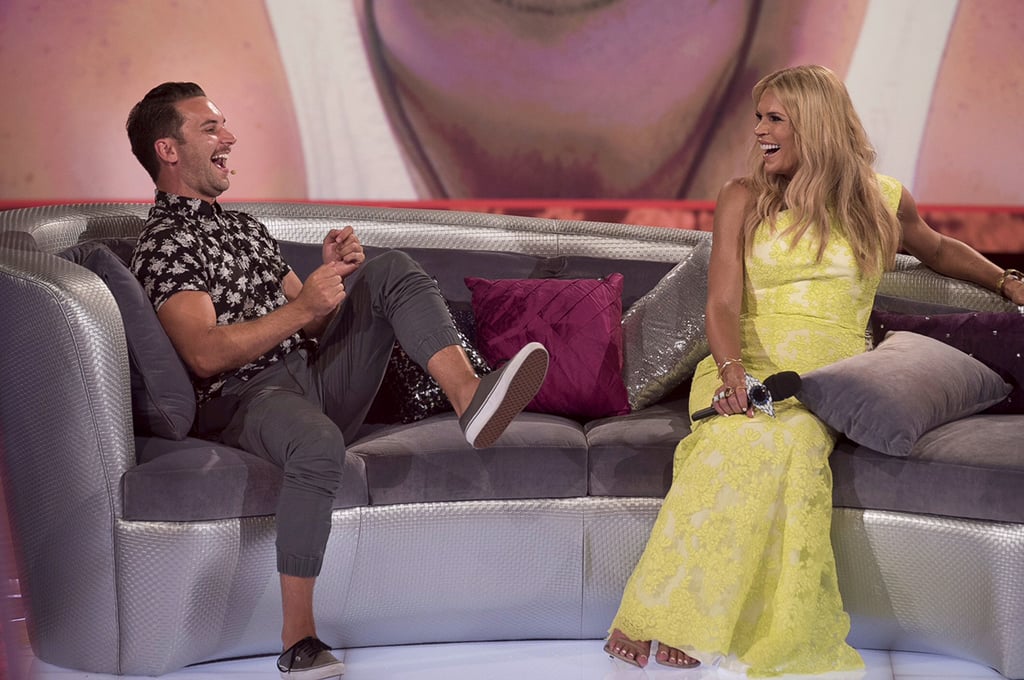 David Hodis, the latest housemate to be evicted from Big Brother, never made it a secret that he was playing the game. Nicknamed "Strategy Dave," the radiographer from Sydney made reality TV headlines for clashing with Priya in the house, and when host Sonia Kruger called his name viewers were shocked to see his in-house rival shed tears, with some speculating they were tears of happiness or relief. Not so, said David when POPSUGAR Australia chatted to him this afternoon — he believes she realised her own game-playing ways weren't exactly working out the way she'd planned. We also chatted to David about his love life, whether he'll grow his beard back, and what his final thoughts on the top six — Ryan, Skye, Travis, Priya, Lina and Penny — are. Keep reading!
POPSUGAR Australia: How have your first 24 hours out of the house been? It hasn't even been 24 hours.
David: Not even 24 hours! It's unbelievable, it's an absolute whirlwind. It's been non-stop, I've had no sleep, it's been interview after interview, it's been a little appearance at Dreamworld with Leo, meeting some, I guess, fans — it sounds weird to say that. Everyone's just been lovely, and I've just loved having the chance to take photos with them, say hi to them, even just bump into some people who were lucky enough to celebrate their birthday today, and I got to wish them a happy birthday. It's been amazing.
PS: What's been the biggest shock coming out of the house?
David: When we were at Dreamworld, just having people say, "Hey, that's David." Just people knowing me, that was weird. And then I turned around and one of the episodes was playing on the gift shop TV, and I was standing with Leo, and then I'm looking up at the TV and Leo and I are talking on the TV. It was just surreal and bizarre, and I guess it's going to take a little bit of getting used to, but I'm thoroughly enjoying it.
PS: What did you think of Priya's reaction to your eviction last night? There were tears, no one knows if they were tears or happiness, or sadness . . .
David: It's odd. She's an emotional girl, we know that. Were they tears of joy? I don't think so. I think Priya was playing our situation up — she thinks that was going to get us both through to the final. She had openly said she would love for me and her to be in the final together, because she reckons it would be the most dramatic. Maybe it might have been a little bit of realisation that it didn't work, and I'm gone, and she could very well be next!
PS: What have you learned about yourself as a person by being forced to live with people you've said you normally wouldn't associate with?
David: Not that I wouldn't associate with, but that I don't have in my circle of friends outside. I'd still associate with them! [Laughs] For me, it's just to accept people for who they are, appreciate they are to their faults, and recognise that I have my own faults, and if issues happen, it's OK to have disagreements, but it's even better if you can wipe the slate clean, agree to disagree, move on with it and not rehash it for 10 weeks.
PS: A lot of the time questions can be hypothetical, because it's hard to know how things would have been in the real world, but do you think things would have been different, if you weren't forced to be around each other all the time? And will you give it that chance?
David: Massively. For me, in the house when something happened, you had nowhere to go; you couldn't run down to your best mate's house and have a beer and talk about it, and debrief, and get it off your chest. You were just forced to see them constantly, and if they irritated you, there was nowhere to run. It just kept going around in circles. It would be massively different in the real world; you'd just walk away from it and be done and dusted in five minutes. But still, despite it being not the real world, it still was a real situation we were in. You just had to take it for what it was. There's definitely life lessons to be learned from the last 11 weeks. I'm looking forward to implementing them in my outside life.
PS: Do you think Big Brother housemates have a responsibility to be entertaining?
David: I think they have a responsibility to be themselves — if that's entertaining, then that's great. If that's strategic . . . As long as you stay true to yourself, and you are who you are for the entire way, then the entertainment will come.
PS: What have you got to say about what's going on between Ryan and Skye since Leo left?
David: You mean Leo and Skye?
PS: No, about how Ryan and Skye were flirting after Leo left.
David: Oh, I've got no idea, I didn't see it at all. Ryan's a playful guy and he stirs her — there's absolutely nothing going on there, not at all. Skye is not Ryan's type, and I don't think Ryan is Skye's type, so there's nothing going on there. I think that's just a little bit of fabrication trying to be laid somewhere along the lines by some people. Ryan and I spoke openly to one another, and he never once said, "I'm digging on Skye." For me, that's simply a laughable matter.
PS: As a Big Brother fan, which housemates from previous series have been the best game players, in your eyes?
David: Without a doubt, Tim [Dormer] from last year, he was in a league of his own. He was fantastic, and I had a good chat with him today; we had a good debrief. He reckons I was right on track, but might've just lost control of the ship in the last few weeks because I needed to pull it back, and not be so real, but you know, I can't do that, that's who I am, so I'm happy that I've stayed true to myself. And I've always thought Michael, maybe from the year before, I thought Michael was so entertaining, and I thought he was well and truly on track to win that game. I loved the way he played it, he was entertaining, he was funny, and maybe I took a leaf out of his book, because I think he just slipped up a little bit at the end when he hooked up with, I think it was Estelle? That might have cost him the victory. So for me, they're two of the big ones.
PS: Do you think you'll be able to watch it in the same way again, as someone who's experienced it?
David: Definitely I'll have empathy for the people in there. I'll be watching again, and I'll be loving every bit of it, I'm sure.
PS: Would you say you're picky when it comes to women and relationships?
David: Yeah, look I probably am. I just . . . Yeah look, there's probably nowhere else to go with that, probably I am picky, and maybe that's something I'm realising in life. I don't think there's anything too wrong with being picky; I know I'm not perfect, and I'm certainly no oil painting, but yeah, I just haven't found the right one yet. She's out there somewhere, and hopefully Mrs. Strategy will come walking into my life sometime soon!
PS: How will you feel if an intruder wins?
David: I wouldn't mind at all, as long as it's Penny [laughs].
PS: Will you grow your beard back?
David: No, no, it's done for now. It's coming into Summer, it's too hot for a beard, and the beard was only a part of that game for two weeks. The clean face was nine weeks, and that's what got me where I am, or partially got me where I am, so I'm going to keep that trend with the clean face.
PS: How long did you have the beard for before going on the show?
David: Nine months. That was pretty well-groomed and was trimmed back quite a bit, otherwise it would have been a big mess.
PS: What did you want to get out of the experience, and did you get it?
David: I've got to find that out in the weeks to come, because what I came in this house for was to spice up my life. And I wanted long-term friends for life. Looking at who I'm hanging out with right now, and that's Leo, and people like Rysy and Travie, I think I have got mates who I will definitely be catching up with for years to come, and I want to say for life.
PS: What outside-world news surprised you most when you came out of the house? Have you even had a chance to catch up?
David: Honestly, I haven't. I know the Socceroos losing 2-1 to Japan last night. The iPhone 6 has sort of blown my mind a little bit. I really don't know anything that much, it's just been a whirlwind, and I haven't even had a chance to grab a paper. Someone told me this morning that Pauline Hanson was Prime Minister — I don't think that's true, but I'm gonna say it's not.
PS: Everyone has brought up the iPhone 6 as the first thing, I guess because you've probably seen a few.
David: Yeah, people have been taking photos [on them], and it's like, 'Ooh, I wanna get my hands on that shiny little toy.' Any Apple stores out there, please let me know!
PS: Are you able to quickly sum up your final thoughts on each of the top six?
David: Ryan is well-deserved to be there, and he'll be there until the very last day. He will be one of two, definitely; he's the most genuine guy in that house. He is just an all-round legend, he comes from a really good family and that shows in the character he is in the game. Skye is, for me, completely immature, but she has got goodness in her heart and I've seen it. I always used to say it was 98 percent and two percent; in the last four days in the game, for me, were the best four days of my time with Skye, so she's now creeped up to 90-10 as a good person. She is very strategic and she has a great game play, so I think it will be a two-horse race between her and Rysy. Travie, he's the dark horse, he's making a late run and coming into the last furlong, and just gonna come in short; I think he'll come in third. But he's such a legend, and he's so invested in the game, so anything he gets out of this game he deserves 100 percent. Priya is the lame horse — she shot herself in the foot and she's gonna pull up very shortly. Can you tell I'm a bit of a gambler and don't mind the horses? Penny, she's the sprinter — she is definitely a shot. She's got places to go after this when this game finishes. She won't win it, but that's solely because she didn't come in the beginning. If she did, she would most definitely be in the last three. Lina, for me, is lucky to have escaped through; she is pretty much brown bread, and offered me nothing in the game, really. That's the truth! That's Honesty Dave talking right there.
PS: What do you want to do now? What are your immediate plans?
David: My immediate plans, I'm about to fly to Sydney, so I'm going to catch up with a few friends and go for dinner tonight. Then I need some sleep. Then I'm going to take each day as it comes. I don't know what this situation is going to offer me; I don't know if it's going to offer me anything at all. In a few weeks' time I could be back at the hospital as a radiographer, and if that's what happens, that's what happens. But if someone out there sees something in me that they think they can utilise a skill in, then I'm there to listen to offers. We'll see what happens.