Big Brother 2014 Eviction Interview With Lawson Reeves
Big Brother's Lawson on the Cheating Scandal and Starting a New Life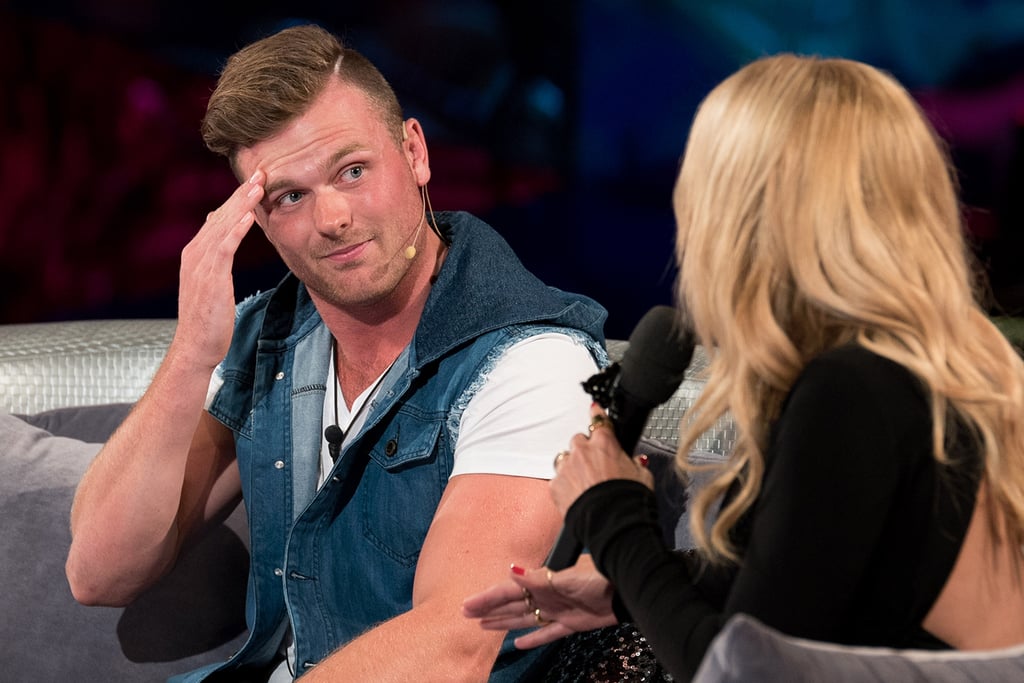 Even if you don't watch Big Brother religiously, there's a good chance you've heard of the cheating scandal on this year's series involving Lawson Reeves and Cat Law. Lawson and Cat have been dubbed the show's most controversial couple of 2014 because Lawson, a 23-year-old electrical apprentice with a love of magic, was still in a relationship with his girlfriend of five years, Candice Leeder, when he entered the house. But that didn't stop him and Cat, a 31-year-old divorced midwife, from getting into a relationship of their own, which divided their fellow housemates and caused him to feel guilt over what he'd done to Candice on the outside. Lawson was evicted from the show on Monday night when all of the original housemates were put up for eviction — the four intruders were exempt — and was hit with some tough questions from host Sonia Kruger on his actions and the state of his relationships.
After getting no sleep throughout the night, Lawson continued his interviews this morning, and spoke to POPSUGAR Australia not only about the scandal that's become the biggest talking point of Big Brother so far, but about his whole experience of the show and what he plans to do next.
POPSUGAR Australia: You handled yourself quite well on the eviction stage. How did you prepare for that chat with Sonia?
Lawson Reeves: To be honest, I didn't prepare at all. I had no idea what she was going to ask, and all I thought was that I've just gotta be completely honest, and upfront, and tell it exactly how it is. I'd already done that in the house, there's no point being defensive or going on the attack, so I just stayed with being as honest as I was in the house.
PS: What was it like watching footage of yourself for the first time?
Lawson: It was pretty difficult. A lot of the things I saw were emotions that I'm still dealing with, and things that I still feel. Seeing them brought those emotions back and made me feel those things again, so I sort of had to fight back the tears.
PS: What has it been like even having to relive the whole thing, and keep talking about it, in interviews like these?
Lawson: I knew I was going to have to, and I knew that I've made my own bed, and I'm gonna have to sleep in it. The only thing to do now is to take responsibility for my actions, and just cop it on the chin. I came to that realisation in the house that I haven't made my family, the other person's family involved, or my mum proud, by the actions that I took, but the only thing to do now to make my mum and family proud is to accept responsibility for my actions.
PS: In your morning interviews you said you hadn't been able to reach Candice. Is that still the case?
Lawson: That is still the case. I don't think she's gonna wanna speak to me, and that is very understandable. She may never want to speak to me, and that is also understandable. When and if she is ready, then I will be there to have that conversation, and it's gonna be a tough one.
PS: What were things like between you and Candice just before you entered the house? You've alluded that things weren't great at that point.
Lawson: Yeah, so relationships have ups and downs, and we sort of just ran out of time to figure out where we were going, and what we were doing, and what we wanted to do, so we just decided to figure all of those things out once I got out of the house. And this is the way that it's turned out.
PS: Your relationship with Cat took place in a situation totally removed from reality. Did you ever think that it happened because of your circumstances?
Lawson: Good question. It's hard to know because that's the way it did happen, you know? It's the million dollar question: would that have happened on the outside? I just don't know. It has happened that way, and I can't change that now.
PS: I was just reading your Q&A on the Big Brother website, and I thought it was quite interesting that you're quite realistic that relationships that come out of shows like this can be quite short-lived.
Lawson: Yeah, definitely, and I think even just relationships in general can sometimes be short-lived. I think all you can do is give them a crack, and have a shot. If they work, they work, and if they don't, they don't. That's what relationships are like.
PS: You've also said you're not sure whether you love Cat, but you did say you loved her in the house . . .
Lawson: Of course, this is a question I've answered today. So, there was a lot of alcohol involved on that night, and Cat and I have talked about this since. 'Love,' just like the word 'hate,' is a huge word to be thrown around, and we both agree that we just threw it around, and both agree that I don't love her and she doesn't love me. That doesn't mean that our feelings aren't real feelings, it just means we probably used words while intoxicated that he didn't necessarily mean. As you do sometimes, when you are intoxicated.
PS: There were rumours Candice would enter the show as an intruder. How do you think you would have handled that?
Lawson: On coming out I heard those rumours, and I know Candice, and I don't have a bad thing to say about her. And I know she would have never come on the show, from hearing that. So it's hard to answer that question. But I guess, yeah, I would've just had to owned up to it then and there, just like I am now taking responsibility for it.
PS: Now you've been labelled a "love rat" — how does that sit with you?
Lawson: [Laughs] When I first heard that, I had a little bit of a laugh, because they come up with the names, whatever it is. Look, they're just words, and whoever said that . . . I've got quite a tough skin, and everyone has the right to their own opinion, and that's fine. The only people who are gonna affect me are the people who are close to me, and mean something to me, and so far they've all been very supportive of me.
PS: What was the most surprising thing about the whole Big Brother experience?
Lawson: I think it's the realisations you have of yourself. You've got so much downtime, and so much time where you're just chatting about life, and things, and what you think and how you feel, and people telling you exactly what they don't like about you, and what you need to change, and problems you have within yourself. That's not something you get to experience on the outside, so it's a really good life-changing experience.
PS: What did you want to get out of the experience? Did you get it?
Lawson: So more what I wanted to get was after I came off the show, I see it as a foot in the door, and I've wanted to follow a career in acting ever since I was in Year One, and I studied performing arts at uni. So that's sort of where I want to go, or maybe even something in radio, or perhaps even chase my magic, pursue that a little further. But definitely the acting career, that would be the ultimate job.
PS: What outside-world news surprised you most when you came out of the house? Have people bombarded you with an update of the last few months?
Lawson: Not really! I've only been out for such a short period of time, and I literally have just been whisked to my hotel room, and then whisked in to do all these interviews. I haven't really had a chance for anyone to tell me any huge news. I've seen an iPhone 6! That's actually probably the biggest thing that I could say at the moment. I really haven't been told any news.
PS: It's funny, I think a lot of other housemates have said that too!
Lawson: Yeah, it's a bit materialistic, isn't it? There's bigger things going on in the world.
PS: And here's the first thing, the iPhone 6. And iPhone 6 Plus!
Lawson: Oh, is there two? There's an iPhone 6 Plus? There you go, I've learnt something new.
PS: Can you sum up your whole Big Brother experience?
Lawson: Yeah, I think the whole experience is just surreal. You just can't expect anything that's going to happen in there, and if there's one thing I learned from Big Brother, it's that Big Brother isn't fair. It's not a fair game, and as soon as you realise that you've got an advantage over everyone else.
PS: Did you realise that in the house?
Lawson: Yeah, only because Big Brother told me a million times! [Laughs]
PS: Who would you like to win? Or is that kind of obvious.
Lawson: Obviously I would be happy to see Cat win, but if I was to say who I thought was going to win, it would definitely be Ryan. He is a cool cucumber. He is really starting to come out of his shell, and he's got more enthusiasm, and he's coming up with more jokes, and he's got more energy. It's just taken him a long time, and I think the Australian public is really about to go crazy for him. And he's a handsome devil, too!
PS: What are your immediate plans?
Lawson: Great question, I haven't even thought that far ahead. Once I've finished all my obligations here I need to go back to Perth. Obviously then I need to come back for the finale and everything, but I would like to pack up and leave as soon as possible, and start a new life.
PS: You just really want to get out of Perth, or you just want something new?
Lawson: Perth is a very small city, so it would be nice to get out of Perth, and just start afresh, and a new sort of life.