Big Brother Eviction Interview With Paralympian Sam Bramham
Big Brother's Sam on Lawson: "All You Can Do Is Feel Bad For the Girl on the Outside"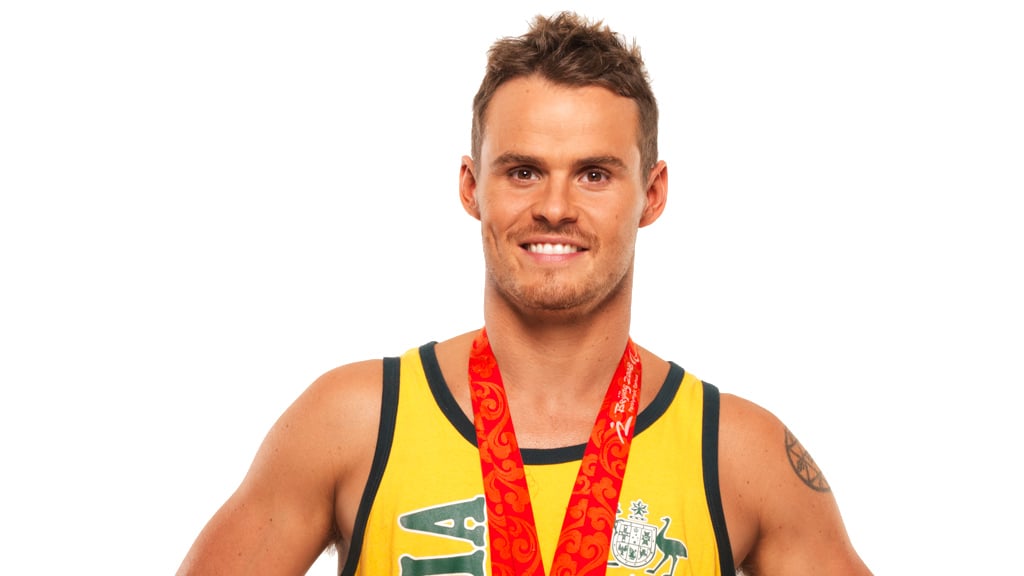 We were genuinely sad to see Sam Bramham leave the Big Brother house on Tuesday night — the 26-year-old Paralympian was one of this year's nicest players. Nice as he may be, he's also brutally honest, which made for an excellent chat when we interviewed him yesterday. Sam was close mates with Lawson in the house — Lawson who is currently flirting up a storm with fellow housemate Cat — but he didn't hold back in expressing his surprise about just how far things have gone between the pair. We also asked Sam, who's super chilled out and down-to-earth, about his close relationship with fellow housemate Sandra Nixon (which they thankfully kept platonic), what Big Brother's like when he's at home and what his plans are for the next Paralympics. Keep reading!
POPSUGAR Australia: Sorry to see you go last night!
Sam: Oh, that's OK! My time was up.
PS: How are you feeling about it all now?
Sam: I'm still trying to catch up with everything!
PS: Were you surprised to hear your name being called?
Sam: Umm, yes and no. It's just so unpredictable and you have no idea what's going to happen next.
PS: I think it might've been a case of the public expecting you to be safe and not picking up the phones. Do you get that sentiment, and does it make things better or worse?
Sam: It's all stuff I'm just trying to catch up on now, when you're in there you just can't tell. People have their own predictions, I did. The ones who you want to go, the ones who you didn't want to go . . . You never knew what was going to happen!
PS: Were you surprised to see that Travis had the most votes to save?
Sam: Nah, not at all. It was quite evident. The amount of nominations the guy had and it was just save, save, save. He's a great guy, I can see why the public loved him.
PS: He comes across well on TV but I assume it's different in there because he looks quite . . . energetic.
Sam: [Laughs] Yeah, it's exhausting sometimes!

PS: What did you do after the show last night?
Sam: I sat down with my mum, had a drink, caught up with what's been going on in the real world. Caught up with Lisa and Jake, it was so good to see them in the real world. It brought a totally different element to the friendship.
PS: Did they seem the same outside the house as they were inside it?
Sam: It was definitely the exact same, it was just different to see them doing things at their own will. Not having Big Brother around to tell them what to do!
PS: You and Sandra were really close. Were you ever uncomfortable knowing how she felt about you, or did you not really know the extent of it?
Sam: I didn't know the real extent until now. Ryan told me once, Katie told me once. She didn't directly tell me. She did a couple of times give hints that there were feelings there, but it was a tough type of line to cross and she'd never do it. I think she just got caught up at the start, you know, everyone was hooking up with everyone. But we quickly formed a platonic relationship that I needed.
PS: The Cat and Lawson situation is worse than you realised, right?
Sam: [Laughs] Much worse. I found out what actually happened in the sanctuary. Definitely much worse than mine and Sandra's relationship.
PS: Were you surprised?
Sam: Uh, yes. I was. Now that I found out what went down in there, I'm definitely surprised. Look, all you can do is feel bad for the girl on the outside whose feelings are obviously hurt. But, you know, it's their relationship and he's going to have to pay the piper for it.  
PS: Housemates Aisha and Jason were in the kitchen recently talking about it and they've placed most of the blame on Cat. Is Lawson feeding it as much as we see or is he resisting her advances more than we see?
Sam: He definitely plays it down in the house.  We all had our own sort of predictions that there were more feelings there, but he never would word that up. But yeah, finding out what actually happened . . . But look, he's a big boy, he's made his own decisions and he's gotta make his own bed. At the end of the day he was the one who was in the relationship.
Ps: Who were your closest mates in the house?
Sam: Ryan, Lawson and Sandra.
PS: Describe the real Ryan.
Sam: Oh man, the guy is as cool as it comes. Johnny Cash reincarnated! He's cool, calm, collected, there're going to be some girls out here who are dying to meet him [laughs]. I can't wait to catch up with him again, we've got some good plans to hang out with each other. I formed a real, legitimate friendship there with him. Lawson's such a weirdo! He's so uncomfortably awkward which I love because it just provides me with a lot of comical situations. That guy — when he opened up about bullying at school and how he didn't fit in, we could see that. The guy wasn't supposed to fit in, as cheesy as it sounds, he was meant to stand out. He's such a showman and he's got some stuff to do when he comes out; he needs to pursue that properly. Our life perspective is different. It's such a weird experience just being next to the guy, he just makes you shiver.
PS: The Travis and Ryan fight — Ryan started it but everyone seemed pissed off with Travis. Why's that?
Sam: There was a bit of a back story to it, Travis was starting to feel left out in the house by a number of housemates and he was definitely getting frustrated by that. He made a stupid comment that Ryan and I sort of followed up on. We definitely baited him but for him to make a remark about [Ryan's] sister like that was pretty bad and not on. Especially to Ryan, he loves his sisters. Yeah, tensions were high. But the commitment from Ryan to hold back, he didn't take a shot, he was like, "Look, I'll speak to you in the morning about it, I just can't be around you now."
PS: What's your best memory from the house, or the best moment?
Sam: Oh, lying in bed, Ryan and I were sharing it — oh, that's come out weird [laughs]. We used to have this thing where we'd play "Dave in real life," and we'd just picture what people would do in real life. He's such a weird little man, he's a little cutie. I'd just imagine everything about him, the Subaru Forrester that he'd drive, that he'd buckle his seatbelt before reversing out of the driveway . . . His nice little carpet across the dashboard to keep it clean [laughs].
PS: What was the hardest or worst day in the house for you?
Sam: I sort of got a complex about it — the hotel task. It was fun and exhausting at the same time. That was probably both my high and low. We wanted to be on the other side laying by the pool. The saddest thing about it was that we couldn't spend the day with Jake and Lisa when they were evicted, that was probably the hardest bit. We just said our goodbyes and I got to see them out of the house, which was cool.
PS: What's Big Brother like when he's at home?
Sam: Ohhh, he's a temperamental thing, Big Brother. You've gotta respect the man, I can't say too much!
PS: Who did you miss the most and what material possession did you find it hardest to be without?
Sam: I definitely missed Michaela, my partner. When you have a relationship with someone, just to have them there next to you to talk to . . . She was definitely the person I missed most. As for material possession, I'm a big collector of Australiana. Signs, and I've got a Valiant Charger, an old car. I just missed driving around in my beast.
PS: I'm glad you didn't say an iPhone!
Sam: [Laughs] Thanks.
PS: Who will win and who do you want to win?
Sam: It's hard to say who I want to win, but who I think will win . . . I think Ryan will win. He's starting to leave a dint so I'm looking forward to seeing what he's going to do next.
PS: What's next for you? You mentioned the Paralympics?
Sam: Yeah, so just knuckling down and training! I've gotta get rid of the beer, start exercising again . . . So it's a mash-up of the three different disciplines, running, cycling and swimming, which is a paratriathlon — and hopefully I'll get into the Australian team and then it's off to Brazil!