Bill Condon Entertainment Weekly Quotes on Kristen Stewart and Robert Pattinson Cheating Scandal
Breaking Dawn Director Speaks Out On Robert and Kristen Scandal: "It's Time to Return Respect"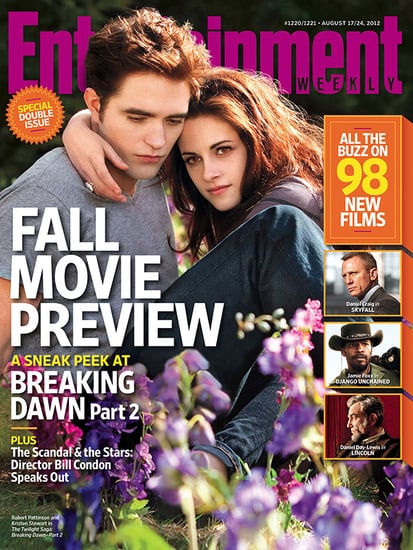 Robert Pattinson and Kristen Stewart, posing as Edward and Bella Cullen in Breaking Dawn Part 2, grace the cover of this week's Entertainment Weekly Fall movie preview cover. Seeing the on and off screen loves in this intimate still may be sad for fans, since we've yet to know the full fall out of the Kristen Stewart cheating pictures scandal that rocked the Twilight world last month. Breaking Dawn's director, Bill Condon, spoke a bit about the aftermath of the incident saying that perhaps it will be good for people to be able to separate Rob and Kristen from their fictional counterparts. Condon said:
"The fact is, these are actors playing parts, and maybe it's not such a bad thing that people be reminded of that. Both of these actors gave heart and soul to the Twilight movies, not only during shooting, but also by navigating so graciously the whole life-in-a-fishbowl aspect of the phenomenon. Above all they have always shown great respect for the fans who made these movies such a success. Now it's time that some of that respect be returned to them."
The magazine also features an interview with Robert and Kristen, which took place before the Rupert Sanders story broke. Summit Entertainment has said that the situation will not effect the Breaking Dawn promotional plans, but before that kicks into full swing we'll be seeing Rob out on his own. Robert will be promoting Cosmopolis in NYC next week and his first post-scandal interview will air on GMA on Aug 15.