Blake Colman Bachelor in Paradise Elimination Interview
Blake Colman Says the Truth About Him Will Come Out, "100 Percent"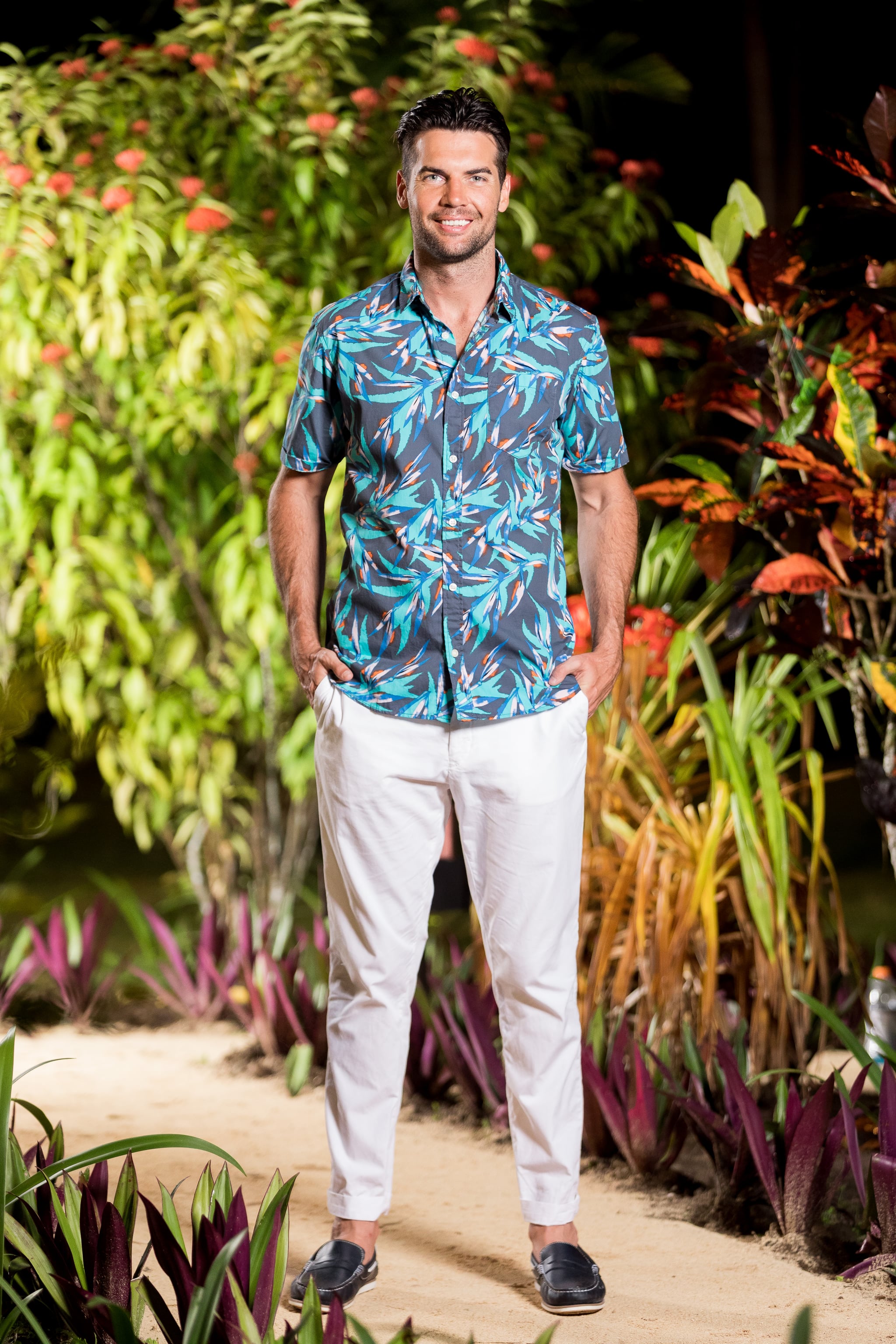 Blake Colman left Bachelor in Paradise this week after a somewhat underwhelming stint on the show — his romance with Laurina Fleure was a bit of a non-starter, and there was no one else he'd formed enough of a connection with to be saved during the rose ceremony.
Perhaps, though, it's for the best that Blake's time on BIP was a little quiet. After a headline-grabbing few months on The Bachelorette last year we get the feeling that Blake, who pleaded guilty to assaulting a man in 2015, would have welcomed the change of pace. While much has been made of Blake's bad behaviour, and rightly so, there's no doubt he's now trying to restore his image in the public eye. He's tamed down his behaviour on TV, he's the ambassador for male suicide-prevention organisation Happiness Co., and he recently spoke candidly about his own battle with depression, in the hope of encouraging others to seek help.
When we spoke to Blake after his elimination, he was in high spirits and excited about his mission to do good — but he did assure us that we are all yet to hear the full story about him . . . So is he a changed man? Time will tell.
PS: How have you felt about the Bachelor in Paradise experience now that it's on TV?

Blake: I think it's way more realistic than The Bachelor and Bachelorette, because you get to hang out with each other. I think the editing is pretty damn good on it. I mean some things are left out, which sucks, but overall . . . here's a message for everyone in Australia. Try to get on Bachelor or Bachelorette, knowing that you then have a second chance to find someone on Bachelor in Paradise. It's way more fun.
PS: Really?

Blake: One hundred percent of the time. Look, you've got a bunch of babes that are sleeping 10 metres away from you, the cameras basically follow you around, you hang out with everyone, you can actually build connections. It's like a holiday romance. It's amazing.
PS: I always wonder when people get eliminated how sad they are that they have to leave this tropical island — it's actually like paradise.

Blake: It sucks!
PS: Were you devo?

Blake: I was. I was really upset.
PS: Oh, really?

Blake: Yeah cause I really felt — again, they don't show this — but me and Meg [Megan Marx] got really close . . . Yeah, like really, really close. And then she had to make a decision between me and Jake. And I understand, Jake's my boy. I love Jake, I love everyone on the island. When I left I had really strong feelings for her. But overall it was a great experience.
PS: OK now with Laurina . . .

Blake: Lenora, you mean.
PS: Yes, Lenora, sorry. That was funny. Was that actually a legit mistake?

Blake: Yeah, so everyone like, "Really, what happened?" I was sick — I was completely sick all day. Heat stroke and everything. And I was in bed and the medics had to come save me. Soo then the cocktail party happened and I dragged myself out of bed and I was trying to keep my stuff together . . . Then rose ceremony happened and I almost passed out. It looked like I might need some water so they stopped filming and I drank water. Next thing, they ask me to go up, I walk up to give Laurina a rose and then I said the wrong name. I'm completely out of it and we all lost it 'cause I didn't even know I had said the wrong name.
PS: Did she say anything to you about it privately?

Blake: She just laughed it off. Everyone knew I was sick. It wasn't a big . . . it was a bit funny because no one's ever done it. It's the most crucial moment. I couldn't have said it during a cocktail party or during the day — no, I had to say it during the rose ceremony.
PS: Also, Laurina is probably the worst person to make that mistake with.

Blake: I know, right?
PS: Did you ever actually have feelings for Laurina or was she just the one person that you clicked with enough to keep each other in?

Blake: I think I was pushing myself into liking her. If you ever chat with Sammy [Cochrane] about this and ask him what was your advice, or how did you see Blake and Laurina, like, what was Blake doing, he's just like, "Look you gave it a shot, you tried something new," because ultimately I don't really go for hell spiritual girls. Just because they're just . . .
PS: It's just not your thing?

Blake: They're different from me. But when in Paradise, you link up with a girl, and she is a good-looking girl. We had some fun and some banter but, yeah, I would say she needs a real deep, spiritual connection and obviously I can't give that to her. Overall, hopefully she finds the one.
PS: How hard was it to keep your eyes from wandering? Was it difficult for you?

Blake: No I mean, when Meg walked in, I thought that she was an absolute babe and when we had chats I thought, "This chick's a legend." But you know when I'm with a girl, then I'm with that girl. And all the other girls, I'm friends with, Ali, Tara, Lisa, Nina — they're more like my mates 'cause my mates were dating them, right? So I thought of them as mates, I didn't really go, "Oh my god!"
PS: When Megan got there did you instantly feel attracted to her, and had you met her before?

Blake: Never met her before, never really even seen her before. But then it was the day after "Lenora" broke it off with me that Meg and I started hanging out all day and yeah it just kind of naturally grew, but again [they didn't really show that]. Yeah, she's an absolute babe.
PS: How hard was it in that moment when she had to pick between you and Jake? Must sting a bit.

Blake: I mean, it's massively hard. I had four guys, I think, talk to her at the cocktail party about me to give me a chance.
PS: Really?

Blake: Yeah, which was very — I mean it was very cool knowing that everyone respects me.
PS: You had a bit of a rough time last year with media after The Bachelorette. How did you cope with that at the time?

Blake: I mean it was hard. It's a funny thing, when the wrong facts — I mean I've been really quiet, OK. I haven't said one thing about any of that stuff. One because they're all wrong facts, two because I'm waiting for more, for anyone else to pipe up and say dumb sh*t. At the end of the day I'll wait 'til everyone is done with that stuff and then I can start saying the right facts. Because I messed up once. I didn't leave the house after Bachelorette. I legit felt like my life was over.
PS: Oh, that makes me sad.

Blake: It's sad, and I mean people will look at it and say [makes mocking noises] and I'm like, "Mate, I legit thought the rest of my life . . . Imagine coming up on a hit TV show thinking that you can use that to do so many great things for other people, and I [ended up] getting death threats and stuff like that.
PS: So it took you by surprise?

Blake: Yeah, it took me by surprise. It was unwarranted, what happened in the past I went through, I already got reprimanded, and then to bring it out in the public eye like that's . . . again with the wrong facts.
PS: So are you saying there will be a time when you come forward with your side of the story?

Blake: A hundred percent and then everyone will see what really happened. And then everyone will be real surprised.
PS: OK, I look forward to that. And are you feeling OK now? Do you feel better this time around?

Blake: Yeah, definitely. When the show airs they try to bring the same reoccurring stuff out again and I'm just like "Nah, whatever." Everyone really knows me now. If you're going to continually — and this is everyone in the world, everyone makes mistakes and things happen — if you're going to continually sit there and bad mouth me or tell me I'm a bad person when all I'm trying to do is good, you're never gonna let that go. It happened years ago.
PS: Would you say that you made a mistake and you're trying to make up for that? You need people to give you a second chance?

Blake: Yeah, there's nothing I can do to change it. What would you rather me do, sit at home and do nothing for the rest of my life, or would you rather me go out there and try to make a difference and save thousands of guys' lives? If you wan to keep bringing me down, go ahead, by all means do it, or you can get behind me, and get behind every guy.
If you need to talk to someone, remember that you are not alone. Call Lifeline on 13 11 14 or BeyondBlue on 1300 22 4636.