Blake Garvey and Louise Pillidge Interview on The Project
Blake Claims Sam Knew About His Feelings For Louise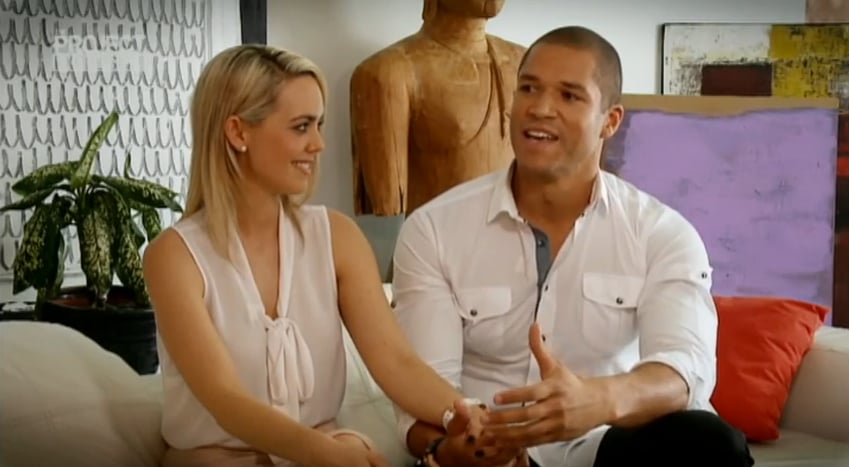 Blake Garvey and Louise Pillidge appeared on The Project on Monday night in an interview with Carrie Bickmore that took place in Thailand, where the couple reunited two Saturdays ago. Carrie was pretty tough on Blake and Louise, and grilled them about things like how Louise could take back a man who had dumped her on TV, how she could believe the things he said, and why they went behind Sam Frost's back. At the end of the interview, there was a twist! The Project showed Blake and Louise's interview to Sam and runner-up Lisa Hyde, who are being given an opportunity to share their side of the story on tonight's episode. Scandal! They are really milking it, but naturally we can't get enough. For now, here are the most important bits from Blake and Louise's chat with Carrie.
On whether Blake would give Carrie the "real story":
Blake: "Uh, I am going to give you as much as I can, I've always tried to, but at least, fortunately this time, I won't be a bit hand-tied."
On Blake not revealing he still had feelings for Louise:
Blake: "I'd been requested by Sam not to mention anything about Louise, and being respectful to Sam's wishes, and also the whole situation, I was doing just that. She knew I had feelings for Louise. [She asked me] just to not mention."
On how Louise took Blake back after he'd dumped her on national TV:
Louise: "He wrote me a very beautiful, very heartfelt letter, explaining why and what happened, and for me, I wouldn't be true to myself if I didn't give this one last try."
On Louise watching the finale knowing how Blake felt:
Louise: "In some way, you know, Blake felt like he was protecting me by sending me home on that episode."
On how Louise can believe what Blake says:
Louise: "I can only ask for honesty, and I can only feel what I feel. It feels right. I can't question, or anything like that, because I need to support Blake. I need to trust in his word."
On why Blake proposed to Sam:
Blake: "You're in an environment where time is never on your side. I wish I could have stretched out those last six days out into 30. I've always said I want to make a lifelong commitment, I'm ready for that — that was there, but for me, it was who."
On why they've gone public with their relationship in such a big way:
Blake: "This is about as well-paced as it's been over the past six months. What was there when the show ended didn't die or go away; if anything, it's grown, so we know that we'd like to move forward, but we can't do that in a normal, quiet way, really, without announcing it first."
On Blake watching his previous interview on The Project, and the reaction to it:
Blake: "It was difficult, especially for me, because I'm just trying to be respectful in that, and I've adhered to Sam's wishes, and I'm trying to be mindful of Lou. There's only so much I can do or say. And when you insert a laugh track, what can I do?" Carrie: "We don't insert a laugh track — that's people's natural reaction to what you had to say. There were people that did think that what you were saying was disingenuous."
On Louise finding out Blake was a stripper:
Louise: "Well that came out six months ago. But, you know, that's his past. And he wasn't a stripper, he wasn't anything like that. At the same time, I can only take Blake on how he treats me, and he's always been respectful, kind and caring towards me. He's been my protector."
On the plan now:
Louise: "Well, I'll be moving to Perth. I want to be with Blake. I know that his business is over there, and I'm happy to make that journey and that commitment to Blake over in Perth."
Blake: "There is a real love story here. There's a beautiful love story here. And I came into this experience looking for love, and I've been so blessed to be able to find that. And I'd like to celebrate that, respectfully. I'd like to move forward with that."
Remember, tonight: Sam and Lisa will reveal their side of the story, with Lisa admitting Blake called her up to ask if she still had feelings for him, and whether she could see a future with him. Watch Blake and Louise's interview on The Project below.