The Block 2017 Finale Recap and Auction Results
The Block 2017 Finale Recap: Who Made the Most Money at Auction?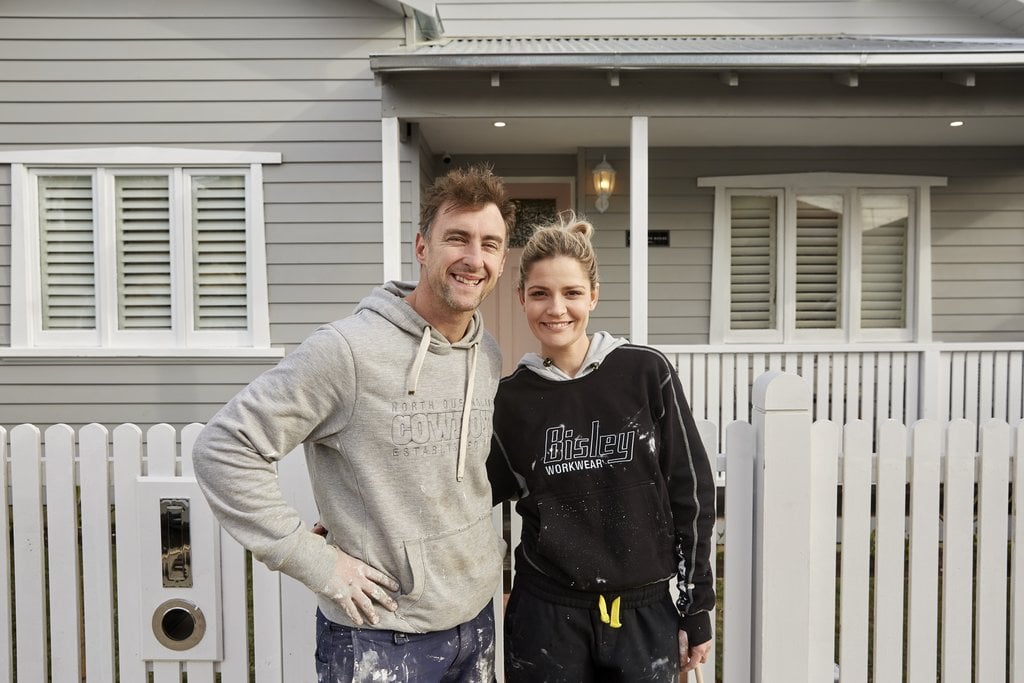 Before we start, you should know that no finale show makes me anxious like The Block finale does. Real people, real blood, sweat and tears, real money, real livelihoods — there's just so much at stake and, as we all know, auctions have a mind of their own. You've been warned if things get tense in our recap below.
7:03 p.m. As usual, we kick off with a great big montage of everything that's happened in the season. We have to say, it's probably been the best Block we've ever seen. Everything looks amazing!
7:05 p.m. I absolutely love this episode — it's always so exciting finding out what reserves (the minimum price a house has to sell for) are set for each home because they're a good indicator of how likely it is that it will sell. Usually, if the reserve is super high, it's less likely to sell.
7:10 p.m. So, the teams are looking at their reserves and everyone is "shocked" by them. And not in a good way. General consensus is that they're higher than they were all expecting — so now everyone is worried they won't sell their places. We aren't shown the reserve prices yet. OoooOoOoOoOooh, suspense.
7:13 p.m. It's time for the teams to decide their auction order. We know this is always a fun because people get tetchy about going first, last, etc. This year, for a change, the experts are offering their advice on where each couple should be placed in the auction, but there aren't any huge surprises. Most in-demand houses go first, when options are still open, least in-demand houses go last, when buyers have to snap up what they can. Elyse and Josh agree to go first, Jason and Sarah second . . . and then Ronnie and Georgia and Sticks and Wombat run into a problem: they both want to go third. Sigh. This bit is never easy!
7:23 p.m. We're at a stand-off right now. Neither Ronnie and Georgia, nor Sticks and Wombat will back down. So . . . it's come to a coin toss. The boys pick tails and win, so they're in third place.
Auction order:
First: Elyse and Josh
Second: Jason and Sarah
Third: Sticks and Wombat
Fourth: Ronnie and Georgia
Fifth: Clint and Hannah
Reserve prices:
Elyse and Josh: $2,620,000
Jason and Sarah: $2,620,000
Sticks and Wombat: $2,520,000
Ronnie and Georgia: $2,620,000
Clint and Hannah: $2,520,000
7:31 p.m. No one's stoked with their reserves but they're all staying hopeful. They're calmer than we would be. that's for sure.
7:39 p.m. It's always so nice to see the teams dressed up after months in workboots and dusty clothes! Josh and Elyse are up first — good luck guys! They've got $30,000 profit within seconds. $180,000 in minutes. Sh*t man, this is moving fast.
7:41 p.m. They're up to $420,000 profit! $430,000. Shout-out to series regular, Frank! Such a reliable guy. And Elyse and Josh's place is sollllld! They sold for $3,067,000, giving them a profit of $447,000. Just for keeps! Hahaha, it turns out Dave Hughes was the buyer. Funny.
7:51 p.m. It's Jason and Sarah's turn at auction and the poor things are so, so nervous. We're praying they make some good money! Their auctioneer is a real showman. Let's hope he's got the goods to get this thing sold! Reminder: their reserve is $2.6 million, same as Elyse and Josh. Within a few seconds, they've got $30,000 profit.
7:55 p.m. They're going so well! They're up to $380,000 profit, and their house has passed the $3 million mark. SOLD! Jason and Sarah's place sold for $3,007,000 so their profit is $387,000 — they're so happy and relieved!
8:04 p.m. It's Sticks and Wombat's turn and they've got a reserve of $2,520,000. It takes, like, two seconds and they're up to $130,000 in profit. YAY.
8:07 p.m. Oh no, things are slowing down and Sticks and Wombat's place isn't moving past $2,650,000. The auctioneer heads upstairs to chat to the guys. The house is on the market, as it's passed its reserve. In the end: their place is sold at $2,650,000, giving the guys $130,000 in profit. It's a bit of a blow but the guys are legends as usual and seem thrilled to have anything at all. Good on them — let's hope any future jobs and endorsements make up for what they might've missed out on, hey.
8:19 p.m. It's time for Ronnie and Georgia's auction and she looks positively SICK with nerves. Their house takes ages to reach reserve. It's not even there yet, a few minutes in — things are FREAKIN' TENSE. Bid, people!!! They're still on $2,600,000. At this point, it'll be passed in (privately negotiated for sale outside of the auction). The auctioneer speaks to Ronnie and Georgia and suggests they continue with the auction. Scotty Cam smartly advises against this — if they do that, and get another $25,000 worth of bids, they then HAVE to sell the property — meaning they could walk away with just $5,000 profit. Ronnie and Georgia agree with Scotty and the auctioneer follows instruction: he passes the property in, to everyone's shock. Bidders in the room freak out at their lost opportunity, and regular bidder Nicole eventually offers them $2,781,000, giving them a profit of $161,000. They make the sale and celebrate — they're happy but not . . . like, very happy. You know? Poor things. Hope they make MILLIONS in after-show work.
8:42 p.m. Okay, it's Hannah and Clint's turn. Let's bloody hope the shock of Ronnie and Georgia's passing in means they have a lot of demand on their hands. Come on, guys! Let's see how our rookie renovators go with this.
8:43 p.m. OH GOD WHAT IS HAPPENING?! Oh, thank goodness, it takes off. Finally. They're on $95,000 profit and it's not moving much further. The property is sold for $2,615,000, leaving Clint and Hannah with $95,000 in profit. They're so happy to walk away with that amount, so we're happy for them!
8:50 p.m. Here's the final result!

1st place: Elyse and Josh, with $447,000 profit and $100,000 in prize money.

2nd place: Jason and Sarah, with $387,000.

3rd place: Ronnie and Georgia, with $161,000.

4th place: Sticks and Wombat, with $130,000.

5th place: Clint and Hannah, with $95,000.
Congratulations to all!