Brad Pitt Releases a Statement Apologising For Jennifer Aniston Quote in Parade Magazine
Brad Pitt Issues an Apology Over Jen Aniston Parade Quote
Brad Pitt released a statement to The Hollywood Reporter clarifying his quote from Parade Magazine that made headlines earlier today. According to the interview, Brad talked about "pretending" during his marriage with Jennifer Aniston, which ended in 2005. Since then, Brad, Jennifer, and Brad's current partner Angelina Jolie have been the subjects of countless love triangle stories which seem to find their way into every interview with any of the three.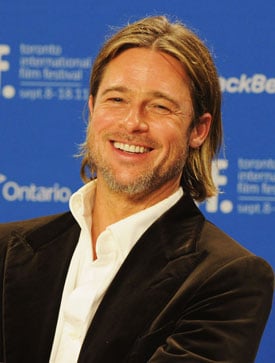 The quote in question said, "I think that my marriage [to actress Jennifer Aniston] had something to do with it. Trying to pretend the marriage was something that it wasn't." It was received with outrage from some fans who thought he was trashing his ex wife. Today Brad released a statement through his rep clarifying the quote. He says:
"It grieves me that this was interpreted this way. Jen is an incredibly giving, loving and hilarious woman who remains my friend. It is an important relationship I value greatly. The point I was trying to make is not that Jen was dull, but that I was becoming dull to myself — and that, I am responsible for."