Brad Pitt to Star in Zombie Movie World War Z
Buh-Bye Vampires, Brad Pitt is Set to Play a Zombie Slayer!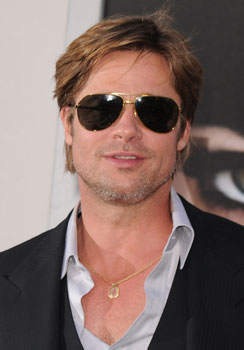 Forget vampires, because the up-and-coming zombie trend has just gotten a stamp of approval from none other than Brad Pitt. At Comic-Con this morning, MTV confirmed that Pitt is set to star in World War Z, an adaptation of Max Brooks's novel about a zombie apocalypse. If all goes according to plan, Pitt could have a full franchise on his hands. The film, which will be directed by Marc Forster (Quantum of Solace), is told through "first hand accounts" of those who survived a vicious worldwide onslaught of zombies. I'm assuming Pitt will play one of the survivors and not one of the zombies. The film is slated for a US Summer 2012 release—so don't get too excited just yet. Pitt is set to appear on the Comic-Con panel for MegaMind later today, so be sure to check back for more updates!