Brendan Pang MasterChef 2018 Elimination Interview
Brendan on the MasterChef Sacrifice: "It Was Quite a Big Step Back Professionally"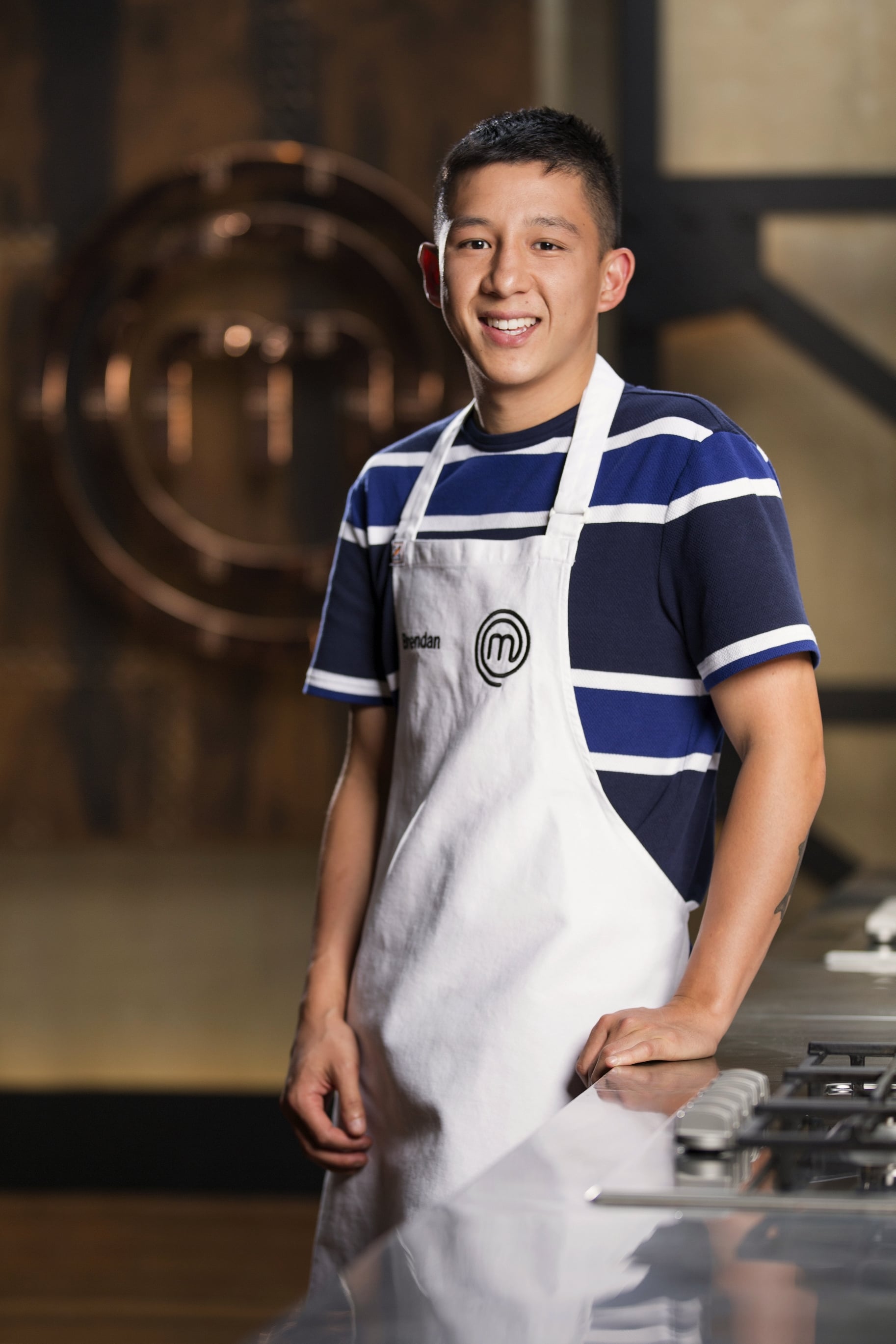 It's never easy when someone with very clear talent gets the boot, but that's the way the MasterChef cookie crumbles. In what has probably been the most emotional eliminated of the season so far, 24-year-old Brendan Pang was sent home, off the back of a Curtis Stone challenge that saw him undercook his meat.
But as they say, where there's a will, there's a way, and no doubt, this isn't the last we'll see of Brendan. George commended his bright, positive attitude, and based off how the contestants reacted, it's clear he's also an A+ human being. Now he's out of the MasterChef kitchen, we caught up with the Western Australian to talk about maintaining discipline, kicking goals and show highlights.
POPSUGAR Australia: How are you feeling about everything?
Brendan: When I was eliminated, I'd be lying if I said I wasn't devastated, but at the same time, stepping back and looking at everything, I'm quite happy and grateful for how far I made it. I didn't even think I'd make it to the top 24.
PS: How did you find that elimination challenge? Are you kicking yourself over the meat?
Brendan: [Laughs] Yeah. In retrospect, I think I would've done a bit less. I had a few elements on the go and left the meat until the last minute, it was undercooked in the end. So if I were to go back into that challenge, I'd do a much more simple dish and focus on the main element, which was the meat.
PS: You cut your hand pretty badly during the show — did you think it was over for you then?
Brendan: I did, yeah. It was quite a shock. When I cut it, I didn't feel too much pain because of all the adrenaline, it was more the shock of it being such a bad injury — probably the worst I've ever had — but also thinking I'd probably go home because of it. I was really grateful that my team didn't lose that day, because if I hadn't lost, I wouldn't have been able to cook the next day.
PS: I love how disciplined you were in your cooks. Where did you learn such a good habit?
Brendan: I don't know, to be honest, I think I taught myself. Just from watching a lot of cooking shows on TV, a lot of MasterChef in the past . . . I think we hear the judges say every year to stay clean. I didn't really have any training, it's all quite new to me, and even my mum, who owns a cake business, is also self-taught baker.
PS: That's even more amazing!
Brendan: [Laughs] Yeah, I think I can also pick things up quite quickly, so I found my feet early on in the competition. I also try to take on the judges feedback and use that the next time around.
PS: What did you give up to be on MasterChef? You touched on it before the judges tasted your food.
Brendan: I was living up in Broome and working as a social worker. I'd only just graduated a year before and moved up there, it was my first real job in the field. I left that job to go on MasterChef and was working two casual jobs on the side as well as a boxing instructor. I sold most of my belongings, left my house up there, moved back home to Perth, so it was quite a big step back professionally for me.
PS: When and how did you realise food was what you wanted to do with your life?
Brendan: I think it's always been there since I was quite young. It came quite naturally coming from a Mauritian family, but I don't think I ever had the confidence to pursue that outside of the home. It was always something like, every weekend, my family and I would catch up over fairly big meals, and every event would always be planned around food. It wasn't until last year that I thought maybe I could do this.
PS: Did you feel conflicted at all going back and forth between food and social work?
Brendan: Not really, once I had my mind set on applying for MasterChef, I really wanted to go for it. Social work's always going to be there, I'm always going to be advocating for social justice and a lot of charities and stuff like that. I think I'll combine the two in the future as well.
PS: There was so much emotion and love from everyone when you left. Did you expect that?
Brendan: Going into it, you don't expect to become so close with everyone, but we became family quite quickly. I was quite close with everyone in the house. Reece is a really good friend of mine, Lisa, Jess . . . A lot of people, I'd probably go through all of them. It was quite sad to leave them behind.
PS: I loved how George said you can't teach someone to have a good attitude. What's your secret to always being so bright about things? Is there something you draw on in particular?
Brendan: I think it's just how I've been brought up, with my mum and my grandmother. Mum's always taught me to be positive!
PS: What have you taken away from MasterChef?
Brendan: The biggest thing is confidence. I'm a quiet person, so going into it, I knew a lot of the contestants were quite confident in themselves and had a lot of life experience already, because I'm a bit younger. But yeah, a lot of confidence, and what the judges said to me as well, that I can actually cook and pursue this.
PS: What have been some competition highlights for you?
Brendan: Definitely getting an apron, that was a bit of a shock. But Gordon Ramsay week had to be the biggest highlight for me, just coming off the back of the injury and having to fight and cook on the Sunday night straight after. And the service challenge as well that I captained in that week.
PS: What are you planning to do now MasterChef is over?
Brendan: I'm planning on spending some more time in the kitchen, getting some work experience and further developing my skills, as well as learning a bit more about local Western Australian produce — because there's some great stuff over here — and how I can use that. I want to spend some more time with mum as well, learning a bit more about her business. The end-goal is to open up a cafe with her.
PS: Who do you think has what it takes to win?
Brendan: I think Reece does, he's come quite far in the competition and has a lot of potential. He's very smart!