Brenna Harding Interview For Puberty Blues Season 2
Brenna Harding Talks Growing Up With Her Puberty Blues Character, Sue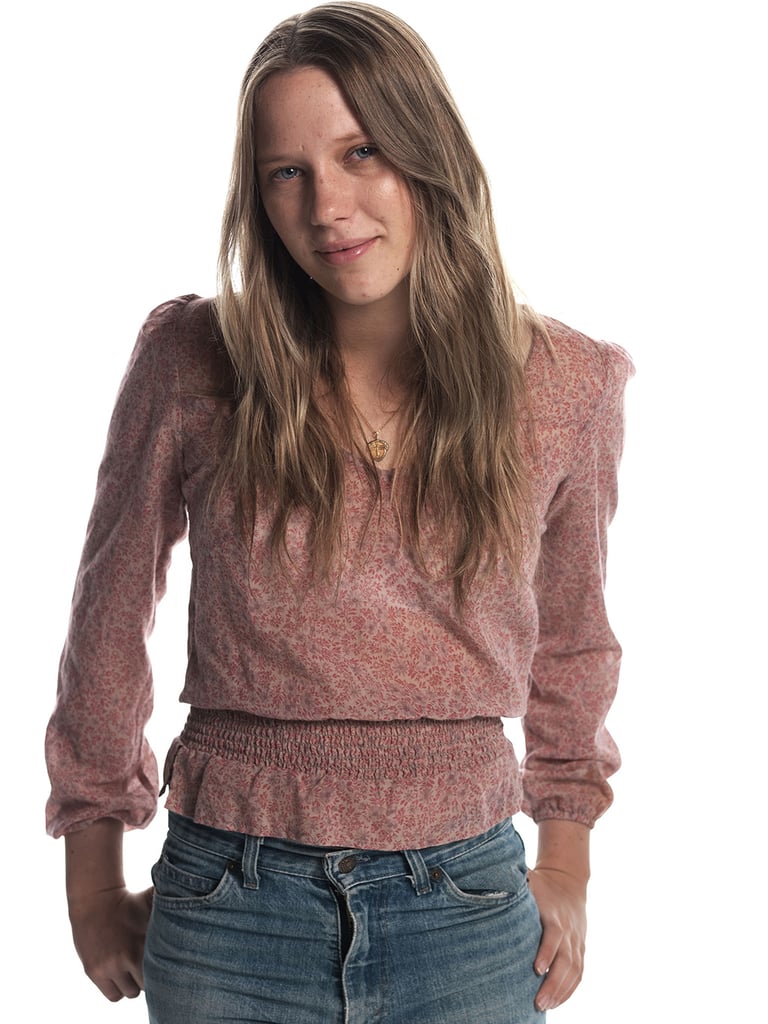 Source: Network Ten
Brenna Harding's profile rose in a big way in late 2012 when the talented young actress burst onto TV screens as Sue in Puberty Blues. Along with Ashleigh Cummings, the stars brought the sweet, innocent friendship between Sue and Debbie to life as the teenagers tried to navigate adolescent life in the 1970s, and all the pressures that came with it. The show went into a second season and has moved on from the source material (Kathy Lette and Gabrielle Carey's 1979 book) to create new dramas for the girls, which include Debbie being shipped off to boarding school, and Sue dabbling in some sexual experiments — 'sexperiments,' as they're called.
In the time since then, Brenna has also become a Logie Award-winning actress (most popular new female talent) and starred in the ensemble film Tim Winton's The Turning. Here's what she told POPSUGAR Australia about what to expect on season two.
PS: It seems like so much happens to Sue in season two. Can you give me a rundown on the biggest things she has to go through?
Brenna Harding: I guess the biggest things for her, chronologically, would be the separation from Debbie. Deb goes off to boarding school, so Sue has to deal with Cronulla and navigate social situation on her own; they've always been a team, and now she needs to figure it out for herself. That's a big step for her independence, both from her family and from Debbie. She starts to make her own decisions. And that leads to her having interesting relationships with Cheryl, and with Gary; that's really nice. She also has a more open relationship with both her parents, her mum in particular. That's a big thing for her. It's a lot of growth in a short period of time. One of the big events would be her having a new boyfriend, Woody, who isn't quite her boyfriend in the early stages, and exploring sexual experimentation, and the dynamics of a relationship. For once she's the dominant one in the relationship, and is able to say, "You go away now, I'm going to do my own thing." She's comfortable, and he's really happy with that. Woody is an interesting character, and someone you don't see on TV very often.
PS: What can you tell me about these 'sexperiments'?
BH: Her mum gives her [the book] The Joy of Sex, which I think a lot of people remember. It's a book that explains every sex position, every sexual thing ever, and it's set out in appetisers, main meals, and all that sort of thing. It's a really funny book, and it's got all these hand-drawn sketches of each of the positions. She decides with Woody that she's going to try each of them, and work her way through the book. I think the most interesting thing about when they're performing these sexperiments is that Sue is absolutely in charge. She tells Woody, "Slow down, do this, do that." That allows her to be comfortable with what's happening, and allows her to have a lot of freedom in that process. I think it's a really nice process. She's growing up.
PS: What were those scenes like to shoot?
BH: I think with all sex scenes, the lead-up is more painful than the actual shooting of the scene. All the, 'Oh, we have to do this,' and, 'Ooh, sex scene today,' makes it a bigger deal. And then when you get there, it's just another scene. You're wearing a little less clothing and it's a bit more, 'OK, what is this stuff that we do?' You find yourself saying that a lot during these scenes [laughs]. But in the end, the directors are always looking after my comfort, and Christian, who played Woody, was really good about keeping me comfortable, and understanding what headspace I was in, and what I needed from him. So they ended up being as easy as any other scene, but they got shot a lot faster because it's a closed set, so there's only like three people there. It's actually a nice way to do it. And particularly because I'm the youngest in the main cast, besides Ed Oxenbould, who's dealing with the more racy scenes, the directors are always highly aware of where I am around everything.
PS: For the first season everything was quite new from you, from playing Sue to the whole show. And you've changed quite a lot in the past year. How were things different this time around?
BH: I guess because I know Sue better now, I'm in more of a position to understand how she would go about different procedures. And because she has so many new experiences this year, it's been good to be super-familiar with her to give integrity to those new experiences. I've been able to have a greater understanding of what she would be wearing, so I can talk to the costume people about that. Even little character traits I've been able to do, being much more sure of myself. And little script things. You get the intricacies of the character. It's also been easier to fall into the character.
PS: How has your life changed?
BH: I'm in year 12! Between seasons one and two, my school actually started mattering, because I was doing the subjects I wanted to do, and was able to do the subjects I wanted to study. I've become a lot more independent — I've got my licence, I bought myself a car! I've got a really concrete friendship group. I'm really settling into adulthood, I suppose. I've been awarded much more freedom and independence from my parents, and from some of my teachers, especially because of Puberty Blues; I had such a full-on workload, and I managed to get through it. I've been exploring the same kind of independence that Sue has.
PS: What's your ideal day?
BH: I don't know! I have a lot of ideal days. I guess in an ideal day, I would get a lot of sleep, so I'd be really fresh and happy and optimistic. I like beautiful Spring days — nice, warm breezy days. I'd spend it with my three best friends. Maybe do a yoga class. Spend an hour reading. My room would be perfectly clean. Maybe go to the beach or have a swim somewhere. I just want to hang out with my friends — whatever we do, we have a good time.
Puberty Blues returns tonight at 8:30 p.m. on Network Ten.