Bride and Prejudice 2018 Episode Eight Recap
Episode Eight of Bride and Prejudice Is the Most Intense Yet and We Can't Even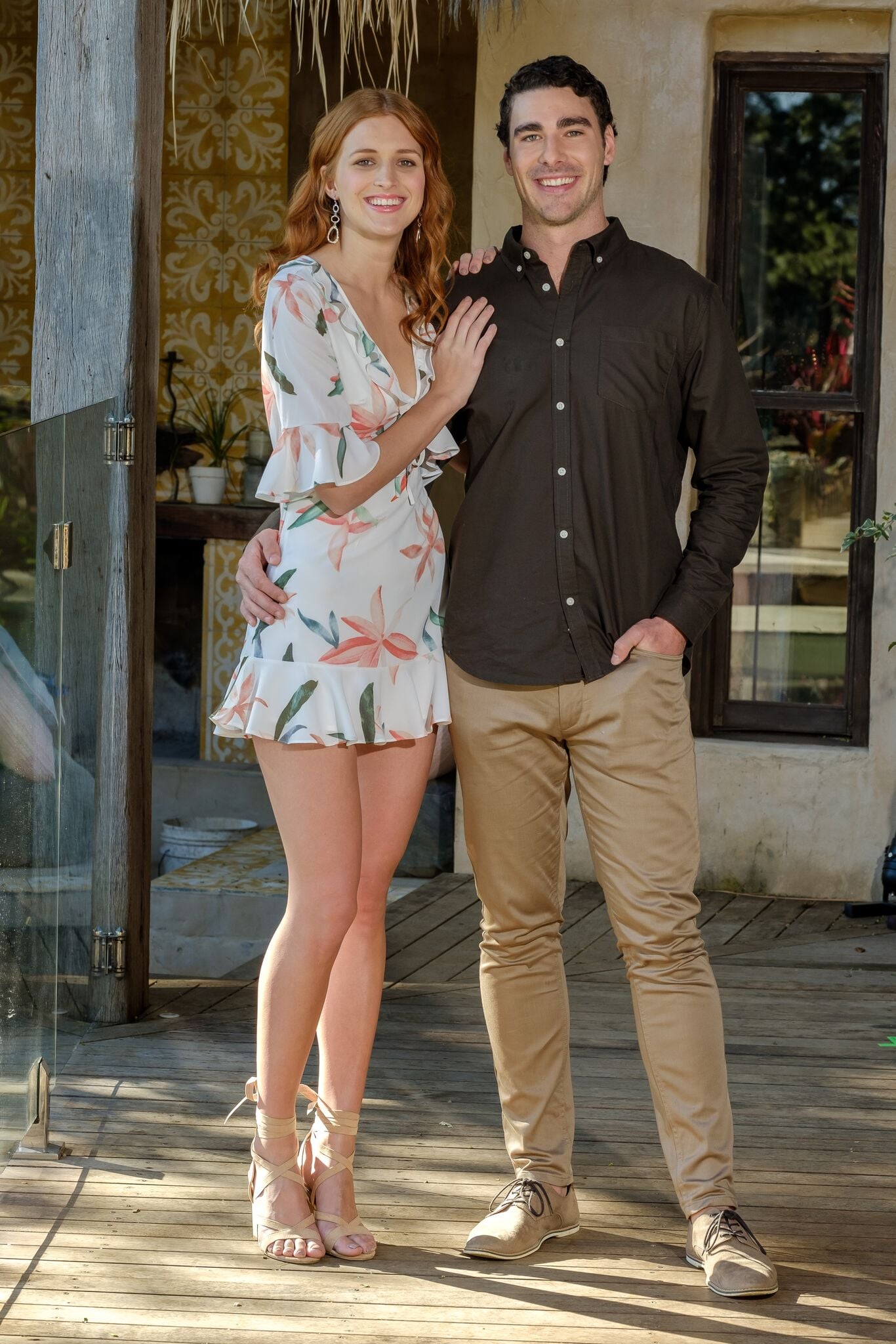 It's episode eight of Bride and Prejudice and we're kicking off right where we left off last episode with Simon's casual bombshell that he's still in love with his ex-girlfriend, Megan. He probably would have saved a lot of people a lot of pain and effort if he'd come to this epiphany before going on the show, but that's not how reality TV tends to work –much to our entertainment.
Before we're even five minutes into the episode Izzy and Simon find themselves in a full-blown stand-off, with Izzy demanding Simon "looks her in the face," as this is the last time he'll ever lie to her. "What did I lie about?" says Simon, apparently experiencing amnesia. "Every-f*cking thing . . . the way you feel about me, about Megan, about every time you stood in my f*cking face and you told me that you loved me and that you respected me." Well, considering last episode he claimed to love Izzy with "every fibre of his being," only to turn around and profess his undying love for his ex, she's got a point. "I loved you with everything I have," says Izzy, and Simon, A.K.A modern-day Romeo, responds with, "that's wonderful," unsurprisingly causing Izzy to storm off. But she's not quite done, turning back around to scream, "THAT'S WONDERFUL? F*CK YOU." Man, this sure is a lot of intensity so soon into the episode.
"I know it feels like shit but it's going to be okay, you've got this," Dylan comforts her, ever a voice of wisdom. As Izzy sobs, Simon is wandering somewhere alone in the dark because he "doesn't give a shit." Oh. "I'm not showing emotion because I'm not feeling any . . . " Okay, not going to lie, little concerned Simon could potentially be a sociopath. Make-shift life coach Dylan says this breakup is a good thing, as now Izzy can focus on loving herself, instead of someone else. She takes Izzy's wedding ring from her and thank goodness for Dylan the guardian angel. Izzy apologises to all the other couples for the drama, and call me crazy but something tells me she's not the one who should be apologising. Izzy finds Simon packing his stuff in their bedroom, and starts helping him with the task, seemingly in order to get him the heck out of there more quickly. But, she has another motivation, as it turns out, which is to kick off the huge fight round two. "My mum was right about you, you are the Devil." Look I'd usually find this accusation a bit harsh, but well . . . she could probably say a lot worse in this moment. Simon calls an Uber and flees. . . "the wedding's off, and I don't know where to go from here," he says. Well, home might be a start.
The next morning, Simon admits he crossed a boundary in their non-monogamous relationship by, you know, being in love with someone else. He says the thought of marrying anyone other than his ex Megan was tearing him apart, and that Izzy was more of a best friend. "I'll always support her, whether it's as friends, or some sort of pen pal. . ." which probably wasn't what Izzy had in mind when he proposed to her. Izzy goes to see the counsellor, Leanne, and is reminded that just because she loves someone, doesn't mean they're good for her. Izzy concludes it is probably best if she never sees Simon again. She says she is at least glad for all the people she has met on the show, especially Philippa and Ry. Who'd have thought going in that the couple with the eighteen year age gap would be the most stable of all?
It's now time for Izzy to face the music and let her mum Bobbi and best friend Amanda know that the wedding is off. Bobbi and Amanda manage not to blatantly gloat about it, which is definitely admirable. In fact, both of them use this time to remind her they'll always be there for her and that they understand how hard this is for her. Nicely done, Bobbi and Amanda. The help Izzy pack her stuff and she leaves the retreat. "I didn't imagine I'd be leaving without Simon, but I know what I'm doing is right. The things I've been through with Simon, I've come out a stronger person." Go girl!
Finally moving on, the couples are being visited by their other extended family members, i.e the ones that aren't extremely opposed to their union. Lily's mum and sister are first up, and they support her in not wanting Hank's dad Terry at the wedding unless he cleans up his act. Melissa and Aalden's families then meet each other, and it's kind of crazy they've never met before considering Melissa and Aalden have been together for six years and have kids, but anyway. Aalden's mum says she isn't surprised he failed the lie detector test and even seems a bit concerned for Melissa to be marrying Aalden. Well, at least she's honest. Melissa then asks her sister Rachel if she'll be her maid of honour, and she says she'll have to have a "good hard think about it." It's not looking promising, TBH.
Back to Hank and Lily, Hank's mum Margaret warns Terry that he will have to make amends with Lily if he wants to be able to attend the wedding. Terry basically shoots that idea down immediately and says Margaret is overreacting. Okay then. It's now time for a lunch with both Lily and Hank's families, and Terry deems "I think feminists are very anti-Australian," to be an appropriate opening line. Certainly an interesting tactic. "What do you want me to do, raise a white flag and say, 'yes we all love homosexuals bringing up kids yes we all love Muslims blowing up people ' . . ." wowsa Terry, it seems like you're the only one blowing up. Hank demands he apologise for his hurtful language, but Terry won't back down. "If Lily doesn't feel 100 per cent comfortable with you at the wedding, then I don't want you there," says Hank. For goodness sake Terry, read the room and make amends! "Okay, if Lily doesn't want me there, then I won't be there." Oh dear, that doesn't look like making amends. "I can't handle this," says Margaret, "you're starting to upset me Terry, please, for me and my health sake . . ." oh geez, this is just getting sad. "Lily, is this just because you can't run the show?" asks Terry, which everyone, even Margaret quickly balks at. "I won't be the one breaking up a family, it'll be you Lily." All Lily can do is shake her head and laugh, because if you don't laugh, you'll cry. "If Lily thinks she can rule the roost by saying I'm not coming, then at the end of the line, their marriage will be unworkable." The wedding is only a week away, so if Terry's going to come around, he better do it stat.
Phewf, that was an intense one.
Until next episode!
Image Source: Channel Seven