Bride and Prejudice 2018 Episode Nine Recap
Things Got Real on Episode Nine of Bride and Prejudice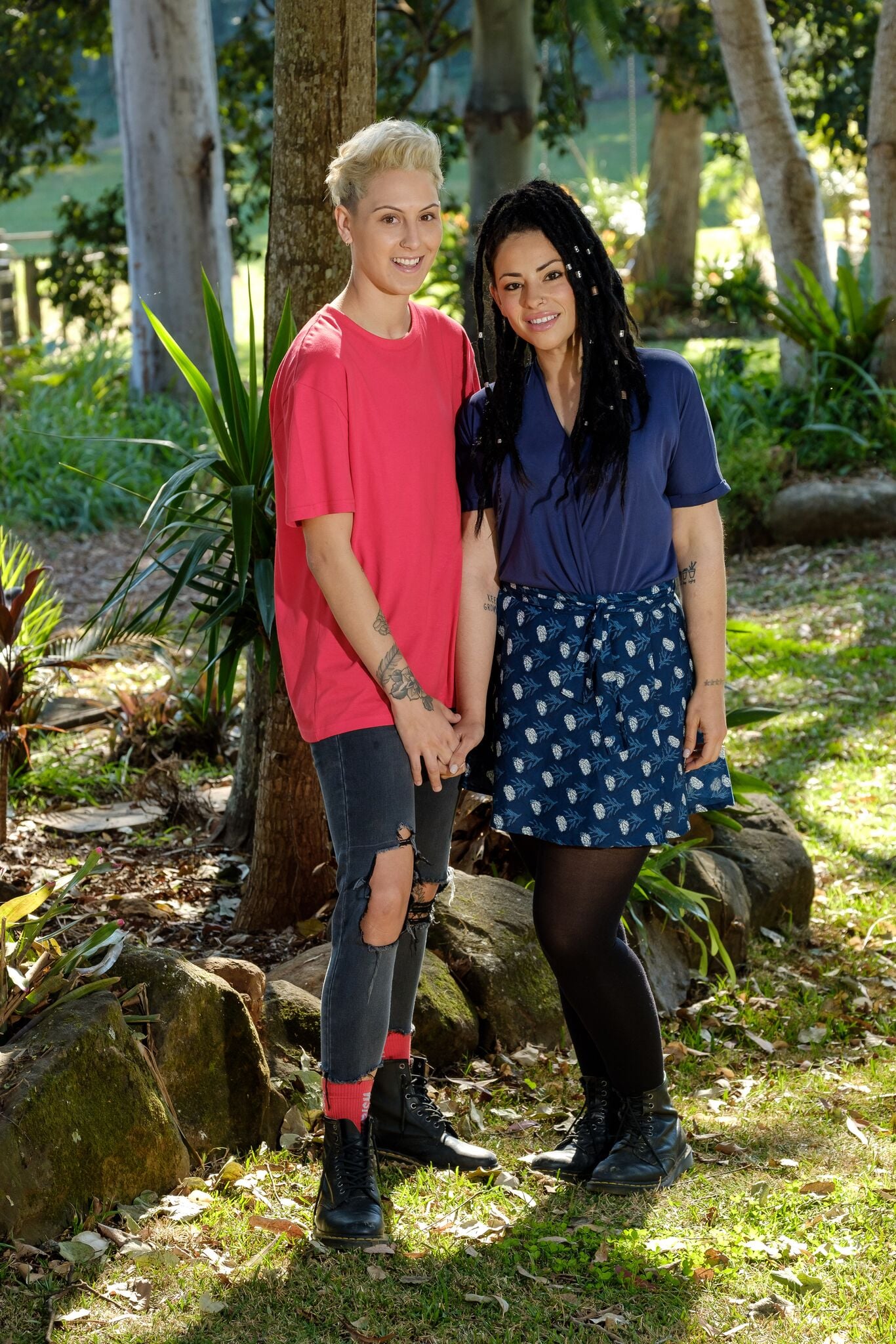 It's episode nine of Bride and Prejudice and the couples are continuing to introduce their respective families to each other. One family is totally cool with them being together and getting married, and the other is well, not. What could possibly go wrong?
First up we check in with Ange's dad John, who just seemed to be coming around to the idea of his daughter marrying another woman. That is, until he says he received a sign from God in the form of strong wind that he should continue to "keep fighting," i.e continue to be opposed to gay marriage. No comment. We then find Ange's fiance Dylan, who has been joined by her mum Rose in the countdown to the big day. As she tried on wedding dresses, she seems blissfully unaware John has gone back on his promise to try to come around to the idea of her marriage to Ange. Uh oh. We cut back to John writing a letter to his wife, who passed away when Ange was a child. "I don't want to come against her sexuality, but I feel like I have no choice. I'm going to try to get her to chance her mind" he says. Double uh oh.
Rose admits she was caught by surprise herself when she found out Dylan was gay, but she accepted it because she loves her. She urges John to accept they are happy together, as that's all that matters. He says he's conflicted considering he feels he has to speak on behalf of his wife too, as she is not there to do so herself. "I feel as though I'm in a massive battle here for your salvation." Well, it's probably made more of a battle by the fact Ange isn't seeking her salvation, like at all. He asks Rose if given the choice, she'd choose for Dylan to be with a man or a woman. She says the question is neither here nor there, as the point is that it isn't her choice, it's Dylan's. Not even this manages to break through to John, who doubles-down on his quest to help Ange "see the light". All three of Ange, Dylan and Rose team up to try to reason with him, but John says he doesn't know what else to do other than "disown" Ange. She says if John doesn't show up to the wedding, she'll feel like he doesn't her. "We're going to find out if dad's love is stronger than his faith," she says. Wow, this is heavy stuff here.
Next, we move on to Hank and Lily, as Hank too is contemplating losing his dad, Terry, in this case due to his dad's inability to accept Lily is a 'feminist vegetarian." Standard stuff, apparently! "What sort of person would I be if I had my views, but I had a family member with views that are totally different?" says Terry, and I'm not too sure what he's getting at here. The counsellor, Leanne, tells him he needs to be able to say to Lily, "I don't agree with you, but I respect your opinions, and therefore I'll respect you." Terry responds that he doesn't respect some of her opinions, but he respects her right to have them. Hmm, you're not quite there Terry. But then he says he agrees not to talk about the subjects he and Lily disagree on in front of her, and Hank thinks that's close enough . . . for now. Terry showing Lily that he does mean it, and having Lily believe that will be the true test, he says.

Next up are Ry and Philippa, and Ry is debriefing with his mum and sister all about how Philippa's parents as suspicious of him due to his and Philippa's 18 year age gap. Ry's mum says their refusal to accept the age difference means if anything, Ry is more mature than them. Kind of don't disagree with her there. Philippa's mum Gunilla seems shook to her core that Ry's mum wouldn't have an issue with their relationship. "I think they are . . . how do I say it in English in a nice way . . . a bit snob?" says Ry's mum, and I definitely do agree on that one. When Gunilla asks Ry's sister what she things of the union, she responds, "I'm happy. I think it's going to be beautiful, and I'm very excited and honoured to be a bridesmaid. I'm very happy for them. I think what they have is true love" Talk about mike drop. Philippa's parents once again bring up the infamous pre-nup they're demanding Ry signs before they get married, which certainly brings down the mood. Ry's mum reveals she herself married a man ten years younger than her, and Gunilla says this means she thinks Ry's family may as well be "from the moon" as their opinions are that different. Well then.
We now move on to Jess and Seyat, and we meet Jess' mum Marika, who says as long as Jess is happy, she's happy. Well, safe to say her opinions on the marriage are already wildly different to Seyat's mum, Fatima, who basically seems to think Jess is the Devil incarnate. Marika calls Fatima out for yelling at Jess and never actually calling her by the name, which Fatima thinks is very normal behaviour. Marika suggests Jess and Seyat move out of his parents' place and find somewhere of their own, which seems like a very sensible suggestion. But Fatima and Seyat's dad balk at this, since Jess and Seyat won't "last for long" anyway. Oh dear. "The truth hurts some times," says Sam, after he and Fatima rant about Jess being drunk at their house. "Making out that I'm an alcoholic just because I had one drunken Christmas party, which most people my age experience, I just feel so defeated." Certainly don't blame her there. "I can't change what I've done in the past, I can only change what I do in the future," says Jess, who is convincing me, if no one else! "They're adults now, they're not children anymore, some times you have to let them make their own mistakes," says Marika, who is apparently speaking too much sense for Fatima and Sam to handle, as they think she has "spoiled" Jess. "I don't like Jess' mum," responds Fatima, ever the diplomat.
Until next week!
Image Source: Channel Seven