Bride and Prejudice 2018 Finale Recap
Bride and Prejudice Finale: Did the Last Two Couples Make it Down the Aisle?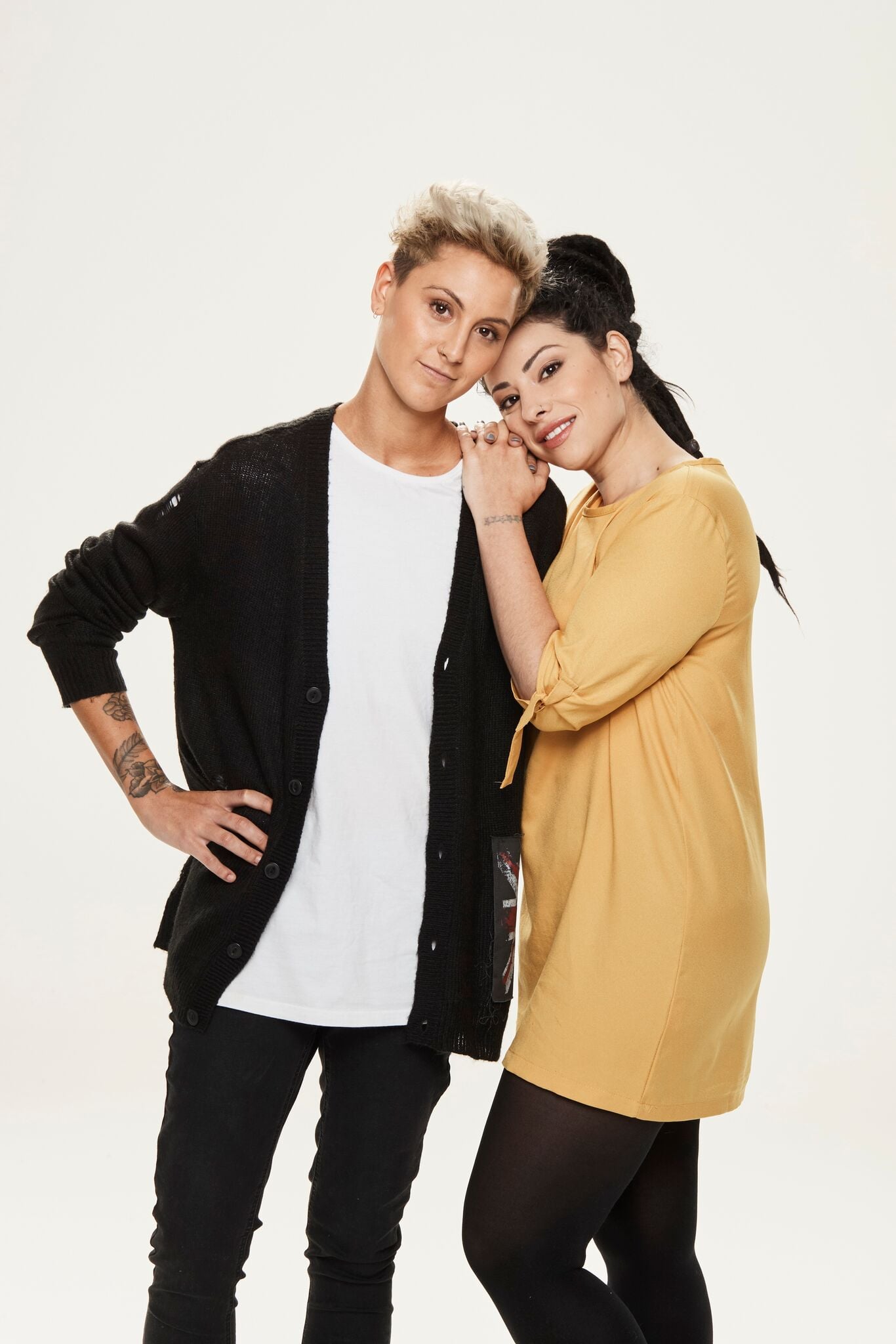 It's the grand finale of Bride and Prejudice and it's hard to believe we've made it to this point. From Izzy and Simon's tumultuous relationship to Fatima . . . well, just full stop, it's certainly been a wild ride. But, the drama isn't over yet, as the two couples set to walk down the aisle tonight have two of the most contentious relationships. There's Philippa and Ry, who are every bit a couple in love, with the only catch being their 18 year age gap that Philippa's parents are not exactly impressed by. Also looking to get hitched are Ange and Dylan, who similarly have faced adversity not for their ages, but their sexualities. Ange's dad is deeply religious and believes Ange will go to hell if she marries a woman, which, you know, isn't exactly ideal.
First up are Philippa and Ry, who despite Philippa's parents, Peter and Gunilla, viewing Ry more as 'another child' rather than a partner, are sill going through with the wedding. Peter and Gunilla seem relatively willing to accept the union, but keep insisting, "we want pre-nup," and I'm genuinely not sure anymore if they're being fully serious or quoting Kanye West. Philippa finally does hand over the pre-nup they desire, but they are none too happy about only receiving it the day before the wedding because there "won't be enough time" to read it. Now apparently it does have a lot of pages to be fair, but it's no bible from what I can see. Just skim read it, guys! Philippa says it's a bad coincidence that the pre-nup only arrived the day before the wedding, but it doesn't exactly seem like an accident to me.
The big day arrives and speaking of manufactured drama, Peter and Gunilla are, of course, the last to arrive to the wedding. But, the point is that they do arrive, phewf! On top of that, her dad Peter agrees to walk her down the aisle. Double phewf! Once Peter and Philippa reach Ry, Peter ominously warns Ry to "be careful" . . . whatever that means. But moving right along, the vows begin, and while some of them are in an unidentified language, the parts we can understand are totally sweet . . . and not to mention practical. Ry vows to "at all times carry a pack of anti-bacterial wipes," so that he can touch Philippa. Well that's . . . vigilant? "To me you are perfect, and a little bit crazy, but I love you for that. You're everything my heart desires," he continues. Next are Philippa's vows, and she promises to be Ry's "calm harbour in the storm." "I promise to always fight for you, and always walk by your side. To me you're the most handsome man on the planet, and I promise I will love you truly and deeply, now until the end of time." Aw, who's cutting onions?
After the ceremony, Peter and Gunilla congratulate the happy couple. "I'm sure I'll get to see you a lot," says Ry, although it seems that's more of a question that a statement. "Yes, it's an order!" says Peter, and everyone, me included, breathes a sigh of relief. Peter says he was struck by how 'grown up' Philippa seemed today, which is ironic considering he's spent the last four weeks basically talking exclusively about how she is too grown up for Ry, but anyway. Ry and Philippa walk off into the sunset and live happily ever after, we can only assume!
Lastly it's Ange and Dylan's turn, and it's no wonder their wedding was saved for last. Their wedding has the highest stakes of all the couples, considering it's on Ange's dad John to accept not only their relationship, but Ange's sexuality as a whole. Ange meets with John the night before the wedding, looking for some reassurance he can look past his differing beliefs. Instead, she gets, "my head keeps telling me it's not the way God designed us." Ah, well then.
We move on to their wedding day. Ange waits for John to rock up for what is about a minute on our screen, and what surely must have felt like an eternity for her. Finally, he emerges, and if he and Ange embracing isn't the most wholesome television moment of at least 2018, then I don't know what is. "I promised my wife that I would be there for the children at all times, and I'm glad to be supportive to Angela for the choices she's making," he says. "I just want you to know that I accept what you're doing here today, and the person that you are. I wish you all the best with your future." Ding ding ding, the magic word! At last John has admitted he 'accepts' Ange. We the viewers have been waiting for this glorious moment for a month, while Ange has waited her whole life. What a moment!
John walks Ange down the aisle and before long Dylan joins her at the end of the alter. They begin their vows. "Everything about this feels right. You constantly push me to be a better person, and you see the light in me when I feel dark," says Ange. "I promise to provide you with positive influences and absorb anything negative that tries to enter your life for you. I promise to keep you safe, but let you experience what you need to learn from still," Dylan says. "Mostly I just want to be around to watch you grow into the most beautiful, successful version of whoever you want to be, and I vow to never hold you back from whatever you want to achieve in life." They are officially pronounced wife and wife, and it's low-key the cutest moment of the series, at least in my humble opinion.

And that's a wrap on the season. Five of the six couples who entered the retreat made it down the aisle with familial approval, which according to my calculations gives them an 83 per cent success rate, and that's good enough to me!
Image Source: Channel Seven