Brittany Hockley Elimination Interview The Bachelor 2018
Brittany Admits She's Open to Reconnecting With Nick Cummins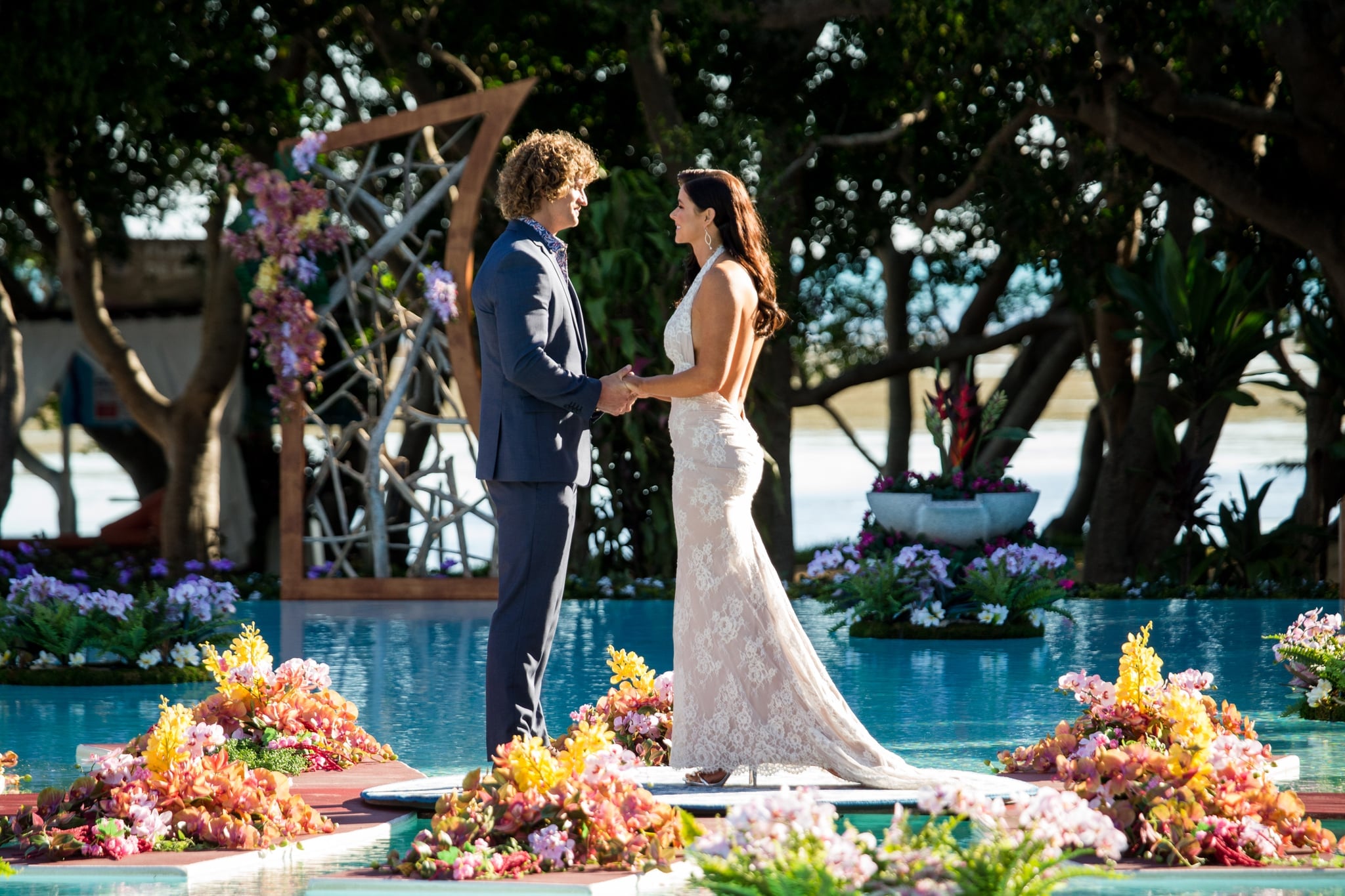 Brittany Hockley won over Nick Cummins' heart from the moment she appeared on The Bachelor red carpet, and with her down-to-earth and carefree charm she quickly became a fan favourite. So to see her in the final two was no surprise, and to see her win, well, that was a sure thing. That is until she didn't win and Nick decided to walk away from The Bachelor experience without either woman by his side.
We caught up with Brittany post-finale to talk about her publicised heartbreak and how her friendship with Sophie made it all worth it.
POPSUGAR Australia: I'm sorry to see how it all went down last night. It must have been tough?
Brittany Hockley: You know what, it really was but I came out of it with Soph so that's a bonus
PS: You were a favourite from the start. How early on did you develop feelings for Nick?
BH: Straight away! Once I realised the similarities between Nick and I, and even down to where we were born, our families growing up a street away from each other, I thought OK there could be something here, and then the similarities were out of control, you couldn't have written it. It just got to the point where I thought, 'maybe this could be my happy ending, maybe this is why I've been waiting so long because it was meant to be'. I was confident because I knew what Nick and I had together but you never know what he has with anyone else, so I just tried to focus on what we had and not what he had with anyone else.
PS: You admitted to falling in love. Looking back on it now, where you in love with him?
BH: Look, I had no intention of saying those words out loud it just slipped out and I think I was just in a really good place when I was talking about it. I think you're at this point where you're just under this barrier of being head over heels in love but the fact there was somebody else there still was really hard for me to get over that line. Obviously I'm pretty protective of my heart and my feelings and I did my best to be honest and to let my feelings grow and I did right up until the very end.
PS: When you had that final conversation with Nick, at what point did you realise it wasn't going to go your way?
BH: I think you can see it on my face actually. It reached a point where I was like, 'yep, ok' and I think you can see the moment my heart breaks, but I did my absolute best to maintain respect and dignity and really just said 'is that it, thank you' and I just needed to get out of there. Everyone's probably wondering why I didn't want to talk to him about it but I just didn't see the point in it at the time, I mean the answer was no, so everything else was irrelevant.
PS: Do you feel like you got any closure? Had he given you enough of an explanation?
BH: Oh god no! We really didn't get an explanation at all. He is good with his words, as in he can speak under water, but he does this thing where he'll speak to you for so long and then you walk away thinking 'ok, good chat' and then a few minutes later you go, 'hang on, I didn't actually get anything from that'. So I think a lot of the girls can vouch for that, Cass used to say it all the time. But I definitely didn't get closure and definitely didn't really get a reason, but there's nothing I can do now.
PS: What did you feel when you first found out he hadn't picked either of you?
BH: It was such a funny feeling because as soon as I knew it wasn't me, you just sort of tune out to everything else. Then it wasn't until I got into the car and I was just looking out the window trying to go back over the conversation and then I just realised one word he said, that 'I can't find anyone in HERE' and I thought 'wait what? Did I get this right, did he pick no one?' And I was gob smacked. All of a sudden Nick was pushed to the back of my mind and all I could think about was getting to Sophie because I couldn't bear the thought of her sitting alone somewhere thinking that I was off and happy with him while she's dealing with a heartbreak. I just couldn't do it.
PS: Sophie was one of your best friends in the house. Was it easier or harder knowing that she was the other woman fighting for Nick?
BH: It's a funny thing and it's hard for people to understand unless you live through it, but we were besties from the start and I absolutely adore her. I know what an incredible woman she is and it got to this point where you just want your best friend to be happy, so if it wasn't going to be me I would have loved for it to have been Sophie. I would have just dealt with it in my own way. I think she feels the same, we both sort of said that if it wasn't us we'd want it to be each other and that we'd just deal with it when the time came and we did get to deal with it but we did it together, which was not the way we expected.
PS: You said in the car after leaving Nick that it was all such a waste of time. Do you still feel that way?
BH: Now in hindsight I just think everything happens for a reason. There's gotta be a reason it all panned out the way it did. It was a waste in time in terms of him not even wanting to give it a go, I just don't understand that. I think he just felt the pressure that he had to be head over heels in love and get married right away, but that wasn't how it had to be at all. You know, like even give it a week in the outside world just to get to know each other and hang out, so it was a waste of time in that sense. But look, I came out of this on top with Sophie and I learnt so much, and I made so many good friendships and memories so I just don't think you can have regrets.
PS: Have you spoken to or seen Nick since the show ended?
BH: No, I definitely have not seen him. I think he texted a few of the girls just to make sure they were ok at the very, very beginning but otherwise, we all just got on with it.
PS: Would you consider giving him another chance?
BH: You know what, we got along so well and I think we really did care about each other so I would be open to maintaining a friendship at some stage, just because I love what he was about, but I think the ship sailed for anything else.
PS: Do you still have feelings for him?
BH: I think there will always be something there. I think there were moments when I was watching the show back and I was definitely missing him. We had so much fun together, so much you guys didn't see, but yeah, in terms of anything more like a relationship, then no.
PS: Do you have any regrets from the experience?
BH: I tried to be so authentic and just be myself and I just think you can't have regrets, it's not healthy. You have to take positives from every situation and I know there are many positives from this. I'm just looking forward to the next chapter.
PS: Brooke chose to walk away. Do you think things would have been different if she hadn't?
BH: No one is ever going to really know the answer to that but look, Nick cannot be produced. The guy is so headstrong and he makes his own decisions, nobody can sway him on that. If he wanted you there, you'd be there and if he didn't, you weren't. It's like that! Brooke is such a beautiful human and no doubt they had a great connection, but she needed the reassurance and all he had to say was 'stay', that's one word, and he couldn't give it to her. There was a moment after Brooke left and Nick came to us, because we were obviously hurt as well, and he said, 'you guys, please know it was always supposed to be you two, it was always the plan and I'd hate for you to think anything else', so all we can do is go off what we know happened or what we were told.
PS: Have you been seeing anyone new since the show ended?
BH: No I haven't dated at all actually because the heart break was real, you know. For us it was really real and raw so you need take the time to get past that. Then there's the fact that you have to relive it, then there's the fact that Australia's eyes are all on you and it was so publicised that Sophie and I were in the finale that even if you wanted to date you just couldn't. You have a responsibility to keep this under wraps so there hasn't been the opportunity for me to see anybody.