Callum Hann Is the Winner of MasterChef All Stars 2012
Callum Hann Is the Winner of MasterChef All Stars!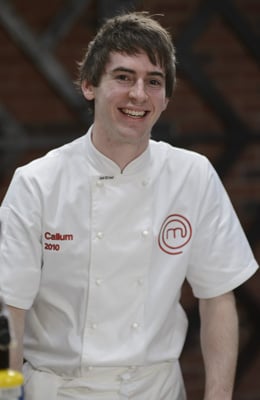 Callum Hann has won the inaugural series of MasterChef All Stars! The 22-year-old was runner-up on MasterChef 2010, coming second to Adam Liaw, but was victorious in last night's grand finale, defeating 2011 winner Kate Bracks and 2009 contestant Chris Badenoch to take home the first MasterChef trophy and win $20,000 for his chosen charity, Cancer Council.
Kate was eliminated in the first challenge, a sudden-death round that required the three grand finalists to cook a Winter family feast inspired by Maggie Beer, who was on hand for advice and also judged the tasting. The second challenge was Peter Gilmore's Snow Egg dessert, which rose to fame after Callum and Adam recreated it in the 2010 finale. "I have a bit of a score to settle with this egg," Callum said, and if it seemed unfair that he'd be cooking it for a second time, Chris was given the opportunity to plate it up before the challenge started, and Peter explained it would be different the second time around because the fruit was jackfruit, not guava.
Callum settled his score with the Snow Egg and after the two challenges had been awarded 70 out of 80 points from the judges, beating Chris' 62. To top it off, Callum donated $10,000 of his $25,000 win to Chris' chosen charity, The Lort Smith Animal Hospital. Congrats to Callum and to all the MasterChef All Stars contestants for winning $111,000 for charity!
Photo courtesy of Network Ten