Carrie Bickmore Interview on Gold Logie, The Project, Picking Her Dress and Funny After Party Stories
Carrie Bickmore Talks About Her Gold Logie Chances, Changes to The Project, and Picking Her Dress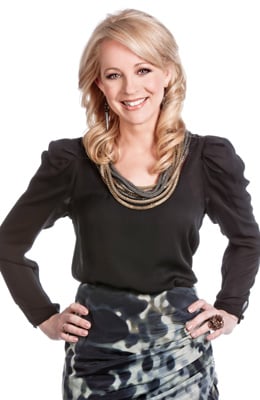 Carrie Bickmore is one of this year's Gold Logie contenders, along with Adam Hills, Asher Keddie, Esther Anderson, Hamish Blake and Karl Stefanovic. The nomination follows months of changes to The Project, which Carrie co-hosts six nights a week with Charlie Pickering and Dave Hughes. The show was also nominated for most popular light entertainment program and most outstanding light entertainment program. We spoke to Carrie to see how she rates her chances of winning, whether there's any rivalry on the panel, and to get the scoop on any funny after party stories.
Congratulations on your nominations! How do you rate your chances of winning?
[Laughs] Look, to be honest with you, I realise my chances of winning are pretty slim, so I'm really soaking up the four weeks of being able to say, "I'm nominated for a Gold Logie!" I'm so stoked. I'm a bit blown away by it all. I'm really enjoying the high. And I'm actually really happy for our show. We work our butt off and it's really nice . . . I knew I may have been up for the Gold when I was going to the nomination event because they were making sure I was coming, but I had no idea about the show's awards so when they announced it I was like, "Oh my God!" I was really quite excited. Charlie, Dave and I, we're such good friends and we work so hard, so it's like all the nods are for all of us.
Is there any rivalry between you, Charlie and Hughsey, especially since you were singled out for individual nominations?
There's a little bit of healthy jealousy there, but not at all. They're honestly like big brothers to me. They're very proud and really sweet and cute, and give me big hugs. If they are jealous, I haven't picked up on it yet! They haven't changed their mood to me or anything.
More from Carrie when you keep reading.
Who's your biggest competition in the Gold Logie category?
The thing is, Karl won it last year, so there's gotta be some pretty stiff competition there. I never realised you could bet on the Logies until I was up for best new talent a couple of years ago, and a friend said on the day before, "You should look, you're ahead in the betting!" I had a look and I was a favourite to win, and it was only at that point that I thought, 'Maybe I should write some notes down for a speech in case I win.' And I won it. So I've decided this year I'll check out the betting . . . Going on that, Karl's probably the one to look out for. But I think Asher's brilliant — I watch Offspring, and if I wasn't in the category I'd probably be going for her. But then my friends love Hamish too, and I've had to say to them all, "You are not allowed to vote for him! You have to vote for me!" [Laughs] It's going to be a tough one, I reckon. And you know what I love? That so many of us in the category are presenters. It used to just be the actors, and now there are a lot of presenters there, so I think the best presenters category will also be a tough one.
Hamish told me his Gold Logie strategy was telling all the One Direction fans that voting for him is what they would want them to do!
[Laughs] That is brilliant! He's a very smart man! That's a very smart move. I'm going with the opposite demo and I'm hitting the oldies, because my grandparents are having a Logies party in their retirement complex, and I've got them getting all the oldies to vote. He's got the young demo covered but I've got the old one!
What's going to happen to The Project on Logies night?
I think we will still go to air, but I don't know the ins and outs of it at this point. I know I've gotta do some red carpet stuff but I'm not sure how it'll all work. There will definitely be a show on Logies night.
There have been so many changes to the show over the last year — was it hard to adjust to the new hours, longer week etc?
It was. I was away on holiday over Christmas, and when I was away and having time with [my son] Olly — I work full time and don't get a lot of time with him — I thought, 'I'm going to have to pull back a bit. [I need to] do my job and do it well, but focus on him as well.' And then a couple of days before I arrived back they said, "We're adding Sunday to the show!" I arrived back from my holiday on the Sunday morning and went to air that night. I thought, 'This really hasn't been a good start to my new year's resolution!' [Laughs] But in the end it's been fine. Moving to 6:00 means I get home early, I get to hang out with him more at night, so from a personal side of things it's been really good. Sunday's only a half-hour show, and I've been having Friday's off to make sure I'm not doing too many long weeks. It's hard, especially being a single mum, and I've chosen to have a child so I need to be around to look after him. He's had a tough couple of years himself, so he's my priority. It's been a challenge but I think we're now getting into the groove and it feels like we're in the swing of it now.
And it's great you have built such a strong roster of people who can fill in for you guys.
Absolutely. Well the first few months — I remember in the first year I don't think I went away — it was very hard for us to find the people who were the right fit, and now we've got some great people who fill in while we're away, and they're sort of part of the family too, so it's a lot easier.
Have you chosen what you're going to wear to the Logies?
I have. I'm usually really late when it comes to picking my outfit because I'm not someone who spends hours poring through magazines checking out what's the latest fashion. But when I got a hint that I was going to be up for the Gold I knew I had to get my ass into gear. I finalised it and tried it on last week. It's looking good, it's a colour I don't normally wear, so I'm going a bit out there.
How do you pick which dress is The One?
I wanted to be comfy this year because the last couple of years I've worn things that for various reasons made sitting or walking uncomfortable, so this year I was determined to find something I could sit for five hours in. I've kept it pretty simple but because it's a colour I don't normally wear it still feels special.
What is Logies night usually like for you? Do you go to the after parties? Any funny stories you can share from previous ones?
The first few years I was still doing radio, so I was getting up at 5 a.m. and could never go to Logies parties. And then I was pregnant, and then I was breastfeeding the next year, so there have always been reasons why I haven't been able to go. But last year I'd been at the royal wedding with Karl, Kerri-Anne and a whole lot of other people. We arrived back the morning of the Logies and had to do the Logies that night. It was 5 a.m. the next morning and I was still at the after party! I thought, "Oh my God, Carrie, you go girl!" I'd been up for the entire flight, the entire day, all night — I hadn't slept for 48 hours and I was still going at 5 in the morning! I had the best night and really enjoyed the party, so I'm hoping to give that another crack. This time I'll go in with a bit more sleep. [Laughs]
Do you still keep in touch much with Rove (who will be at the Logies)?
He sent me a message after I got nominated. He said, "That's so exciting! I'm gonna be there, so I'll see you there." I can't wait to catch up with him. He's a great friend and he's been an amazing support to me over the years.
You've done lots of exciting things on The Project — any highlights?
Probably last year. I loved the royal wedding — I was not into it at all, and was like, 'Why do I have to go?' And I went there and loved every moment of it. I got so caught up in it all and came back a complete convert. And to be somewhere where the world's press was, it was a really interesting feeling. But probably the highlight was when I did a whole lot of stuff for the 10-year anniversary of 9/11. I filmed a whole lot of stories over there, and that was just one of the best things I've ever done in my career. It was incredible. It was the hardest work and so emotional, and I was still quite emotional in my own life, so meeting all these people brought up a lot of stuff. It was quite hard, but we got to air some of the most beautiful pieces, and the whole experience for me was out of this world.
I read you love cooking desserts — what are your favourite things to make?
There are two things at the moment: I'm doing a self-saucing chocolate pudding and I like that it's so hard to master. I've nailed it once out of the five times I've made it recently, where the gooiness has been just right. I do a really good lemon meringue pie. But my favourite is this thing that's really hard to explain: you get a Connoisseur ice cream tub, get rid of the packaging, put it upside-down on a place, melt a whole heap of chocolate in a pattern on a piece of baking paper, and just before it sets you lie it up against the ice cream and roll it around, so it forms like a lattice around it. That usually sticks up above the ice cream and I just put berries in. There's no name for it, it's just my thing, and every time I serve it at a dinner everyone's like, "Where did you get that from?" That's my thing at the moment that seems to be impressing everybody.
Photo courtesy of Network Ten