Carrie Fisher Suffers a Heart Attack December 2016
Carrie Fisher Remains Hospitalised After Suffering Heart Attack on an Airplane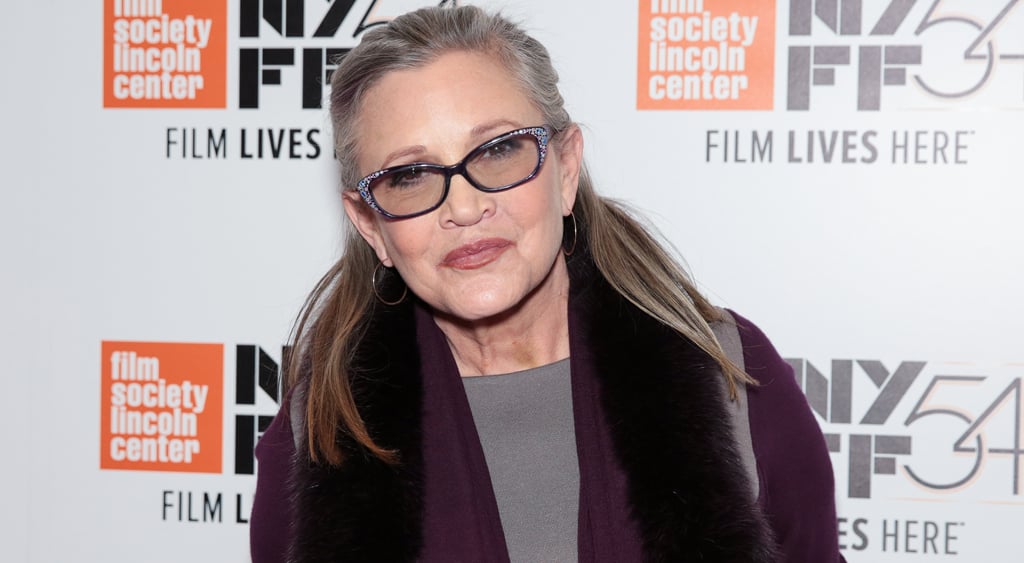 This post has been updated with new information.
Carrie Fisher was hospitalised after a heart attack on a plane on Friday. The actress' brother, Todd Fisher, told AP that she is receiving treatment in an intensive care unit after suffering the medical emergency; she is reportedly "receiving excellent care," but Todd did not classify her current condition or what caused the heart attack. He also added that much of what has been reported so far is speculative. "We have to wait and be patient," he said. "We have so little information ourselves."
According to multiple outlets, the 60-year-old Star Wars actress was on a flight from London to LAX when the incident occurred. Airport police confirmed to The Hollywood Reporter that they responded to someone with a medical emergency on a plane around 1 p.m. on Friday, and several Twitter users used social media to say that Carrie was taken off the plane by EMTs after United Airlines staff and passengers attempted to revive her.
Don't know how else to process this but Carrie Fisher stopped breathing on the flight home. Hope she's gonna be OK 😞

— Anna Akana (@AnnaAkana) December 23, 2016
So many thanks to the United flight crew who jumped into action, and the awesome doctor and nurse passengers who helped

— Anna Akana (@AnnaAkana) December 23, 2016
I'm in complete shock. @AnnaAkana and I sat in front of Carrie Fisher on our flight from London and she was just taken off the plane by EMTs

— Brad Gage (@bradgage) December 23, 2016
Carrie Fisher is well-known for portraying Princess Leia in the Star Wars films. She most recently reprised the iconic role for Star Wars: Episode VII — The Force Awakens alongside Harrison Ford and has also over the years starred on TV and in plays and written a handful of best-selling books. She is the daughter of Hollywood icons Debbie Reynolds and Eddie Fisher and is the mother of Scream Queens actress Billie Lourd.
We will continue to update this post with more details.