Catelyn Stark's Ghost Theory on Game of Thrones
You'll Never Sleep Again After Seeing This Incredibly Creepy Game of Thrones Detail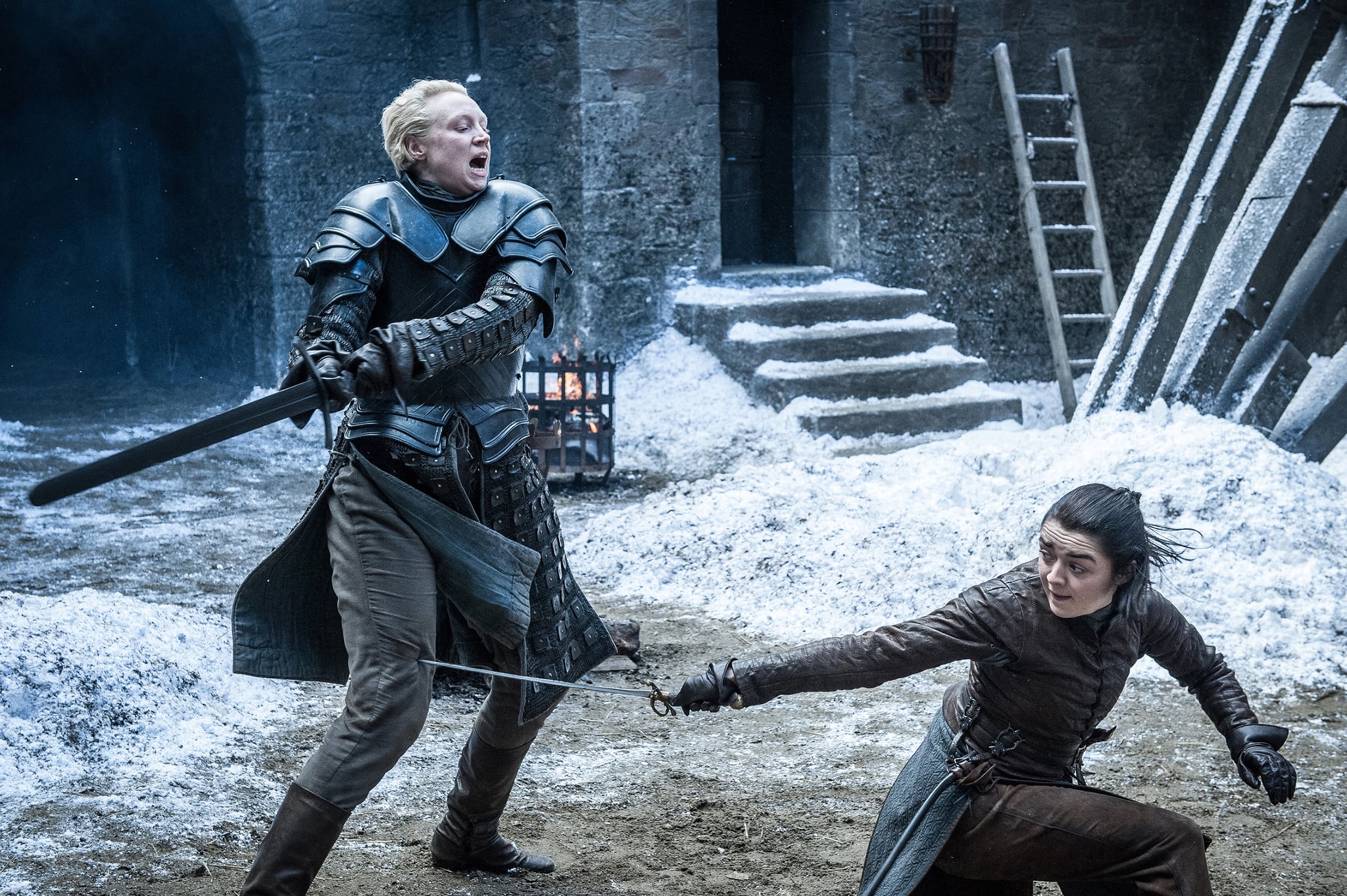 Buckle up, you guys, because I'm about to dive into what might be Game of Thrones season seven's craziest theory so far (other than ice dragons, obviously . . . and also Bran being the Night King . . . maybe it's not so crazy after all?!). In "The Spoils of War," episode four of the seventh season, the sparring session between Arya (Maisie Williams) and Brienne (Gwendoline Christie) at Winterfell ends up being one of the most touching scenes of the episode. Not only is there a heartbreaking connection to Arya's father, Ned Stark, but it turns out there might be a link to Arya's mother, Catelyn Stark, as well.
One fan, Redditor GrennsGal, thinks the legit ghost of Catelyn Stark (Michelle Fairley) can be seen casually strolling around Winterfell in the background of this scene. Right after Arya brings up the vow Brienne made to Catelyn ("You swore to serve both my mother's daughters"), GrennsGal noticed "a woman in a long green dress w/ long auburn wavy hair with her head down walking past the background gate, resembling Cat." The woman appears right as Arya says the word "mother."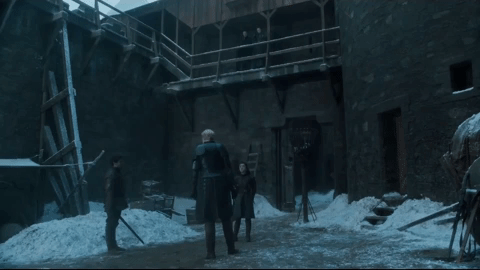 Not gonna lie, that GIF sends more than a few chills down my spine. But is it really Catelyn? Thanks to Game of Thrones' penchant for dark colours, I can barely make out any distinguishing features on that woman. Let's zoom in, shall we?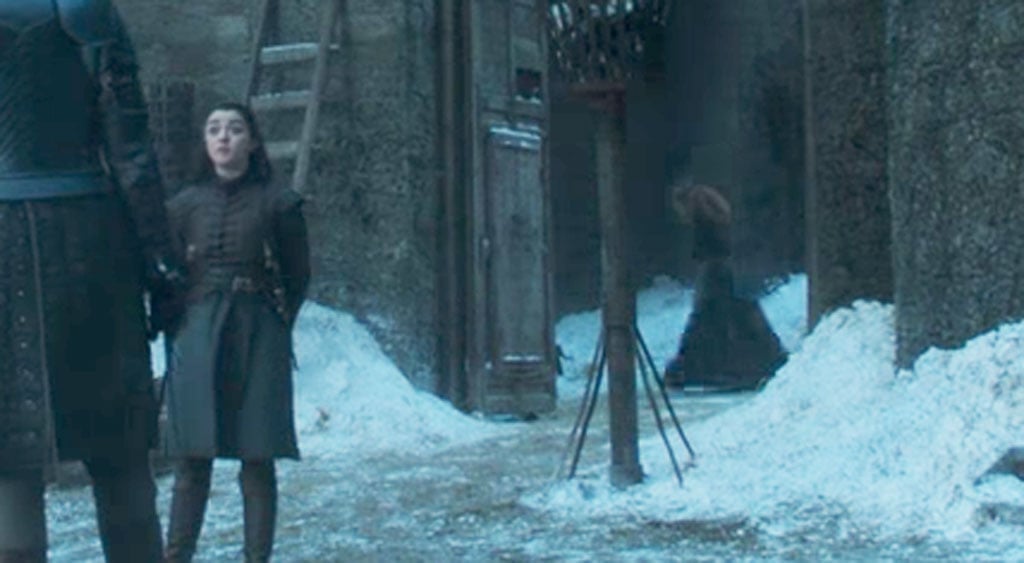 ALL RIGHT, all right . . . I can kind of see it! Now, this is likely just a coincidence, something GrennsGal also noted in their post, but the resemblance (the long red hair and dress) is interesting, to say the least. Remember that this is a show that once featured an entire storyline about a sorceress giving birth to a demon baby made of black smog, so a ghost would actually be far, far down on the list of bizarre occurrences in Westeros.
It's also worth pointing out that the idea that Catelyn is using the afterlife to keep tabs on her daughters would be a not-so-subtle reference to the character's arc in George R.R. Martin's novels. In the books, Catelyn is revived after the Red Wedding as Lady Stoneheart (a zombie, basically), who takes over Beric Dondarrion's Brotherhood Without Banners and seeks revenge for what the Freys did to her family. Since Game of Thrones showrunners David Benioff and D.B. Weiss have already said that they won't be adapting that aspect of the books for the show, and Arya has been taking over Lady Stoneheart's revenge plot as it is anyway, a cameo from Catelyn's literal ghost (wow) might be as close as we get.
Watch the whole scene below to decide for yourself ("Catelyn" first appears at the 0:53 mark, and then again at 2:00).