Celebrity Tweets and Reactions to MTV VMAs 2013
Stars Have a Lot to Say About Yesterday's VMAs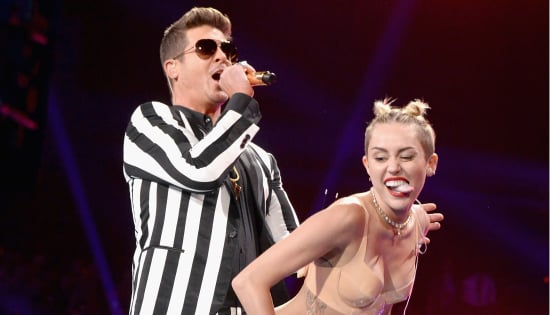 MTV's annual VMAs always make for a memorable evening, and this year was no different. There were too many provoking moments to count from yesterday's show, but it seems that the whole world took to their social media accounts to give their two cents about the craziest moments — and that includes celebrities, some of whom were there to witness the debauchery firsthand. From Miley's raunchy rendition of "We Can't Stop" featuring Robin Thicke to Justin Timberlake's awe-inspiring performance, see what got the stars talking from the 2013 VMAs.
Justin Timberlake, congratulations!!! And what a tremendous performance!!!!

— Rihanna (@rihanna) August 26, 2013
Thanking God for so many blessings tonight. Continue to pray for world peace. More love ...less hate.

— Billy Ray Cyrus (@billyraycyrus) August 26, 2013
Oh my Gaga #VMAs.

— Ellen DeGeneres (@TheEllenShow) August 26, 2013
Leaving the VMAs. No it's not over. I'm no psychic but congrats @onedirection #songofthesummer

— Miley Ray Cyrus (@MileyCyrus) August 26, 2013
I love you guys so much.

— Taylor Swift (@taylorswift13) August 26, 2013
Read on for more celebrity reactions on Twitter.
Just saw a couple performances from the VMA's last night. 2 words.... #pitchystrippers

— Kelly Clarkson (@kelly_clarkson) August 26, 2013
Poor Billy Ray ... pic.twitter.com/TkbTjf7vlR

— andyroddick (@andyroddick) August 26, 2013
All of @jtimberlake female dancers look like all his ex's! Was this on purpose?

— Nick Cannon (@NickCannon) August 26, 2013
Mackelmore & Ryan Lewis, great song, best stage design of the night. Jennifer Hudson so good

— Joseph Gordon-Levitt (@hitRECordJoe) August 26, 2013
That is correct. RT @dope_cinema: only @LadyGaga would purposely put booing in her performance hahah

— Lady Gaga (@ladygaga) August 26, 2013
Billy Ray SIGHrus

— max greenfield (@iamgreenfield) August 26, 2013
Remind me to never let my kids into showbiz... Thanks

— Nick Cannon (@NickCannon) August 26, 2013
Mileys getting out- twerked by pro dancers right now. #unfortch

— David Spade (@DavidSpade) August 26, 2013
Taylor swift has the longest legs ever. Those aren't her boobs in that dress, those are her knees

— Damon Wayans Yunior? (@wayansjr) August 26, 2013
It's nice that Miley is comfortable with herself.

— Judd Apatow (@JuddApatow) August 26, 2013
VMAs: Stop all this "what's up Brooklyn!!!" What's up is I'm 10 blocks away in my nightgown trying to keep my dog from drinking his own piss

— Lena Dunham (@lenadunham) August 26, 2013
Portia just fainted. @NSYNC #VMAs

— Ellen DeGeneres (@TheEllenShow) August 26, 2013
Kanye is practicing his ' dont ask me about kim or the baby' face backstage. #vmas

— David Spade (@DavidSpade) August 26, 2013
Maybe @MileyCyrus tongue was wagging bc it's National Dog Day today!!!!

— Bethenny Frankel (@Bethenny) August 26, 2013
What if miley is just like us and woke up and is like guys what happened last night

— christine teigen (@chrissyteigen) August 26, 2013
JT is a cutie.

— Jaime King (@Jaime_King) August 26, 2013
Miley, step away from the foam finger and put your tongue away...PLEASE. #VMAs I'm so confused. #OldFogeyTweet

— yvette nicole brown (@yvettenbrown) August 26, 2013
Miley's tongue must get so dry.

— Kate Mara (@_KateMara) August 26, 2013
Congrats again to @jtimberlake. Killed it tonight. Whereas I broke a sweat giving an intro. #MTVVMA

— jimmy fallon (@jimmyfallon) August 26, 2013