Chace Crawford Interview on Gossip Girl, Being in Australia, Diet Coke and Girls
Chace Crawford Talks Gossip Girl, Babies and What He Wants to Do in Australia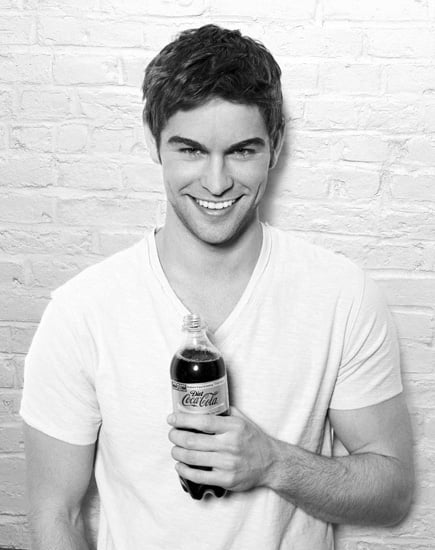 I can't think of a better way to start a cold, dreary Monday than by having a phone conversation with Chace Crawford! The Gossip Girl star arrived in Sydney on Saturday morning for some media duties as the new face of Diet Coke in Australia, and this afternoon he'll be at Martin Place to take pictures with fans in a special photo booth from 2 p.m. We spoke about a whole range of topics this morning, from what he wants to do in Australia, weird fan experiences and what he thinks of the Aussie ladies.
What are your first impressions of Sydney and Australia?
It's beautiful! I've always wanted to come, and with the opportunity to come with Diet Coke and work with them down here, it was too good to pass up. I've always gotten along so well with people from here, even just random people I've just met. I'm from Texas, so there's a very laidback feel — you've got the beach atmosphere, the great weather. I went on a boat on the water yesterday and it was beautiful.
How did you get involved with Diet Coke?
I've always been a huge fan of Diet Coke — I'll go through five of them a day on set! [Laughs] It was really spontaneous. They just asked me to do it and it was a no-brainer. We shot the campaign in West Village in New York, and it was so easy and fun. Then the trip was planned after I was done with work in New York.
More from Chace when you keep reading.
How long are you here for?
Too short — we've gotta go back Wednesday afternoon. But I've gotta get back down here and do more, travel around. I wanna go to Melbourne, and possibly New Zealand.
Is there anything you want to do in Australia based on what you've seen or heard?
Absolutely. It's kind of hard to avoid doing the touristy stuff. We did a nice boat tour to see all the big stuff, but I wanna do something spontaneous and see what the locals do. We checked out a cool part of Bondi. I'm open to anything.
What's it been like to film scenes for Gossip Girl with Elizabeth Hurley, who's like an honorary Australian now?
She's fantastic. And Shane Warne — I can't say enough about them. It was a blessing to have her on [the show] because she brought so much energy to it, which is really fun. And she's really professional.
Can you tell me about your role in What to Expect When You're Expecting?
It's cool — it's like Love Actually, where there are four separate storylines, and my storyline is with Anna Kendrick. We both work on these food trucks in Atlanta — it's the youngest generational storyline. We knew each other from high school, we have this little fling, and she becomes pregnant! [Laughs] And we have to deal with that. Of course, we fall in love. It's nice in contrast to some of the other storylines.
I'm a bit wary of films that put a whole bunch of celebrities together like this, but the trailer for What to Expect looks really funny.
Oh, thank you! I've heard good things. I've seen the trailer, and they were smart putting in these improv comedy actors like Chris Rock, where they play like a dad fraternity posse, just getting all these dads together walking in slow motion through the park. It's pretty funny — hopefully it draws in the male crowd, too.
And speaking of babies, your sister recently had one! What's it like to be an uncle?
Oh my goodness — I don't even know where to begin! It's definitely life-changing, even as removed as I am, being the brother. It's the most beautiful thing. It's indescribable. He's a couple of weeks old and he's just the most beautiful little thing. There are a lot of photos being taken and every move is being documented. I'm not worried about the boy — I think he's come into a good place! He's gonna be OK.
Are you feeling clucky at all after being an uncle and your role in the movie?
[Laughs] Fortunately I didn't have to handle any babies [in the film], she was just pregnant. It's a funny coincidence, isn't it?
What kind of roles are you looking for post-Gossip Girl?
We had a good run [on Gossip Girl], it was a really good time. I want anything to change it up, any sort of variation on a good project is what I'm looking for. I just wanna get out there and do something really different and challenging.
You're single at the moment — what do you look for in a girl?
Oh, you know! [Laughs] It's the way they carry themselves, that confidence. I'm open to whatever. I love a girl who's really spontaneous, someone who's up for going on a camping trip, or concert, or sporting event.
Have you had a chance to check out the Aussie girls?
[Laughs] I just got here! I need a couple of weeks. Everyone's been so nice here.
What's the weirdest fan experience you've had?
I've had a couple of weird ones, but nothing too outrageous, like I haven't found anyone in my closet when I've gotten home or anything. One time a fan made everyone in the cast these little lunchboxes. He was a 35-year-old male and he'd covered lunchboxes with collages and pictures of us. It was really bizarre.
One of our readers wants to know if you'll get a Twitter account?
I tend to shy away from that. I need one less thing beeping in my life. I don't have a Twitter account. I'm on Facebook, but I left that to Diet Coke this time.
Do you have any hidden talents?
I have the lame hidden talents like photography and golf. I was on a radio show and apparently I can do the voice of the movie film guy. I'm good at impressions. [Laughs]
What kind of movies, TV shows and music are you into?
I don't watch a whole lot of TV, but I downloaded the whole season of Game of Thrones to watch on the way here. For music, I'm excited about Jack White's new album. And I love classic rock.
What's your relationship with your Gossip Girl co-stars like now?
When you get thrown into something so young, especially in New York City, it's really novel and fun. It definitely becomes a family. I can't speak for everyone but I have a nice, special relationship with everyone. I love them all, I really do. We've all hooked up with each other [laughs], the storylines come around and switch up so you work with one person a bit more, that's a treat. When you're working 16 hours a day on set, it's such a blessing to be able to get along and have a laugh with the people you're working with.