The Change-Up Movie Review Starring Ryan Reynolds, Jason Bateman, Olivia Wilde
The Change-Up: Hardly a Change For the Better
If you were to judge The Change-Up based on its title, you might think the movie would, well, change things up. But you can probably guess what happens when two men who are polar opposites switch bodies. Jason Bateman stars as David Lockwood, an overworked lawyer with three kids who is best friends with Mitch Planko (Ryan Reynolds), a playboy and struggling actor, who sleeps until midday and loves to smoke pot. One drunken night out, the two wish for each others' lives and wake up to find their wish has come true.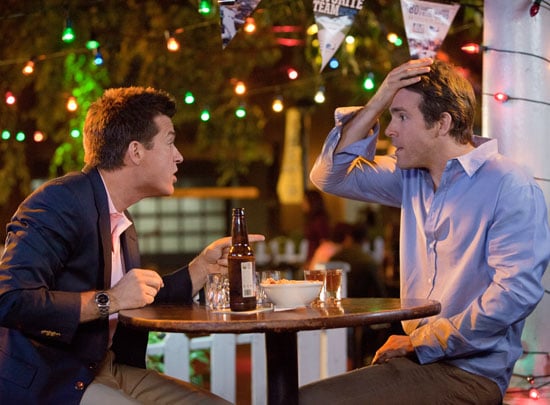 The fact that this movie is based on the oft-seen body-switching premise means it automatically feels stale, and the raunchy, adult humour that could have set it apart often feels gratuitous and forced. It's Freaky Friday for adults — and not in a good way.
For more on my thoughts on the film, keep reading . . .
Crude humour abounds. There are multiple scenes involving poop: in one scene, David's wife (Leslie Mann) sits sick atop a toilet; in another, Bateman gets a face full of it while changing a nappy. In what feels like a completely unnecessary scene, we see David as Mitch filming a porn scene. Sure, the scene has shock value and might delight legions of adolescent boys, but it felt like a lazy way of distinguishing the differences between David and Mitch's lives.
Speaking of lazy, there are multiple music montages, including a couple in which both men begin feeling comfortable in each others' skin; we see the overworked David enjoying stress-free acts like rollerblading and cooking, while Mitch, a habitual quitter, embraces his responsibilities and amazingly learns how to become a lawyer by watching DVDs and poring over stacks of books. While it's not hard to believe each man would enjoy experiencing a different lifestyle, it is hard to believe that they would resist switching back once presented with the chance.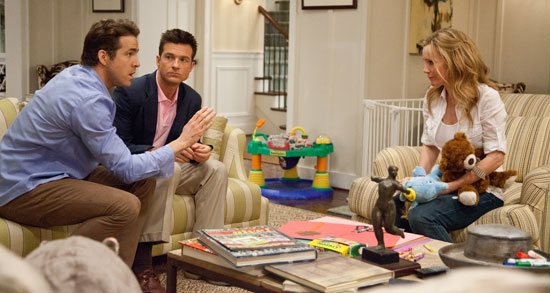 Gross-out humour and questionable plot points aside, The Change-Up does provide a decent number of laughs. Mitch as David's continual mispronunciation of his child's name, for example, felt a lot more original than the in-your-face gags that occurred throughout the movie, and a scene in which David's wife holds an uncomfortable teenage babysitter hostage while she rants about her marital problems emerged as one of the freshest.

While The Change-Up might have you rolling your eyes, it does offer just enough punchlines to prevent you from feeling like you have to switch cinemas.

</p>