Channel Seven Takes Channel Nine to Court Over Mel B
Channel Seven Takes Nine to Court Over Mel B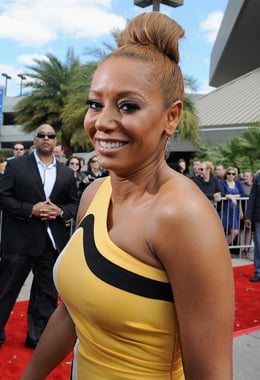 The TV battle between Channel Seven and Channel Nine over Mel B's signing on the new Australia's Got Talent has taken a legal turn. Channel Seven took Nine to court and won an injunction against Mel B appearing on their rival network before 2014. According to reports, the court ruled that Mel B was "restrained from entering into or performing any agreement with any person other than [Channel Seven] for her to appear on television in Australia at any time before 31 January 2014." Her husband, Stephen Belafonte, has also been ordered against helping her score any deals with networks other than Seven.
For more just keep reading.
So why has this become such a big deal? Seven was reportedly shocked to find out Mel B had signed with Nine since she had left Australia in the first place for visa and family reasons. When she returned to the US a couple of months ago, she quickly got to work after landing a position on the judging panel of America's Got Talent. Then at the beginning of this week it was revealed that she'll be one of four judges on Nine's AGT, which it added to its 2013 programming slate after Channel Seven ditched it from theirs.
Last night, during the grand finale of The Block: All Stars, Nine revealed the full line-up of judges for their revamped version of Australia's Got Talent, including UK comedy star Dawn French, former AGT runner-up Timomatic, and former AGT judge Kyle Sandilands.