Charlotte Best Interview For Puberty Blues Season 2
Charlotte Best on Her Favourite Thing About Puberty Blues Season Two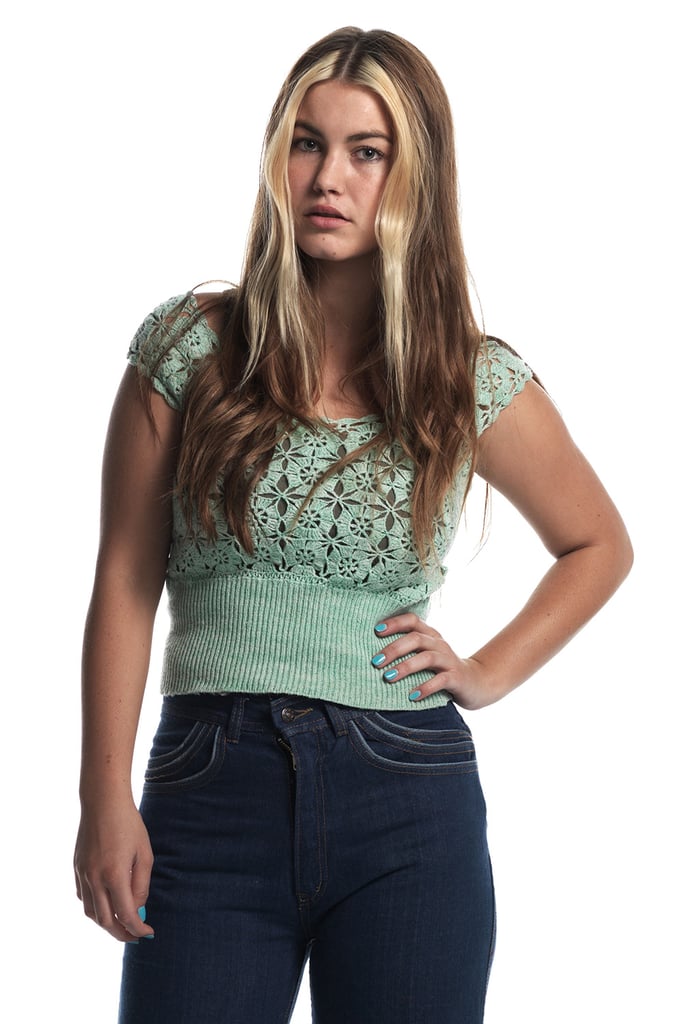 Charlotte Best loves her job on Puberty Blues, but if there's one thing she hates, it's the blonde streaks she has to get dyed in for her role as Cheryl — looks like things aren't so different from when we last interviewed her! At least off-screen. Onscreen, Charlotte's already had to face big storylines, including her character's abortion and moving in with the Vickers family. We spoke with Charlotte on what it was like to return to the Australian drama, and why she loves working with Claudia Karvan.
POPSUGAR Australia: What's different this time around compared to first season, in general?
Charlotte Best: A lot is different, but I'm just amazed at how fresh and new it can be without getting rid of the good stuff; like the good stuff that everybody loved about it, it's just so seamless and has carried straight on, like the sets and the look of it. You get to see so much more of certain characters, and you get to delve a little bit into their world, especially my character. It's exciting for me because my character gets a really good season.
The gang has grown up a bit, so you automatically expect certain things to happen, and it takes off in a direction you don't expect it to, which is pretty cool. You don't want to be bored and watch the same stuff. The writing is insanely good; they've done such a good job, like both seasons. It's blown me away. My favourite thing is the humour about it, too.
PS: Being the second season, it's almost like a movie having a sequel. Did you guys feel any pressure coming back the second time?
CB: Absolutely, you feel that pressure. You feel people have responded so well, and you think, 'You don't want to ruin it now, because people actually want it, and want to see what they like about it.' It's so easy with our director Glendyn [Ivin] — he's magical, like the way he has this vision of what it's going to be like. There's a bit of pressure but everyone's pretty relaxed, because you get the feeling that you are creating something good. And especially because things do change, you wonder how people are going to respond to them.
PS: It's great that you have the freedom to not stick to the book this time, but it still feels like it's in the spirit of the book and the first season.
CB: Once you get going there are so many cool things you can do, so they couldn't help putting in a few extra storylines in there. Even the character differences are cool; everyone is still the same, but you delve a lot deeper this season. You can establish them.
PS: What is Cheryl's relationship like with her mum now?
CB: OK [laughs]. Well in season one her relationship wasn't very good with her, and there were problems there. You get to see a lot more of what Cheryl's life is actually like in this season, and you get to see why she is the way she is. The way she's been brought up is really bad — there's a reason why she's such a b*tch! [Laughs] It just deteriorates like crazy in this season; a lot of things go wrong. There are a lot of problems I don't think many mothers and daughters have to deal with. It does provide very interesting stories.
PS: You get a lot more scenes with Claudia Karvan and Jeremy Lindsay Taylor this season. What's that been like?
CB: Oh, it's been the best time of my life. I've learnt so much from them, and had so much fun. Claudia is like my mentor and I look up to her so much. She doesn't try to teach me a lot, like she doesn't force anything on me, but being around her when she acts, you learn so much. Our storylines are really cool together; we have some really funny stuff. The character difference between her and Cheryl is quite comical when you put them together.
PS: Is Cheryl still a mean girl this time?
CB: Absolutely [laughs]. It's still the case. There are a few things that change, but we've kept the bully in her for most of the season. But once you get to know her a bit, viewers will want good things for her.
PS: Which scenes do you like filming the most and the least?
CB: The scenes I liked filming the most this season were the ones with Claudia and I in the Vickers house. There were times on set when Claudia and I could not stop laughing; we'd have laughing fits and couldn't look each other in the eye. There were times when the camera was on one person, and the other person was looking at the ground [laughs]. It was a ball. And with little Ed Oxenbould, who plays David. He is one-of-a-kind, the funniest little kid. Cheryl and David develop a really good relationship.
There's always awkward stuff you have to do when you're playing a character like mine. There are a couple of sex scenes and stuff like that. But it's so much easier than it looks. On set everyone is mucking around and it's not serious. You just get on with it and do it. You know everyone so well so you don't feel uncomfortable. The only thing I don't like filming is when we have to be in the cold, like when we have to be at the freezing cold beach or if it's night time, in our little skimpy outfits. That's not the best fun.
Puberty Blues airs on Wednesdays at 8:30 p.m. on Network Ten.
Source: Network Ten