Chloe Caroll MasterChef 2018 Elimination Interview
Chloe Says She Always Got the Most Out of MasterChef Pressure Tests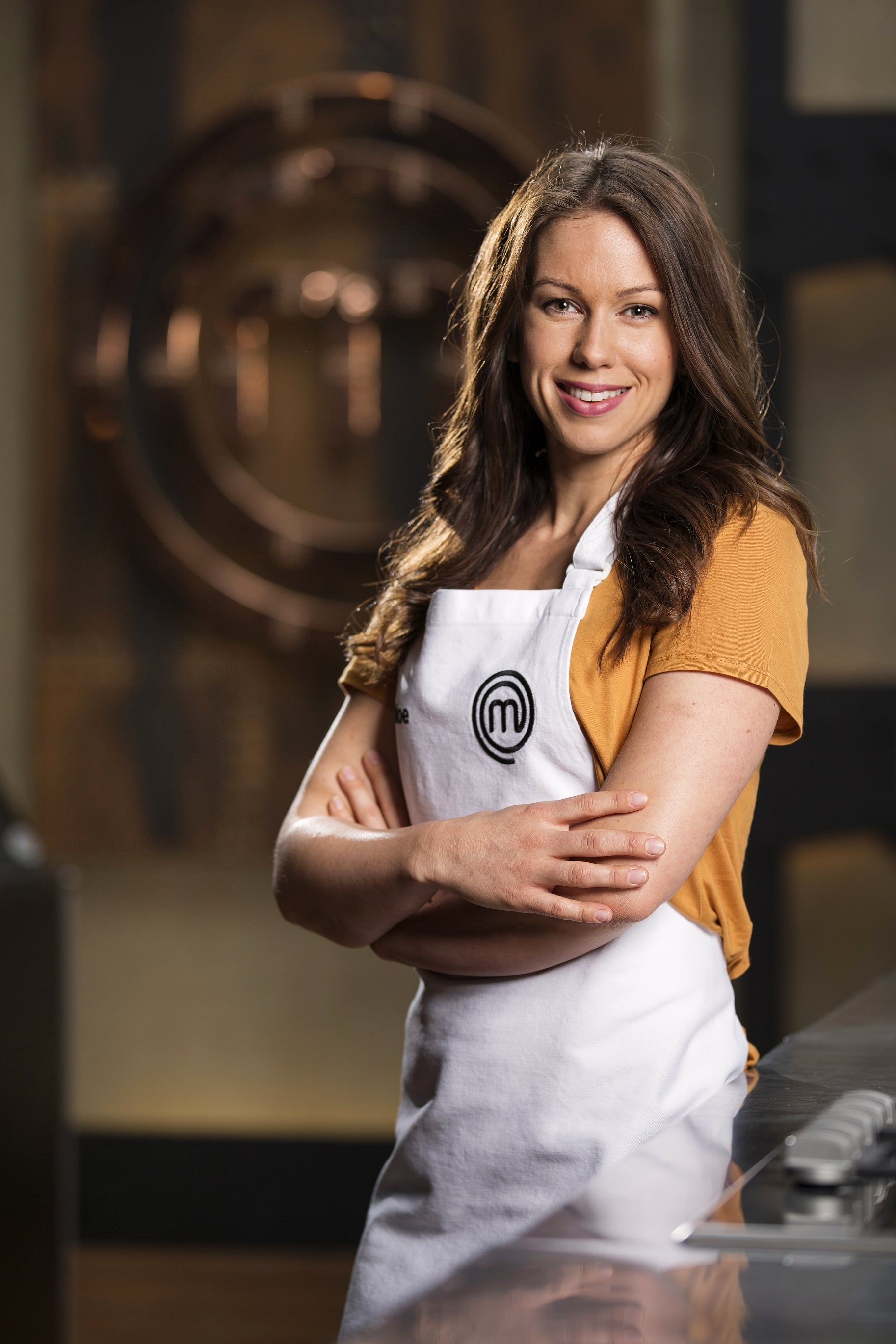 With finals week well and truly on its way, we're on the home stretch of the 2018 season of MasterChef. Of course, no finals week would be finals week without a Heston Blumenthal-inspired challenge, and on Monday, Sashi, Chloe and Jess had to recreate Ashley Palmer-Watts' — of Dinner by Heston fame — sherried marron.
Consisting of a whopping 90 steps, the dish was an intricate combination of grilled marron tail, marron tartare, smoked brown butter cauliflower, pickled daikon, shitake, sea vegetables and pickled mushrooms finished with a sherry mushroom stock. A mouthful to list out, and even bigger one to recreate. Four hours and 45 minutes later, it was Chloe who fell short, whose dish lacked overall balance. Here, we got the lowdown from Chloe on what it was like to battle in as many Pressure Tests as she did, winning that coveted 10-year superpower and more.
POPSUGAR Australia: Sorry to see you go, but you must be so proud of yourself making it to finals week!
Chloe: Definitely, I literally told my family I'd be back the next week after I'd left to go on the show. And I kept saying that every time I was in elimination, like, oh, I'll be home! [Laughs] One thing led to another and then I was in finals!
PS: How did you find that mammoth Pressure Test?
Chloe: It was crazy, I wish I could've done the dish justice. It was exhausting, it was nearly five hours and being under that much pressure for that long definitely took a toll. But it was a beautiful dish, and if that was the one I had to go home on, I'm really happy.
PS: What did it actually taste like?
Chloe: It was beautiful! It was so well balanced, the marron was perfectly cooked, the tartare was delicious and had a really good texture. It was all about textures and was just really fresh and beautiful.
PS: What went through your mind when you saw Ashley Palmer-Watts walk through the door? Did you know what you were in for?
Chloe: [Laughs] Oh, I remember [[on last year's show] when they went to his restaurant. It was just intense watching [the contestants cook], and looking back on that day, I was like, we're in for a world of pain. But Ashley is such a wonderful person, he just wanted all of us to do well and was really humble. We had so much fun in the kitchen.
PS: What do you think went wrong for you in that cook?
Chloe: Honestly, I think I just wasn't thinking clearly compared to the other Pressure Tests I'd done. I didn't measure things properly and wasn't paying as close enough attention as I should've been.
PS: Were you surprised to go?
Chloe: I was never surprised! I was always surprised when I was staying, that was the biggest surprise. I always prepared myself to go home in every elimination, and you know, it's not the worst thing to go home, especially considering the contenders you're up against. They're amazing people and you want them to do well. You want to do well yourself but you're always battling because it's such a supportive environment and everyone deserves to be there.
PS: You've been in a fair few eliminations and a lot of contestants say that it works to your advantage, because you're learning a whole lot more. What did you take away from your time in Pressure Tests? And did you always see them as an opportunity?
Chloe: This is going to make me sound crazy, but before I went on the show, I would watch MasterChef and my partner would be like, who could possibly want to do those things? I was like, I want to! [Laughs] I like a really high pressure environment, I like pushing myself and learning new skills and techniques, so for me, I always got the most out of Pressure Tests. I didn't think I'd be in as many as I was, but they're so much fun. When you look back, you're like wow, I did that in that short period of time. I created some wonderful dishes for amazing chefs, and where else do you get that opportunity but MasterChef?
PS: You must've picked up some good skills! That consommé must've been helpful going into Ashley's test?
Chloe: Definitely. I'd never made a consommé going onto the show, so learning those skills definitely clarified things. Even the butter chicken, I loved that Pressure Test, that's my kind of food, and I still picked up a lot there. And during the whole MasterChef journey, you pick up a lot from each other as well. We learnt how to make bread from Samira, we learnt about spices from Loki and Sashi . . . You really are in that whole bubble and just fully immerse yourself in food.
PS: This is finals week. What was the vibe like in the house and kitchen?
Chloe: I think for all of us, we didn't know how we got here. There was a lot of nervous energy because this was the time you really needed to ramp things up and start pushing yourself outside of your comfort zone. It's always a good environment with the contestants in the house. There was never any competitiveness, which was weird because it's a competition and there's $250,000 at the end. But I think we were just so supportive of each other, nothing really changed and we just leaned on each other a bit more.
PS: How would you describe your run in the competition?
Chloe: [Laughs] A rollercoaster ride! I had my ups and downs, but that always happens, and at the start of the competition, Matt was like, don't ever underestimate how hard it is to cook in that kitchen. It's so different and there's so many different variables that can go wrong. You have such a short period of time to come up with dishes, you basically have to think on your feet. But I had a lot of fun, and I would do it again regardless of my rollercoaster ride. I learnt a lot and how to handle pressure a lot better.
PS: What was the biggest lesson you learnt from the show?
Chloe: To rely on your gut instinct. For me, I doubted myself a lot in that kitchen, like oh no, I've got to do this, do that . . . The times I ended up in eliminations were because I tried to do dishes I thought the judges would like instead of what I would like. That was the biggest thing. Gary did say that to me one episode. He was like, what did you learn today? I was like, to go with my gut instinct.
PS: What was it like winning that 10-year superpower?
Chloe: Oh, it was amazing. Going into that cook, I was like, Sashi's got this in the bag, there's no way. All you have to do is go in there, get your dishes up and pray you'll be safe. I definitely thought Sashi had won it and was literally shocked that I had that ability. It was amazing and yeah, I think it shocked a lot of people to be honest.
PS: Do you have a favourite moment from the show?
Chloe: Definitely meeting Prince Charles was a huge highlight. Getting that opportunity to cook for the future king of England as an amateur cook was huge. Also that degustation with George. I learnt so much. He's a great mentor and someone that I've looked up to for years, so to get that experience in the kitchen with him was a dream come true.
PS: What are you doing now post-MasterChef?
Chloe: I'm getting a bit of a plan together for a pop-up cooking school, and in the future, I want to open my own. Very much like Callum from season two and what he's done, I love what his whole philosophy of food is. I'm also looking at health initiative programs for schools, so getting kids into community gardens, cooking classes, excursions to farms to see how food is produced and grown. I'm also going to be at the Ekka (The Royal Queensland show) doing a little demo and back-of-house cooking.