Chloe Moretz Cast in Carrie Remake Movie
3 Concerns About the New Carrie Remake
A remake of the 1970s horror film Carrie is coming, with Chloë Moretz in the titular role of the tortured high schooler turned telekinetic teen. Even though I'm not a huge horror fan, I still consider Carrie to be a classic — and a movie that doesn't need any updating. Still, the reboot is on its way, and while I'm curious to see how it will translate 36 years later, I have some concerns — check them out below.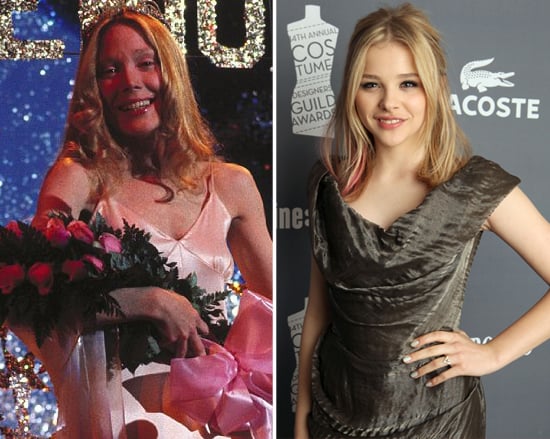 The acting in the original will be hard to top. After impressing me in films like Kick-Ass, we know that 15-year-old Moretz is certainly talented, but she's filling the shoes of Sissy Spacek, who was nominated for an Oscar for her role as Carrie. It takes a certain quality to take on a character like this, who's shy and withdrawn, and then suddenly psychotic. Can Moretz live up to Spacek's legacy?
It might be silly now. Carrie is terrifying, but there are parts that now feel extremely campy. Carrie's classmates throw tampons at her, Carrie's mum calls her breasts "dirty pillows," and the possessed look on Carrie's face when she's at the prom all make up scenes that are unforgettable, but they're straight-up goofy now. An update will need some serious revamping for those elements to not be laughable.
It's already been revisited, and it wasn't good. There was a sequel of sorts in 1999, Carrie 2: The Rage, with new characters set in modern day, but it was a cheap knock-off of the original that just borrowed the concept of the gifted teenager. As far as the new remake goes, director Kimberly Peirce has a solid credit behind her (Boys Don't Cry), but it'll be hard to measure up to legendary director Brian De Palma, who's also responsible for iconic films like Scarface.