Chris Evans and Chris Pratt's 2015 Super Bowl Bet
Chris Evans and Chris Pratt's Super Bowl Bet Ended Perfectly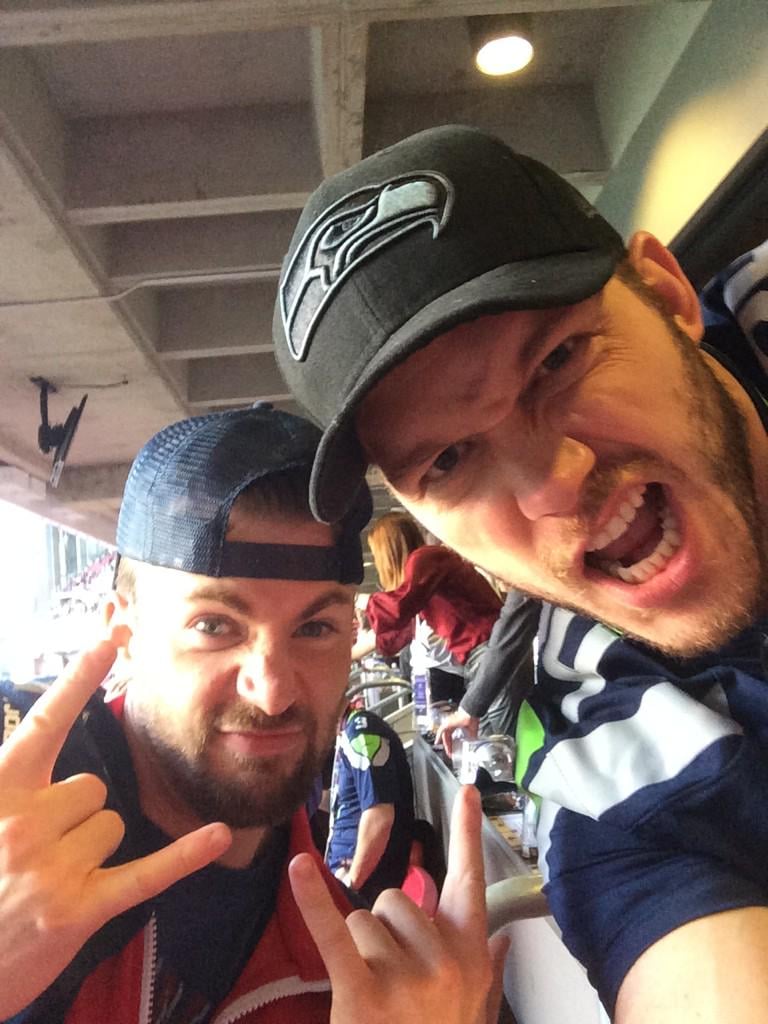 Source: Twitter user prattprattpratt

Leave it to the lovable Chris Pratt and Chris Evans to give their funny, charitable Super Bowl bet the sweetest ending. Last week, Chris Evans — a Patriots fan — kicked off the tongue-in-cheek trash talk with Seahawks fan Chris Pratt on Twitter, and over the next couple days, the actors' back-and-forth tweets turned into a sweet, hilarious Super Bowl bet benefiting charity. The stakes: if the Seahawks won, Chris Evans would be flying to the Seattle Children's hospital dressed as his character Captain America, and if the Patriots won, Chris Pratt would head to Boston non-profit Christopher's Haven dressed as his Guardians of the Galaxy character, Star-Lord, wearing a Tom Brady jersey. They also invited fans of their favourite teams to donate to the children's hospitals.

During the game, the guys snapped a cute picture together, and after the Patriots won, they decided to switch things up with their bet — both stars will be heading to both hospitals dressed as their characters. Too sweet, right? Watch the pair talk about their bet in the video below, then keep reading to see their full, funny Twitter conversation.


Well, well, well @prattprattpratt, looks like our teams are going into battle. For the next 2 weeks, you are not my friend, you are my enemy

— Chris Evans (@ChrisEvans) January 19, 2015
@ChrisEvans We both know there's only one Captain America and his name is Russell Wilson. #SuperBowlBound #LOB #Repeat

— chris pratt (@prattprattpratt) January 19, 2015
@prattprattpratt them's fightin words. Stakes? #whatisaseahawkanyway #somethingtombradyhunts

— Chris Evans (@ChrisEvans) January 19, 2015
@ChrisEvans OK. Seahawks win you fly yourself to Seattle, visit @seattlechildren hospital as Captain America, waving the 12th man flag.

— chris pratt (@prattprattpratt) January 21, 2015
@prattprattpratt I accept. And when the Patriots humiliate your seachickens, I expect Star-Lord to arrive at @chris_haven in a Brady jersey

— Chris Evans (@ChrisEvans) January 21, 2015
@ChrisEvans Humiliate my Seahawks? Maybe talk to Brady about deflating your expectations. BOOM! (legion of) You're on sucka. 😊

— chris pratt (@prattprattpratt) January 21, 2015
hey @prattprattpratt ..... pic.twitter.com/ceDXefR8TG

— Chris Evans (@ChrisEvans) January 25, 2015
"@CNRTOW: See what you started @prattprattpratt 😝 pic.twitter.com/thCuvs55eR" @ChrisEvans

— chris pratt (@prattprattpratt) January 26, 2015
Congrats to the world champions @patriots you were the better team tonight. I will be visiting @chris_haven as Starlord. #twitterbowl

— chris pratt (@prattprattpratt) February 2, 2015
Thank you to @prattprattpratt for being a good sport. I'll be there with you at @chris_haven, and don't worry @seattlechildren, we'll be

— Chris Evans (@ChrisEvans) February 2, 2015
coming there too! And lastly, I don't think anyone can ever doubt the mental toughness of Tom Brady. Tough couple weeks, but he showed why

— Chris Evans (@ChrisEvans) February 2, 2015