Chris Hemsworth Set Visit Interview For Thor The Dark World
Thor: The Dark World Set Visit — Chris Hemsworth Jokes About Holidaying Avengers
Are you ready for more Thor? Chris Hemsworth dons those long blonde locks and red cape once again in Thor: The Dark World (out Oct. 31), taking us back to the mythical world of Asgard, reuniting Thor with Jane (Natalie Portman), and of course, catching us up with Loki (Tom Hiddleston). In the sequel, Jane is living in London when Thor comes back into her life, and I was psyched to visit the set of the film in England last year. Not only did we get a peek at Jane's geek-chic British pad, but we also got to set foot on various places in Asgard (spoiler alert: it all feels very Disney — in the most magical way).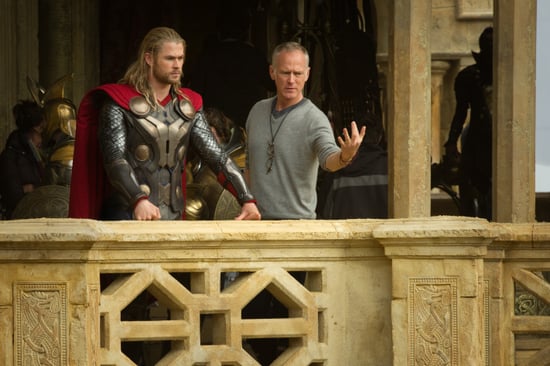 The last time we saw Thor, he was helping the rest of the Avengers lock up Loki after his attempt to destroy Earth, so naturally, we're all eager to find out where The Dark World will pick up with the two brothers — not to mention whether or not Thor's new superhero buddies will be hanging around. Based on a chat with Hemsworth, it doesn't sound like we should be expecting Thor to get any help from Iron Man or Black Widow this time around. Here's more on what Hemsworth had to say:
Where is Thor at this point when the movie starts? Does it pick up right after The Avengers?
Chris Hemsworth: The Avengers is kind of a side step amongst all the journeys. This is certainly a continuation of it, but at the same time, Thor's journey picks more so up where we left the first one. He's about to take on the throne, about to earn the right to be the king. He's also coming to the realisation of what responsibility comes with that, and the dark side of that responsibility, and the secrets within being king. The ongoing question from Thor is what is it that Loki wants, and why, and how did we come to this? And I think we get to possibly attack some of those questions properly.
Are we going to see as much comedy on this as the Avengers?
CH: Well no, because [Robert] Downey's not here. He takes care of that for us. Natalie and Kat Dennings certainly have some great humour. There's a few nice, fish-out-of-water moments for Thor, but not quite as naive and obvious as the first one. I think the Earth-bound stuff really grounds the story in both films, and keeps a lightness to it that trickles through Asgard as well.
What about Jane? Are we going to see a bit more of a love story coming up?
CH: Obviously Natalie's in the film, and it sort of picks up where we left off, with a bridge being broken between them and how do we fix that, and . . .
She's pissed off that you didn't call her?
CH: I think she will be, yeah. [Laughs]
To see what else Hemsworth said about Thor and Loki's relationship, just keep reading.
In the first film, there was a lot of time on Asgard and a ton of time on Earth. How does it break down the percentage in the sequel in terms of where you guys are spending time?
CH: It's certainly set in both worlds, pretty substantially. We certainly see more of Asgard, and more of the nine realms in this film than we did in Thor. There's a bigger universe out there, which we get to explore.
What can you tell us about Thor's relationship with his father and Lady Sif this time around?
CH: In the comic books there's an attraction with Thor and Sif. There was little peppering of that in the first one. Little hints at it. There may be more indication. The conflict between Thor and Odin was so great in the first one, and he didn't want to repeat that, but certainly they disagree as I think they always will at times. But there's a far greater respect for each other.
In the comic books, Thor and Loki have these ups and downs where they'll be mortal enemies and then best friends. A lot of us are guessing that in the sequel, we're going to see Thor and Loki as BFFs for a little while. Can you talk about if you guys are on an aligning path in the sequel?
CH: In the comic books, you kind of roll your eyes sometimes at the amount of times they're back to being best friends. We wanted to keep in mind that Loki did just try to kill me for the seventh time. And Earth. You know the scene in The Avengers when Thor says, "Careful how you speak. He may be crazy but it's my brother," kind of sums it up. He's a screw-up, but he is my brother. I don't think we're going back to being best friends. Thor's at a loss about how they got to this point, because for him, it all came out of nowhere. I think that then in this film he certainly can acknowledge now with a maturity that he should have been more aware of Loki over the years, and where he was positioned, and why maybe that led him down a certain path. So I think there's sort of an empathetic view for Loki that no one else can have because they're not bound by blood.
Avengers 2 is coming. Do the next stage of films act as stand-alone films? Do they all still build toward another bigger picture?
CH: They all link up in some way, but I think Marvel is pretty adamant about them being their own stories. I was wondering if we were going to start doing cameos in everyone's films, but I guess that would take away from the impact of all of us when we do finally come together. These stories kind of segue off into their own world and each of the Avengers are conveniently not around at the time. And that's the thing. You watch Iron Man now and you go, "Where's Cap? And where's Thor? Are they on vacation or something?" But they're being really smart about removing everyone in a way that hopefully takes care of that.