Chris, Luke and Liam Hemsworth ALS Ice Bucket Challenge
Which Hemsworth Brother Did the ALS Ice Bucket Challenge the Best?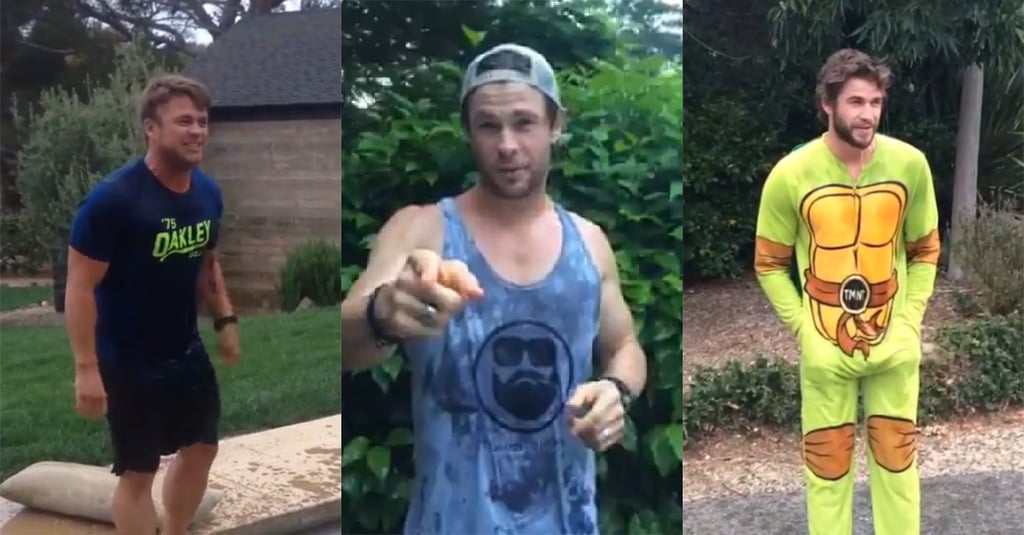 The ALS Ice Bucket Challenge is by no means a competition, and anyone who does their bit to raise awareness for the cause is great. But when you have three hot Hollywood brothers doing the challenge . . . Well, a bit of sibling rivalry never hurt! We're talking about the Hemsworth brothers here, and the first one to get on board was Chris, who was nominated by his Avengers co-star Robert Downey Jr. (He proceeded to nominate his fellow Avengers Mark Ruffalo, Jeremy Renner and Chris Evans.) Chris' older brother Luke also joined the cause, as did the youngest Hemsworth, Liam, who opted to wear a Teenage Mutant Ninja Turtle onesie while getting soaked.
All the videos are good. We are not complaining about any of them. But obviously it was nice for Chris to show off his arms and Liam looked quite cute in his onesie, while Luke kept things casual and to-the-point — rather Australian of him, really!
Watch all the Hemsworth brothers' efforts below and let us know which ALS Ice Bucket Challenge impressed you the most — bonus points to Chris accidentally calling it "ASL," which made us think he may have been obsessed with MSN when he was younger . . .
Chris Hemsworth
Source: Facebook user Chris Hemsworth
Luke Hemsworth
Source: Instagram user hemsworthluke
Source: Instagram user hemsworthluke
Liam Hemsworth
Source: Instagram user hemsworthluke
Source: Instagram user hemsworthluke