Christina Aguilera "Not Myself Tonight" Music Video
Video: Christina Aguilera's "Not Myself Tonight"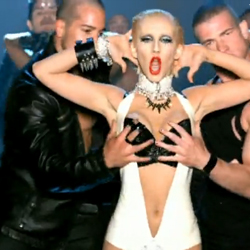 Christina Aguilera isn't herself in her new music video, "Not Myself Tonight." Instead, she's a Madonna-Lady Gaga hybrid, clad in diamond dominatrix gear. It's the first we've seen of Christina in a while and she's out to climb her way back onto our radar. On all fours. Yikes. As she grinds up on dancers in her knickers (watch for Jenna Dewan in the mix), I can't help but think she's trying too hard—even if the song is catchy. But perhaps I'm being too harsh. Read on to see the vid for yourself and make your judgments in the comments.
Side note: is that a perfume ad around the 2:16 mark?
Keep reading