Competition: Win The Host Prize Pack With Double Passes
Win 1 of 5 Prize Packs For The Host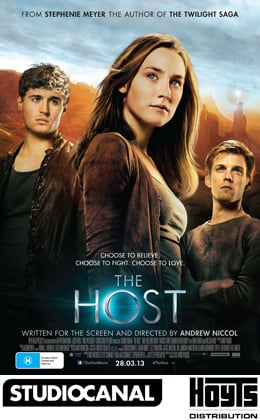 The Twilight Saga author Stephenie Meyer has another book hitting the big screen. In The Host, the near future is practically perfect — there's no more greed or violence, and everyone practises peace and kindness. But then there's the issue of parasitic aliens, known as "souls," who have invaded Earth and use humans as their hosts by taking over their minds. The film stars Saoirse Ronan, Max Irons and Diane Kruger.
To celebrate the release of The Host, in cinemas March 28, we've teamed up with Hoyts Distribution to offer POPSUGAR readers the chance to win 1 of 5 prize packs that include a double pass, the Official Illustrated Movie Companion and a shirt. To be in the running, just Like us on Facebook and email mail@popsugar.com.au telling us what your favourite book-to-movie adaptation is, and why.
This giveaway has ended.