Cynthia Nixon Marries Christine Marinoni
Cynthia Nixon and Christine Marinoni Are Married!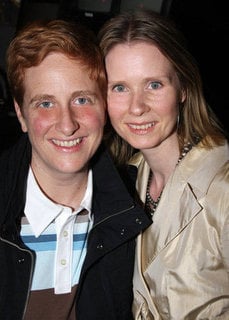 Cynthia Nixon is celebrating more than Memorial Day weekend in the States — the Sex and the City actress married her long-time partner Christine Marinoni on Sunday! Cynthia's rep confirmed the news in a statement, saying, "On May 27, 2012, Cynthia Nixon and her girlfriend, Christine Marinoni, were legally married in the state of New York. Nixon wore a custom dress by Carolina Herrera." Cynthia, who has two children with photographer Danny Mozes, was engaged to Christine for three years. Christine gave birth to their son, Max, in February 2011. Congrats to the couple!