Dacre Montgomery Photoshoot and Interview 2017
Getting to Know Dacre Montgomery, Stranger Things 2's New (Rebel) Jock in Town
He's captivated audiences as the sinister Billy in Netflix's Stranger Things 2, but Dacre Montgomery's work here is far from over. Meet the 22-year-old Perth actor who plays his cards with a winning combination of patience, tenacity and unconventionality.
Photographs by Pablo Martin
You know you're onto a good thing when you walk away from an interview with a few "aha" moments. It's a rainy afternoon in Sydney — the first after a long stretch of dry, sunny days — and I'm waiting to cross the road with Dacre Montgomery. By now, you'll know him as the rebellious, new jock in town Billy — one of the newest additions to Stranger Things 2, alongside his onscreen stepsister, Max (Sadie Sink). Or, prior to this, as the Red Ranger / Jason Scott in the $100 million reboot of Power Rangers earlier this year.

It's pouring, but Dacre (Day-ker) politely declines my multiple offers of an umbrella as we make our way to grab a drink. We are fresh from the shoot for this story, and he's on the tail-end of an Australian press tour for Stranger Things, due to fly out to LA the next morning for US junkets. If his first film didn't already put him on the radar, Netflix was about to. "I've tackled I think, with the idea of losing my anonymity since I got Power Rangers," he says. "I've had about 20 months, give or take, to process it."
Stranger Things premiered on Netflix in July 2016 to much critical and commercial acclaim. The sci-fi series, premised on the supernatural disappearance of Will Byers, captivated audiences through its precise, detailed rendition of a fictitious '80s world that was simultaneously relatable and mysterious. It racked up a total of 18 Emmy nominations this year, took home five, and in doing so, made the likes of Millie Bobby Brown a household name, as well as reinvigorated Winona Ryder's status as a nostalgic icon.
"I'm excited. Not for fame, but to be able to do what I want and chase stories," Dacre says, about the launching pad of Stranger Things. He's seated next to me in a booth, sipping a mug of green tea (he's not really into drinking). "It's all about stories. [My friend and I] will often chat on the phone about what makes us passionate, and a lot of it is the working heart, the dream. And then when you get there, it's like, 'Oh my god,'" he closes his eyes, throwing his head back for a brief moment. "You get a taste of it and you become so much more hungry and you're searching for the next story, the next role."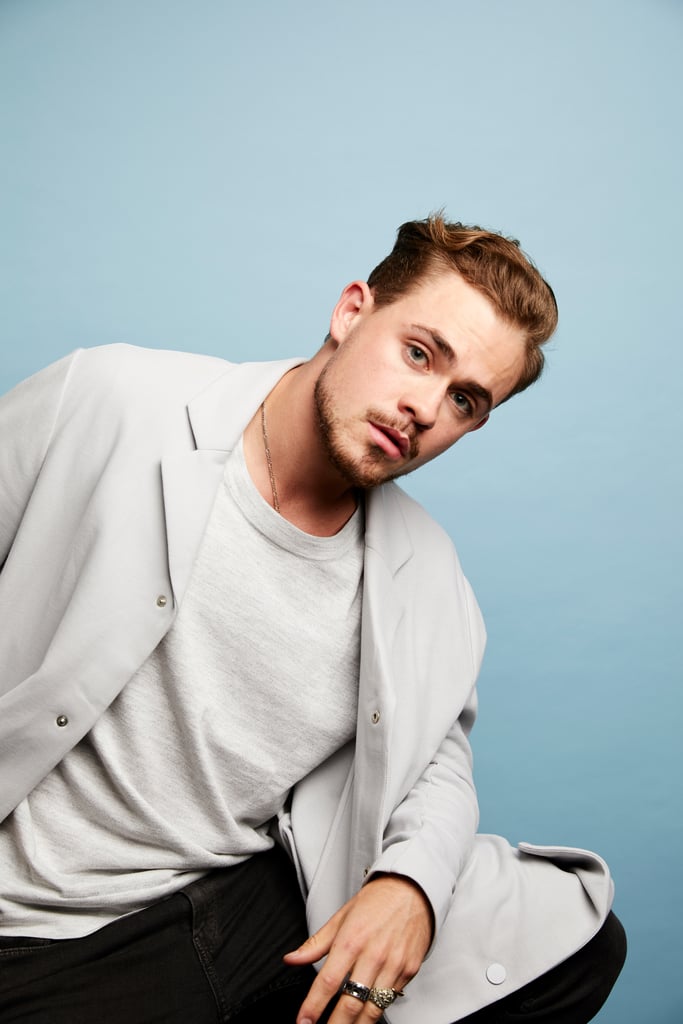 ---
At 5 foot 10, Dacre doesn't tower over others or have the sort of presence you're instantly aware of upon entering a room — deep, piercing blue eyes, annoyingly perfect skin and chiselled jawline aside. Rather, it's when he speaks that you begin to feel the magnetism: in a sort of deep, boyish drawl — Aussie accent still very much intact — that bends at just the right cadences to particular American twangs. Much like how the Jackmans and Kidmans of the world articulate themselves, actually. He's chatty and charismatic; playful but attentive — there are plenty of short "yeahs" and quick head nods in acknowledgement of what I throw at him before answering. His mobile is turned face down on the table, and even when mine lights up with a text, he beats me to swiping the alert away.
"High school was tough. I was bullied a lot, I was pretty overweight . . ." Dacre starts, as we chat about his childhood. Wait, what? I gawk at him, blink and take another good look at who is actually sitting beside me. Um . . .
"Yeah, I was an overweight kid," he continues, fiddling with his glass. "I've known since I was 10 that this is what I wanted to do, but I don't know, I just felt as a kid, I don't know if I was taken seriously. I spoke a lot about things I wanted to do, but there's a little bit of a tall poppy syndrome in Australia. I felt a bit, like I couldn't just do what I wanted to do."
It wasn't until he was accepted into the Western Australian Academy of Performing Arts (WAAPA) that he felt truly validated in his pursuit. Shortly before graduating in 2015, he'd already nabbed the lead in Power Rangers, and since then, he tells me, the past two years have been nothing short of an "amazing discovery."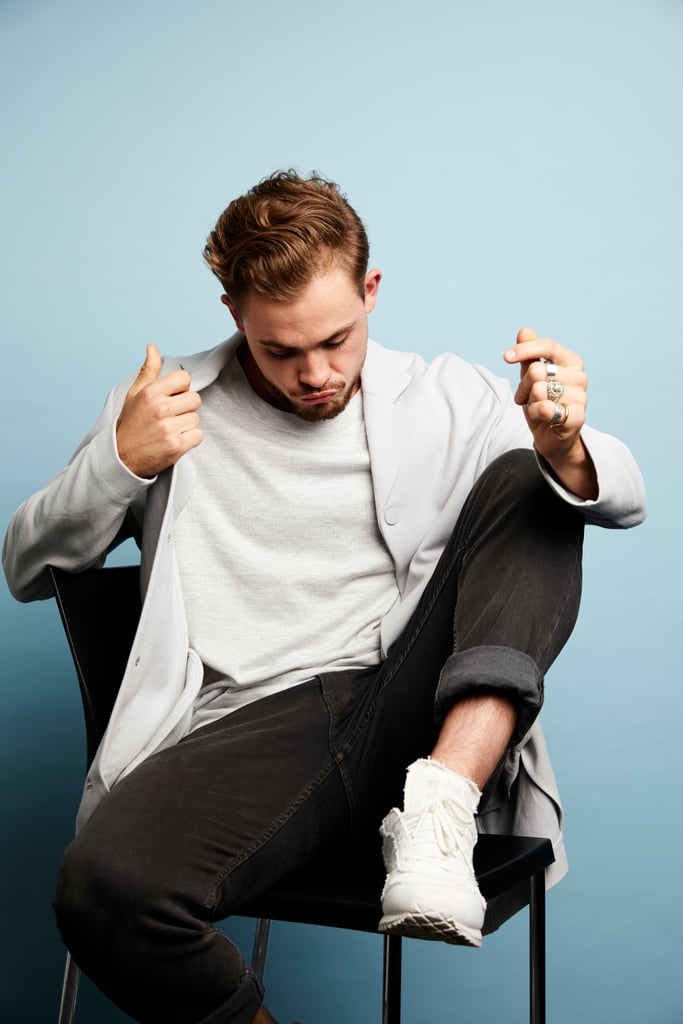 When he's not working, Dacre calls Perth home, where much of his family and friends reside. He counts them both as anchors and a support network, something he's aware not all kids pursuing Hollywood dreams have, and is extremely grateful for. "They keep me grounded, level-headed, everything — advice, making smart decisions . . . I'm firm in the belief that that's going to hold me in good stead in the long run." Part of the reason he goes back to Perth? An 11-year-old sister. "She's starting to be interested in boys, which scares the living daylights out of me," he says with a laugh.
Home is also, a hide-out of sorts. "I go and drop off the map. It's so laid-back and relaxed," he says, fondly. "A lot of Australian actors go to LA, audition and do the whole thing. But with self-taping, you can stay in your realm, and my realm is literally my parents' walk-in wardrobe. I set up a light, backdrop and shoot my own tapes." In fact, both of his breakout roles — Power Rangers and Stranger Things — have come off the back of self-taping, the latter of which is now a famous tale of him dancing in a g-string to Duran Duran's "Hungry Like the Wolf".

Ballsy moves aren't rare though, at least not for Dacre. His next role after Stranger Things — an Australian production he can't discuss as yet — involved a similar above-and-beyond audition process. "I'm just trying to look for new avenues, and one day, somebody's going to turn around and go, 'This guy's a complete idiot, he's full of sh*t,'" he chuckles. "But until that day, I'll continue to make crazy decisions.
---
"I like to dive in the deep end and do things against the grain. Not the way everyone thinks you should do it."
---
It is slightly ironic that a young actor from a city as remote as Perth is as tuned in and sharp as Dacre is, but maybe it's this exact dichotomy that's his secret weapon. There's an endless curiosity to his way, a passion so lively it's contagious — the kind that makes you question what you've done with your own life. On the surface, his hobbies are just like any other thriving 20-something: spending time with his sister and friends, eating out ("far too much"), coffee, indulging in plenty of film and TV, and unwinding through exercise (namely, boxing, circuit training and yoga). He's got a boat and motorcycle license up his sleeve, with a pilot one on the way.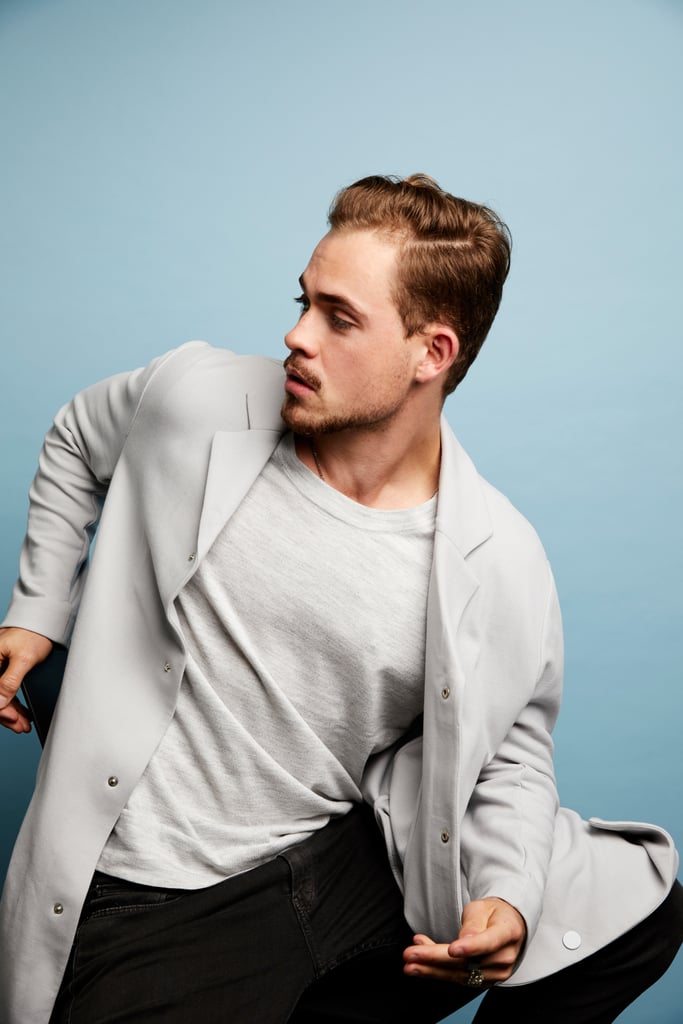 "I bought a silly sports car," he says, a cheeky smirk spreading across his face. Boys will be boys! "An Audi TTS. I hadn't spent any money in like, two years. So [I love] driving that around Perth, being silly, paying far too much for insurance," he says, laughing. "You know, I think those things are also important, I have to remember I am 22 sometimes."
Unlike most 22 year olds however, success so far has afforded him the opportunities to explore other trades. He's just started getting into writing screenplays, and harbours a keen interest in interior design, having just finished an internship in LA. There are also hopes to open a restaurant in Perth and LA over the next two years — he's currently learning the ropes of running one from a local restauranteur in Western Australia.

I ask him why he feels the need to constantly be doing, because in Dacre's case, being busy is more of a choice than matter of circumstance. Even when he's out of contract back in Perth, he's up by 7 a.m. every morning and at any combination of the above, schedule or no schedule. "I'm very interested in, if you work harder than anybody else, what can you achieve? What can you do?"
"There's nobody saying, 'Dacre, get up in the morning, you have to do this or this,' you have to be able to do that yourself as a freelancer. I'm a firm believer in that," he continues. "Everyday, I'll write out stuff to do — however many items for myself and for my team to get done. By the end of a working day, I want to be able to get my five things done, and by the end of the working day in Los Angeles, I want my team to have gotten as many of those five things done as possible. So we're constantly building, like Minecraft."
---
Look closely enough at any of the greats in any in film, or any industry, really, and you'll see success is marked as much by the choices they don't make as those they do. Dacre tells me about the careers of two leading men that are examples of what he aspires to: Leonardo DiCaprio and Dwayne Johnson. The former, for his smart production decisions, philanthropic endeavours and the air of mystery that's been cultivated around his life; and the latter, for successfully marrying art and commerce into a global, superpower brand. "I think I rest somewhere in between," he says, eyes lighting up. He takes a sip of tea before going on. "I'm extremely interested in business, I'm extremely interested in crafting a good acting career, and being respected for the roles I take and decisions I make on screen."

And this is what strikes me as the most impressive. For his age, Dacre possesses an incredible amount of restraint. Restraint with the projects he chooses to take on, associate with, and even in the way he manages his social media accounts. His Instagram is a meticulously curated grid of portraits, designs and space, with little of his own opinions — he prefers to remain unbiased.
"I haven't auditioned or self-taped for anything in months. I've stopped . . ." he pauses, narrows his eyes and gathers his thoughts. Restraint. "I'm just looking for stories that I care about, and I'm working every single day to structure the next move as strategically as I can, because it's so important for the longevity of my career."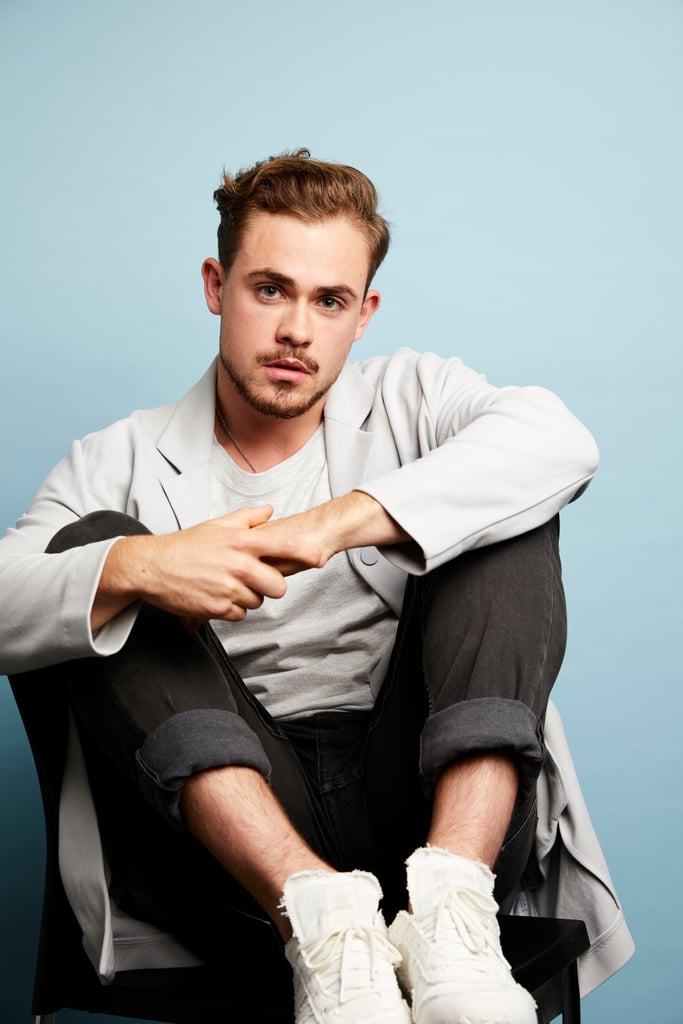 It's not lost on him that building a career in Hollywood is a potentially volatile venture, though. He's aware all of this could very well "take a swan-dive" as quickly as it all started. In which case, he says, "I'll just rest my laurels on the restaurant career."
I try, and fail, to stifle a laugh at the off-handedness at which he says this. He stops me though: "That's the truth." But . . . and of course, there is a but. "I have never had a plan b. I didn't have a plan b for 10 years when I was pursuing this, and I don't have a plan b now. I have acting and I have other interests, but acting is the go, and that's what I work every day towards."
He's in a good place right now. For the first time in two years, he tells me, he feels relaxed and confident in himself as an artist — both about where he's placed career-wise, and the choices he's comfortable making on set. Millennials may be guilty of instant gratification, but he isn't itching for any of that.

Once the dust of Stranger Things settles, and as he readies for shooting his next project in early 2018, he's keen to take a step back. "I'm like, Dacre, you're going to go back to Perth for however many months, you're going to drop off the planet, and you're going to wait. You're going to wait for the right thing in your hideout spot. That's what I am doing, I'm waiting for the right story." And so will we.
Photography: Pablo Martin. Creative Direction: Ashling Lee. Grooming: Sephora.