Daenerys Targaryen Costume Game of Thrones Season 7
You Guys — The Key to Daenerys's Future on Game of Thrones Is in Her Costume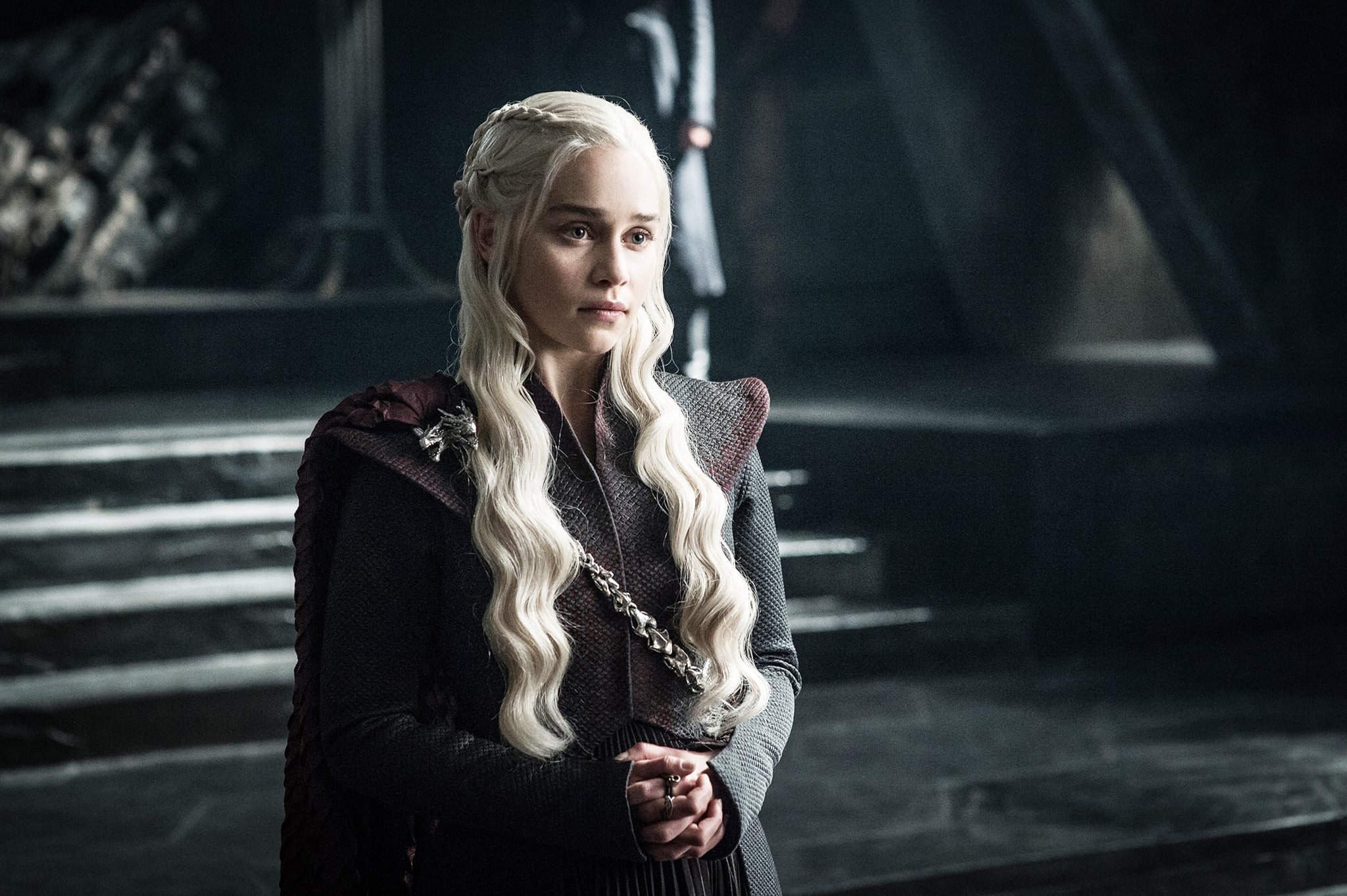 If you're new to Game of Thrones, allow us be the first to explain: tiny, seemingly insignificant details often have huge implications in the scope of the show. So before you go judging the fandom for analysing everything from reused props to changes in armour style, just know that these minutely detailed theories often turn out true. And when POPSUGAR chatted about season seven with the show's award-winning costume designer, Michele Clapton, she confirmed our hunch: the outfits on Game of Thrones do contain secret messages.
That's right, hardcore fans! We're justified in analysing every tiny stitch and detail that we spot in each trailer, because according to Clapton, there are often intentional hints hidden in the show's costumes. And one of the major indicators about this season can be seen in "dragon queen" Daenerys Targaryen's badass new outfit.
"It's not a crown; it's a chain, because she's not queen yet."
When we asked Clapton about the most meaningful costume item that she's used in the show so far, she didn't hesitate to call out accessories as her favourite medium for communicating with the audience. We've known for a while that there are unspoken messages happening onscreen regularly, but one piece of jewellery that Dany wears in the season seven promotional images is especially significant when it comes to predicting her future in the game of thrones.
Regarding the chain that Daenerys wears across her chest in season seven — which can be seen in the photo above — Clapton told us:
I always try to use jewellery to depict the message and depict that station of what everyone is. So with Daenerys, you know, there's a sort of chain — it's not a crown; it's a chain, because she's not queen yet . . . though she intends to be queen, so the chain itself is almost a statement of intent. And it's partially due to the necessity, because the weather where she is now is so cold, she's much more covered up. Her silhouette is much stronger with the widened shoulders, and there's something stronger about her. Daenerys is now sort of in charge of this huge army, and I wanted to sort of reflect the Unsullied in her shoulders, like she's part of the army.
See that? Daenerys is not queen yet, but it certainly sounds as though she could be soon. And when we mentioned that another accessory, a certain dragon-shaped brooch spotted in the trailer for season seven, seemed significant, Clapton chuckled conspiratorially. "There's often some sort of direction, whether implied or something that happens to someone that you're trying to send a message," she said of the brooch. "It is very important, and I know of that medallion you speak of." There's no denying the powerful, intimidating elements to Daenerys's outfit that weren't present before. The Targaryen princess has come a long way, from light-coloured silks and soft leathers to spiked shoulder pads and dark colours. And it's no accident, says Clapton; Daenerys is much farther along in her journey by season seven, which means she's embracing her Targaryen nature in adornment as well as attitude. The costume designer elaborated:
With each one [character], I tried to sort of bring them to the helm of their strengths, and we'll see how it plays out. I know their story, so each little thing is part of the plot for their whole story. Often people say, "Well why isn't Dany in red and black?" And it's like: give it a chance! We'll get there, but if she's in red and black [Targaryen house colours] at the beginning, then we have nowhere to go!

So now, finally, you see the red creeping in, and the scale, and the shape of her brother's costumes — if I did that in [season] three, where would I go, you know? So sometimes it's very frustrating when people say, "Oh, well why did she put her in white?" Look at the whole story; look at the journey. I think that's really important: people are born from their journey, and they will get where they need to get or . . . well, they'll die. Whatever. But it's a process. It's important to go through that and to take your time, I think.
Well, if the sharp silhouette, black-and-red dragonscale, heavy chain, and fierce look in her eyes are any indicator, we're sure to see some exciting things from Daenerys in the coming episodes. Now, if you'll excuse us, we'll be analysing every costume we see to come up with theories before the premiere. Long live the Khaleesi!