Dannii Minogue and Kris Smith Reportedly Split
Dannii Minogue and Kris Smith Confirm Split on Twitter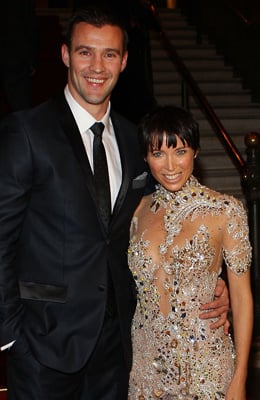 UPDATE: Dannii and Kris have both confirmed the split on Twitter. Dannii posted, "It brings me great sadness to tell you that Kris & I have separated. We still care for each other & ask for privacy at this difficult time, in particular for our son Ethan who remains our number one priority," while Kris said, "Dannii and I have a deep mutual love and respect for each other and although things have not worked out we have a gorgeous son together that we both love and implore everyone to respect our privacy at this challenging time."
Dannii Minogue and Kris Smith have reportedly split, with the Daily Mail saying they separated two weeks ago. The stars haven't been spotted together in public for the past few months, and the Herald Sun reports they have been "leading increasingly distant lives."
Split reports hit the couple back in June, when a series of cryptic posts on Twitter hinted at possible problems. Kris has also talked about how Dannii's huge workload worried him. At the time they released a joint statement that said, "Thanks for your concern. We're happy to be back at home in Melbourne together as a family. We are committed to our relationship and Ethan as always." This time Dannii and Kris haven't said anything on Twitter, nor has an official statement been released.
Dannii and Kris started dating in 2008 and have a 21-month-old son, Ethan.