The Dark Knight Rises Movie Review
The Dark Knight Rises: A Finale That Soars to Incredible Heights
Going to the movies with super-high expectations can be a dangerous thing, but that's what most people will be doing when they get comfortable for a 164-minute screening of The Dark Knight Rises, Christopher Nolan's 2012 blockbuster and the third and final film in his epic Batman trilogy that has seen Christian Bale don the iconic black suit. The good news? It delivers. It satisfies. Despite its long runtime, a necessity given Nolan's multilayered plot that was scripted with his brother, Jonathan, The Dark Knight Rises is an enthralling ride — and we often feel like we're literally on a ride — from start to finish.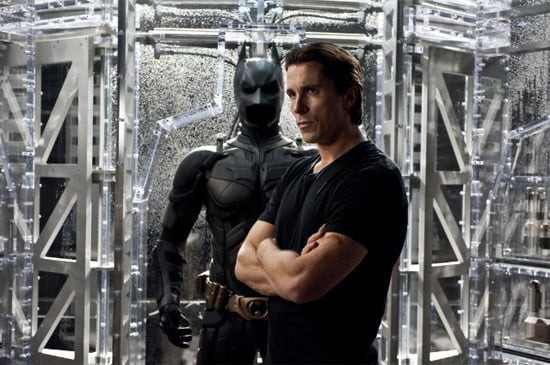 Here's what we know of the story: it's set eight years after Nolan's 2008 offering The Dark Knight. Bruce Wayne (Christian Bale) has been living a secluded life holed up in his mansion, and as a result his crime-fighting alter-ego Batman has also been out of the spotlight. But that's OK with Gotham City's residents because they believe Batman was responsible for the death of the highly-esteemed DA, Harvey Dent. Crime in general has gone down in the years Batman's been absent. And then Bane (Tom Hardy), a brutish, mask-wearing villain arrives on the scene and promises to bring chaos back to Gotham. Bruce knows what this means: it's time to dust off that bat suit.
For more of my thoughts on The Dark Knight Rises just keep reading.
Just like Batman Begins and The Dark Knight, there is so much going on in The Dark Knight Rises. The company Bruce's family set up is experiencing financial ruin, and one of its board members, Miranda Tate (Marion Cotillard), is also occupied with trying to bring Bruce some personal happiness. Selina Kyle (Anne Hathaway), or Catwoman as she's more commonly known to audiences, slinks her way into Bruce's life and keeps everyone guessing about where her allegiance lies. The other notable new character is John Blake (Joseph Gordon-Levitt), an idealistic beat cop who works for Commissioner Gordon (Gary Oldman) and still believes in "the Batman," because someone needs to, right?
The new actors, many of them alums of Nolan's Inception (Hardy, Cotillard and Gordon-Levitt), slip easily into their respective roles — Hardy's Bane is rather terrifying, and not just through his intimidating physical presence and voice. People were mostly apprehensive about Anne Hathaway as Catwoman, but the brunette beauty impresses in the iconic role, bringing the right mix of sarcasm, sexiness and butt-kicking qualities to the morally-ambiguous role.
Aside from keeping up with the story and new characters, one has to take in the massive scope of Nolan's vision (which is best experienced in IMAX if you get the chance). Grand aerial shots of Gotham, thanks to Batman's air time in his new flying mobile, the Bat, show the city in all its gritty grandeur after it's been struck by disaster. The big mob fight scenes also have a grounded feel thanks to Nolan's decision to use hundreds of extras instead of CGI. Everything the director decided to do as realistically as possible pays off.
There are twists and turns aplenty, and it's packed with surprises that will have you desperate to break it down once the movie is over. We knew Batman's fate would be safe in Nolan's hands no matter the outcome, and thanks to strong performances from a stellar cast — we can't forget to mention Bale's final impressive turn as the titular, tortured hero — and the work from the behind-the-scenes crew, the trilogy comes to a grand end in a finale the franchise and fans deserve.