Darren Hayes Interview on Stupid Mistake, The Voice, Fame and What He Misses About Australia
Darren Hayes Talks "Stupid Mistake," Mentoring on The Voice and What He Misses About Australia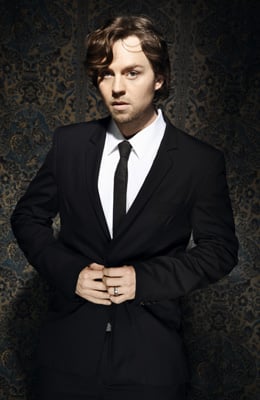 Darren Hayes has had a long and illustrious career in the Australian music industry, from his days as one-half of Savage Garden to his solo work in the years that followed. He recently released his latest single "Stupid Mistake" from the album Secret Codes and Battleships and has said, "It's a very complicated song because it addresses the issue of a betrayal and of a loss of innocence. It's angry and it's bitter in places." Fans of The Voice will also know that Darren joined the show as mentor for Delta Goodrem's team in the battle rounds — his third episode airs tonight on Channel Nine. We spoke to Darren to find out the inspiration for his music, being a mentor on Team Delta, and how he plans to celebrate his 40th birthday tomorrow.
Can you share what you were going through when you wrote "Stupid Mistake," or what inspired it?
I think my whole album, at the very heart of the record, it's about the idea that if you strip everything away from your life, it's the people you love and your relationships that really matter. That's why if you lose love, or if you've been heartbroken, it hurts so much. If you have a friendship that goes astray, you can feel a lost. A lot of the record is about feeling lost in your life, and really working out when you tune out all the noise what's really important to you. For me, I had a very long friendship that was ending, and my only way of understanding the betrayal of trust in the relationship was to write songs about it. A lot of the songs that sound like breakup songs are really about this friendship that was ending. At the same time, I understand it takes two to tango — we're such complicated creatures, and sometimes you can say one stupid thing, or lose your temper in a heartbeat, and it can change the course of your life. That's what the song is about, how the other party made an error of judgement that had an incredible, negative impact, and dealing with the consequences of that. And if that's too complicated for you, I guess it's just a song about being betrayed and dealing with those emotions.
More from Darren when you keep reading.
The character you create in the music video reminded me of the Joker in Batman.
Yeah, a lot of people have said that.
Is there not supposed to be any correlation between the Joker and your character?
Not at all, but at the end of the day the Joker is kind of a clown. The character in the video comes from German expressionist theatre, and that stems from the 1930s, 1940s and pre-war Germany. It's that idea of making a deal with the Devil, and you become, through the mask and makeup, this alter ego. Obviously that's where the idea of the Joker comes from. For me, what I was interested in was the idea that when you're a performer, you put on a mask and you put on a show, and sometimes you put on a mask to hide something, when actually putting on the mask could be turning some things up. There's a second in my show when I sing the song "Popular," and I say I'm willing to do anything to be famous. With fame you get everything that you ask for, but sometimes it's not everything that you need. I guess the video is showing that sometimes that ego can be a monster, and it can become something very ugly.
You've been in the fame game for a while now. Do you still wear a mask?
I think we all wear masks. For me, the difference between my public self and my private self is a very tiny gap, and if you look at my first ever Savage Garden videos I created a character then, really. It's almost like the clown or monster in the "Stupid Mistake" video is like a grotesque version of who I thought I was back then — I dyed my hair black, I wore pale makeup. I was trying to become something else, and it was probably as a suit of armour to protect myself from scrutiny, fame and all those things. I didn't realise it at the time, but if you look at the last 15 years of my career I've become less and less artificial-looking. I guess that comes from getting older and realising that a lot of the imagery I use is now in my song writing, not in the clothes I wear.
Can you tell me about your experience as Delta's mentor on The Voice?
I've loved it. It's been one of the most fun things I've been involved in. I already miss Benji [Madden], Megan [Washington] and Ricki-Lee [Coulter] because we were like four naughty kids. The truth is that Delta, Seal, Keith and Joel actually work really hard, and we got to hang out with the contestants and their families a lot in the studio. Sometimes you're shooting for 18 hours a day. When I first arrived on the set, I was really nervous! I've done a few things for Idol and X Factor, but this was quite a commitment. Benji was one of the first people to befriend me. I still remember this: he was standing around in a hallway like he had nowhere to go, and I was in my dressing room, and I said, "Hey, man, do you wanna come inside or sit down?" He was like, "Yeah, do you mind?" He was so polite, like the kid who had no friends. He and his brother were the big American stars and he was standing around not asking for anything. Within an hour I think Ricki-Lee was teaching him how to do a Mintie tear. By the time that was happening, the producer was clapping his hands trying to get our attention. As we were goofing off I realised it was going to be so much fun. A lot of it was really emotional — there are really emotional things, like you get attached to people you're working with, and then by the time they're singing in the battle rounds, either one of them should stay, but only one can.
And I guess it's even harder with the way a lot of them have been paired up, like the episode with Prinnie and Mahalia . . .
I know. It's heartbreaking. I understand why it has to happen, because even the stuff the public hasn't seen, things before the blind auditions that don't make it to air, even that's heartbreaking. Then you see people make the final 24, then 12, then 6 . . . We were all saying it to Joel, like, "I can't believe you put Prinnie and Mahalia next to each other!" But what are you gonna do? These are all talented singers and someone has to go home.
You've had a mentor role on a few talent shows — is coaching or judging a show full-time something you'd like to do?
Until I did The Voice, I would've said no, because I've never really felt comfortable in that role of being critical. What I've loved about my experience on The Voice is that there's no humiliation involved. I feel qualified now — I'm 40, I've been doing this since I was 17 — and I've realised when I'm talking to the contestants, there are so many experiences I've had that have really toughened me up. It's little things, like talking to somebody about how it doesn't matter how rehearsed you are, when you look down the camera and realise you've live to the nation, there's a particular kind of dread that comes over you. I've been live on television and forgotten the words to my own songs and just had to rise above it. They're the things — falling off stage at the Brisbane Entertainment Centre and trying to make out that you were Jim Morrison, when actually you're just really clumsy — that I've survived. I'm comfortable doing this. So maybe — I've loved it.
Aside from your family and friends, what do you miss most about Australia?
Oh my God, mostly my family and friends! It's getting harder and harder to be away — it's been 15 years. I really miss our sense of humour. I miss Australian food — this is going to sound crazy, but I miss our dairy products! We have the best yoghurt in the world! And tiny things, like going into a Woolworths and knowing you can get amazing fresh fruit and vegetables at the drop of a hat. When you live in a city like London, with 15 million people in a piece of land that could fit inside Queensland five times, spaces are premium, and it's that that I miss — our big, blue, bright, beautiful, natural way of life.
As you mentioned, you're turning 40 [on May 8], so how are you planning to celebrate?
I am being whisked away to Paris. My husband is taking me to Paris. I don't know any of the other details. I just know I've got a radio interview in London and then we get on the Eurostar for three or four days in Paris. One of our first getaways was to Paris — we always stay at the same hotel and there's a restaurant we love, so I know that's going to be a part of it.
Secret Codes and Battleships is out now.