Davey Lloyd Bachelor in Paradise Elimination Interview
Davey on What He'd Do Differently in Paradise: "I Would Think a Bit More For Myself"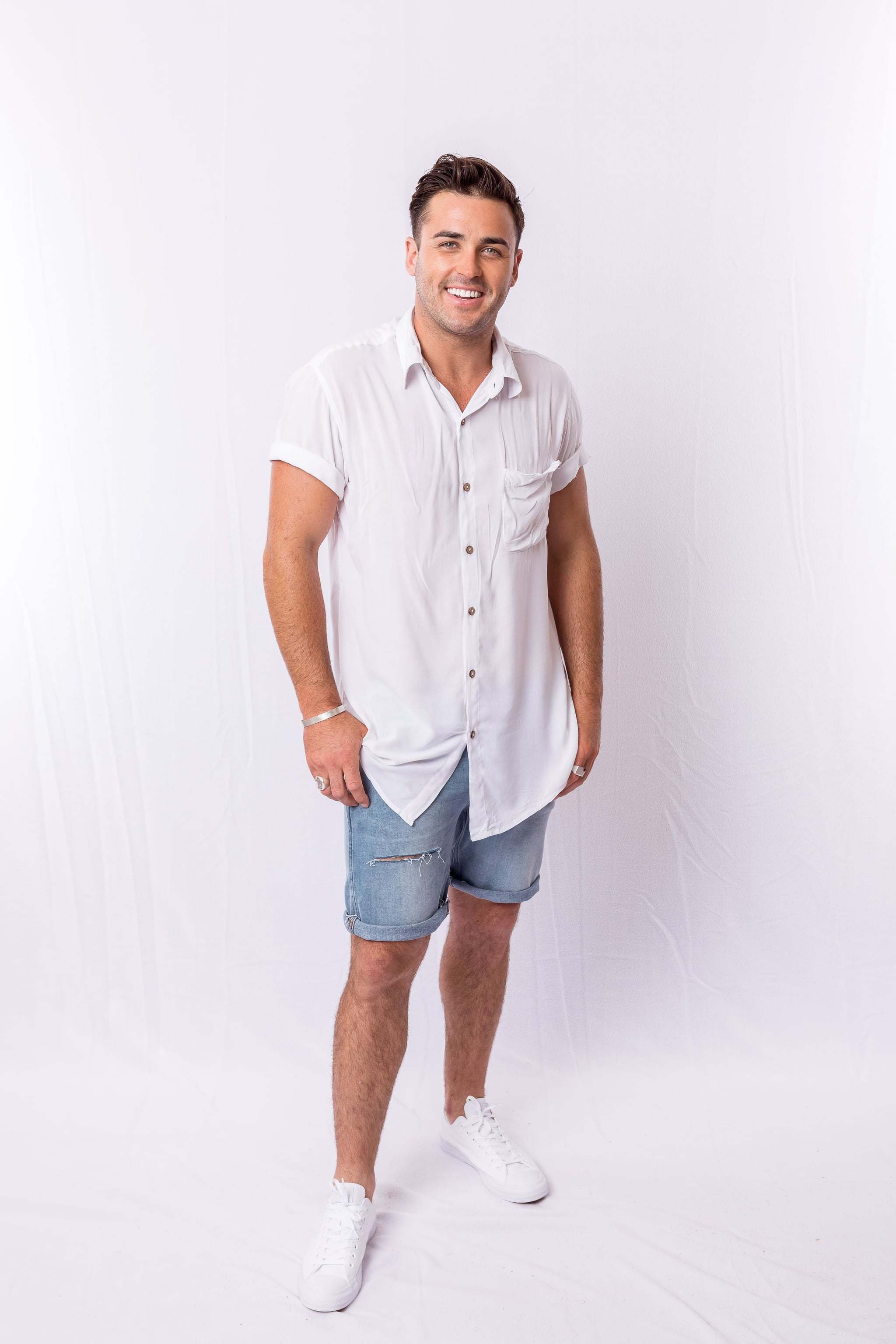 In the first rose ceremony of Bachelor in Paradise, the power was in the women's hands. And after Osher bluntly told everyone during the premiere to "pair up or pack up", well, you knew the stakes were high. With nine girls and seven guys, two men would be leaving Fiji, and in the end, it was Davey and Brett who were left without a rose.
Off the back of his exit from Paradise, we caught up with the Davey to hear his side of the love-triangle, feelings for Leah and his overall experience.
POPSUGAR Australia: So, what was the deal with you and Jake?
Davey: I gave Jake the opportunity to make amends with Florence, and they weren't working so well. So I decided I made a mistake, I needed to go for Flo at that time, even though there was a good chance it could be too late. It sucks, because Jake and Michael were my best friends on that show, I didn't really know any other people. I was stuck between one of my best mates liking a girl and my own feelings.
PS: Your date with Leah — was that purely out of mateship for Jake?
Davey: Yeah. Look, obviously I wanted to get to know Leah a bit more, but if I had my choice, I would've picked Flo. I have nothing against Leah at all, she's a lovely girl, but I was going in there for Flo. They had Jake, Florence and I sitting there, and I was thinking, if I got this [date card], what do I do?!
PS: Were you mad at him?
Davey: Now I look at it, it's just Jake. He's such a lovely bloke, there's no harm done, I have no beef against him, we're just made differently, I guess.
PS: Were you surprised no to receive a rose?
Davey: I didn't know. Flo had led me to believe that I was going to get it, because I had actually thought about leaving. I had her best intentions at heart and I didn't want her to have to go through the pressure of choosing between us and then having Jake and I competing against each other. No one in real life wants to compete for a girl, especially if you're really good mates. You know there's just going to be drama from that.
PS: I got so stressed for you guys when Osher said, "Pair up or pack up." Did you feel the pressure at all?
Davey: Yeah, especially when I got the date card, because the power was in my hands straight away. It sucks, like . . . I went there for Flo, and if it wasn't for Jake walking past me going, dude she's mine, stay away from her kind of thing, I would've probably gone for her. It sucks because I really love Jake.
PS: How did you date with Leah actually go?
Davey: Leah's lovely, but she's not my type. I gave it a go . . . There's so many things you could say and change and do, but it's been done. I mean, as far as dates go, I've had better.
PS: That was surprising, because you guys seemed to hit it off quite early on.
Davey: Yeah, that's the thing. The whole thing is about meeting new people and forming new relationships. You can't just get there and go, right, I'm going to talk to this girl and that's her. If you're potentially going to be with this person for a long time, you need to make sure that your decision's right. Unfortunately it looked like it was a decision I wanted, but it was also because I was looking out for myself as well.
PS: Florence seems to be a popular target, what are your thoughts on the whole love triangle situation?
Davey: She's stunning, so it'd just be natural for her. She'd always have guys fighting for her!
PS: Did you see any strong connections form between anyone?
Davey: I mean, I saw some friendships before I saw relationships. I was only there for a couple of days, so everyone was still getting to know each other. And then boom, goodbye! [Laughs]
PS: How did you find the experience overall? Did you enjoy yourself?
Davey: I did, I did. But would I change anything? I wouldn't change things, but I'd do it differently next time. I would think a bit more for myself. I'm not getting any younger!