Dean and Davina Cheating on MAFS
Surprise! Dean Double-Crossed Davina Last Night in the Most Dramatic MAFS Episode Ever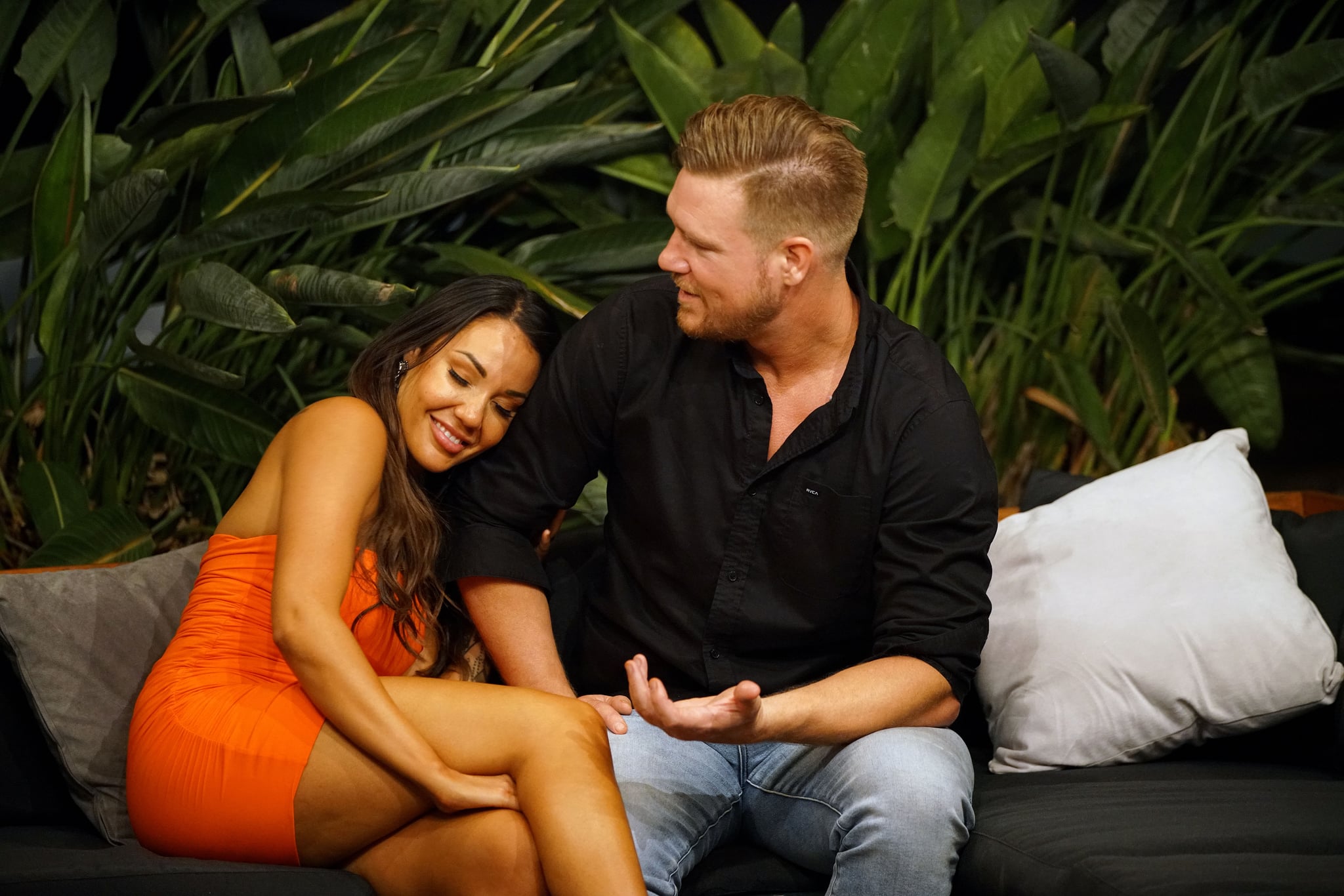 We're going to need a lie-down. Last night's episode of Married at First Sight was beyond dramatic — easily the most of any of the seasons so far. Before we explain why it was such a whopper, let us quickly recap for you:
The moment contestants Davina and Dean set eyes on each other, they felt an instant attraction. Pretty awkward considering they were both married to other people in the experiment. It didn't take long for both of them to toy with the idea of leaving their respective partners, Ryan and Tracey, to be with each other instead. They acted on their attraction quickly, and met up for secret drinks while their partners were completely unaware. There was plenty of canoodling and the conversation was inappropriate to say the least.
At the dinner party last week, things got even more intense: Davina and Dean were about as close as you can get to kissing without actually kissing, and they both promised to leave their partners come Sunday's commitment ceremony. Where we left them on Wednesday night's episode, it was all pretty concrete: Dean and Davina would opt to leave their respective marriages and instead give it a go together.
And so, we arrive at the commitment ceremony — and let us tell you, the nerves are pretty real. Davina looks like she's desperate for it to be all over so she can be with Dean, and writes "Leave" on the card that she'll have to present to Ryan. Davina has her sights set on Dean and she's 100 percent committed to doing whatever it takes to be with him.
Dean, on the other hand, has had a change of heart. Something at the dinner party triggered a change of heart — he went home with Tracey, they slept together and, the next morning, he realised he'd maybe cast Tracey aside too quickly. He makes it clear he's rethinking his decision to leave her for Davina and . . . well, sh*t. That's super awkward.
Watching the episode and knowing that Davina is committed to ditching Ryan for Dean, but that Dean has changed his mind, is kind of excruciating. Almost as excruciating as it's been watching Tracey wax lyrical about how Dean is a changed man and making a real effort to save their relationship all week.
We arrive at the point we've all been waiting for: it's time for Dean to tell the group if he's staying or leaving Tracey.
He launches straight in and tells everyone that something shifted between him and Tracey and that they're in a great place. He then says that he has to come clean about something to Tracey, and proceeds to tell her most of what had happened between him and Davina, while strongly steering the conversation in his favour (she made the move on me, etc.).
It takes all of three seconds for Davina to pipe up and tell everyone that Dean is lying and that he'd promised her they would leave their partners so they could be together. She details some of the things he told her, including that he's more attracted to her than Tracey and that there was nothing romantic between Dean and Tracey.
It was, as seems to be the theme of the show right now, excruciating — and the rest of the couples cannot believe what they are hearing. Nassar in particular is incensed by Dean's double-crossing behaviour, and tells Davina and Tracey that he's played both of them. There's a whole lot of outrage in the room and, annoyingly, most of it is directed at Dean, even though Davina is equally responsible for this sh*tshow.
It's easily the most dramatically confrontational scene we've seen in five seasons of the show and wow, the tension in that room was palpable through the TV.
In light of the revelation, Tracey is given extra time to think about whether she wants to stay with Dean or not. They talk it out, he lies some more, but she decides to give it one more shot. She receives a lot of judgement when the group hears her decision but she stands firm: she wants to give Dean another chance and if it blows up in her face, so be it. She's a strong woman and we admire her stoicism in the face of what must have been truly hurtful and embarrassing.
As for Davina? She's super upset and feels betrayed — and we're sure there's a sting of embarrassment in their too, that she was rejected so publicly by a guy she seemed to be falling for pretty intensely. Davina wrote "Leave" on her card for Ryan while he, none the wiser, had written "Stay." As we know, if the couples have different decisions at the commitment ceremonies, they have to stay for another week — so Ryan is stuck with Davina for another seven days whether he likes it or not.
And so we have another week of drama ahead. It'll be interesting to see what relationship, if any, remains between Davina and Dean — and how their betrayed partners Tracey and Ryan choose to move forward.
Need to talk it out? Come and join our private Facebook group, Pass the Popcorn!