Dean Koontz's Frankenstein Series to be Made Into a Film Franchise
It's Aliiiiive! Frankenstein Resurrects on the Big Screen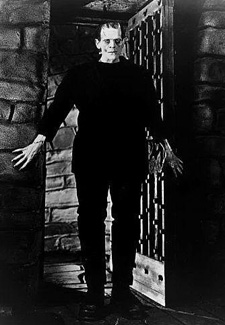 Get ready for another monster-sized franchise: writer Dean Koontz's Frankenstein series will be getting the movie treatment. But don't expect to see townspeople carrying torches to drive the creature out of the village; this modern spin on Mary Shelley's classic is set in current-day New Orleans.
The film version will most likely jump off from Koontz's first book Prodigal Son, which follows two detectives who meet the doc and his intelligent bio-engineered invention (named Deucalion) during the middle of a murder case. Deucalion is two centuries old with tattoos all over his face and a bit of a crime fighter as he helps the investigators. If the story takes off, expect to see countless sequels—Koontz already has three follow-ups to Son and two more in the works.
Intelligent with tattoos? Deucalion sounds strikingly different from the hulking, green-faced monster with bolts that we're familiar with. Now, the only question is, who should play him? The actor should probably be big and muscle-bound, but with an action star quality. Channing Tatum, perhaps?