Delta Goodrem Child of the Universe Interview
Delta Goodrem on Her New Album Child of the Universe, The Voice and Dealing With Criticism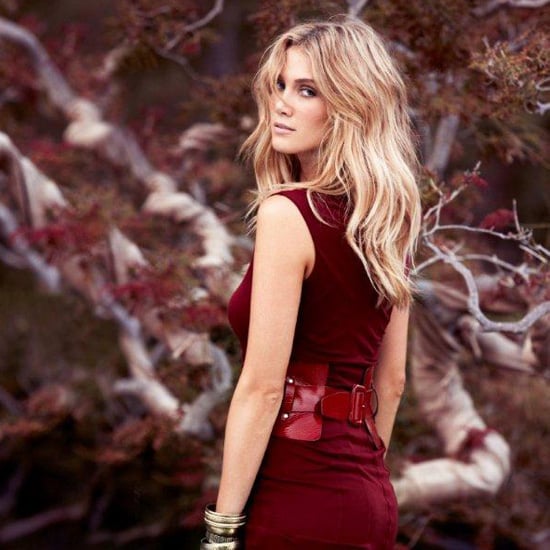 Delta Goodrem is excitedly celebrating the release of her fourth studio album today, Child of the Universe. It's been five years since her last album, Delta, came out, and in that time the Australian singer has had her hands full with promotion, tours, writing, and a coach position on The Voice. It was actually her time on the popular talent show that inspired one of the album's tracks, "Knocked Out," which is her response to the criticism she copped. The record is filled with some up-tempo hits, like "Dancing With a Broken Heart," and the sweet, emotional "Wish You Were Here," which is about the death of one of her closest friends. Here's the rest of our chat (catch up on part one here) where she talks about writing personal material, touring with Rachael Leahcar, and responding to her critics.
It's been five years since the release of your last studio album. I know you've written a lot for this one. How do you decide what makes the cut?
You've got all these lyrics that you've written and sometimes you want to put them on because of what they say lyrically, and sometimes they might not be right song, or the right feeling, or sonically it's not 100 percent. So you have to balance out your 'can't live withouts.' I have to be like, "Can I live without this song?" And if I slightly feel I can, then they can't go on [the album]. But when we say five years, I don't know why people say that, because yes, an album was released five years ago. That album then went for two years, and I was around the world promoting it. And then I toured, so that's another year. Then you have six months where you have to rest because you've been on a treadmill. And then I moved countries, and then I was touring with Andrew Bocelli, and then I was touring with Michael Bolton. I was writing songs for other artists. And before you know it I've only got a year-and-a-half to write an album. But I've written all these songs in that time. Hundreds of songs. I'm a prolific writer so I write all the time.
More from Delta when you keep reading.
I guess it's easy to forget someone's working when they're not, I don't want to say 'in your face' . . .
People think when you're not on their TV screens or in a photo on the red carpet that you're not living your life. I am still enjoying my life and loving music and being surrounded by music! I'm writing for people, producing, you name it — I'm still very active and very much amongst music. But I also don't need to be in people's faces, so to speak. I'm not really like that. I love music and I do it to do my live shows, to be able to bring joy to people and connect with people. If I'm not in a place where I don't feel I can give everything, then you won't see me. If I feel I can give everything, I'll be around. Otherwise my life still happens, and I believe in enjoying my life along the way, too.
With social media these days, people feel like they can always be in touch with you, and almost expect immediacy if they contact you.
The thing is I'm not always on it. I really like to be present in the world, and I think that's important for people too. I love escapism. I love trash TV and reading other sites. I think it's healthy to have everything in different moderations. I think it's also important that people stay present in the world, and that when I'm with people, I'm present with them and not looking at my phone all the time. So I might not always see everybody's tweets because I'm trying to create something or wanting to make things to give to people.
I read that when you started writing this album, you had a clear vision of what you wanted it to be. Did it turn out as you thought it would?
That's a good question. I think it's like anything in life that your vision of what you think something is, is always different — better than what you imagined, but different to what you imagined. It's the same with the album. I think, it is Child of the Universe — the second I wrote [the song] "Child of the Universe" I knew that was my album title, and that was two years ago — and as we've gone along it changes because time goes by. I'd say that there are some of the best songs I've ever written. "Wish You Were Here" is one of the best songs I've ever written.
I was listening to that one and I thought it was classic Delta, compared to the first two songs you've released.
Totally. That's good to hear.
And it's such personal material as well. How do you get through writing about things that was so emotionally-charged?
Every time we listened to that song ["Wish You Were Here"], for a long time we cried. Same with "I'm Not Ready." You want to tell a story, and it's OK to break down, and it's OK to listen to it and then sing it to everybody, and hopefully it will touch their heart. I don't put too much pressure on myself if I'm going to feel emotion.
"Knocked Out" was inspired by your time on The Voice. I was listening to the lyrics and was wondering if it's a response to some of the criticism you got from the show?
It was the mini storm that passed because it didn't have enough substance to sustain. That time did hurt and I didn't understand it, and that's what the song says. It says, "I don't really understand what's happening, I don't know what I did to anyone." I was just like, I don't understand, OK? [Laughs] But again I just put my head down and kept doing my job. It was interesting, but I really have to say thank you for that time because I feel very differently again now. I'd say I'm a very strong girl in general, while still praying that I keep an open heart. I'm not going to let anybody change me having an open heart and an open compassion for people. I believe in the greater good of people, I really do, and I'm not going to let small minorities change that in me. I'm thankful for that moment and I think, 'OK cool. I'm not going anywhere.' I loved that sentiment: "When I get knocked out, I'll get up again before you count to 10." It's also that strength of saying don't ever underestimate me. And I hope that other people could also feel that for themselves. It's one of the last songs on the album. I like the strength in it.
It was such a big part of your year.
Absolutely. But that's been the problem with this record — there's been so many moments. Like that was a whole chapter in itself. In that moment I was learning and growing. I am always trying to do my best. I always go, "I could've done this better, I could've done that better." But you know what? If you're going to take compliments, you have to take both sides and just neutralise. And I don't really read anything. In that moment I was like no, I'm not going to [read about it].
You're keen for a second series?
I think it's really positive, it looks good and I loved the show to pieces. I think it looks good.
Rachael Leahcar is opening your upcoming shows. What do you have planned?
She's so divine. I love her to pieces. I think it's the perfect way for me to be able to watch her, because my job is not done with her. I'm at all times true to my word and I have looked out for her. I want to make sure she's doing the right thing, getting to bed early [laughs]. I can't wait to have her on tour. And it makes me quite emotional because she was like a little angel to me on the show. She talks about me being that in her life, but I swear to goodness she was my little angel. I had to keep finding strength to make sure I was there for her, too.
You've been in this industry for a while now — how do you deal with rumours and reports of who you're dating?
You know what? Again, I'm in a different place in my life. I'm very relaxed and don't buy into anything. I love music so much that I would never hurt my music by letting anything else interfere with it. That's my truth. I want to do great performances and be the best artist that I can be. Everything else is just a part of my job and I accept it for what it is and move on.
Child of the Universe is available to buy now.