The Descendants Movie Review Starring George Clooney and Shailene Woodley
The Descendants: Family Dysfunction Under the Hawaiian Sun
You may not believe me if I told you I saw a movie about a family tragedy that made me laugh out loud, but The Descendants is that film. Alexander Payne's dramedy is a deeply moving story about a man, Matt King (Clooney), who struggles to reconnect with his daughters when a boating accident leaves his wife on life support. The film is filled with raw emotion, but it also finds humour in the realism of how people react and rebuild when life deals them a bad hand.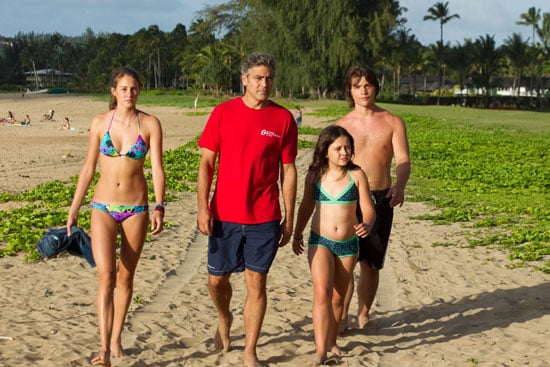 Matt's bad hand isn't just his wife's accident; he's also got rebellious 17-year-old Alexandra (Shailene Woodley) and precocious 10-year-old Scottie to look after, not to mention the fact that he's days away from making a life-changing decision about a plot of land that his family owns. Oh, and did I mention that in the midst of all this he learns that his wife had been having an affair? The premise certainly doesn't sound like a laugh riot — and believe me, it's chock-full of tear-jerking moments — but The Descendants is a gem that perfectly combines tragedy and folly, set against a Hawaiian backdrop.
To see why the film is so poignant, just keep reading.
Clooney may not play doting dad on a regular basis, but you'd never know it from his engaging performance as a self-proclaimed "understudy parent" who's suddenly thrust into the spotlight of raising two girls. Despite the emotional curve balls that are thrown Matt's way, Clooney's performance keeps you sympathising for Matt without pitying him. Moreover, his dilemmas — how to confront his wife's lover and how to talk to his daughters about her condition — are the kind of problems that you hope you'll never have to face in your own life, but you still wonder how you'd react in the same position.
Without a love interest for Matt, Woodley is the film's leading lady, and her years spent on The Secret Life of the American Teenager seem to have prepped her nicely to play Alexandra. On the surface, Alex is a typical, foul-mouthed, bratty teen, but Woodley brings the underlying issues to light, and we see that Alex is actually a loyal, independent young woman who's just been looking for some attention from her parents. With no one else to turn to, Matt and Alex spar and come closer together as they slowly build a new respect for each other.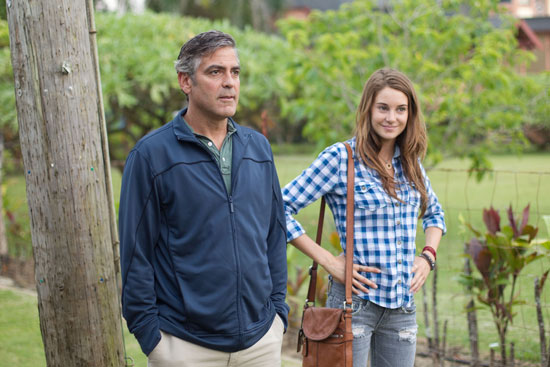 So where do the laughs come in? Clooney is skilled at deftly creating humour in otherwise unsettling situations, particularly as a clueless parent — he awkwardly spanks 17-year-old Alex in one scene, and tells off her dopey friend Sid in another. Sid, who is more or less a live-action version of Butthead, is a constant source of comic relief. Amara Miller also steals her fair share of scenes as 10-year-old Scottie, whether she's throwing around adult language or wearing inappropriate clothing swiped from her sister's closet.
The plot of The Descendants moves slowly, as Payne takes his time to immerse us in Matt's Hawaiian lifestyle and carefully map out what he's dealing with. The pace is just part of the film's beauty; Matt initially describes his family as an archipelago, a chain of islands that are slowly drifting away from each other, but what unfolds is quite the opposite. The unforeseen circumstances actually bring each member of the family closer together, in an affecting portrait of the difference between being related and being a family.