Details About Prince William and Kate Middleton's Honeymoon in the Seychelles
Details From Prince William and Kate's Royal Honeymoon!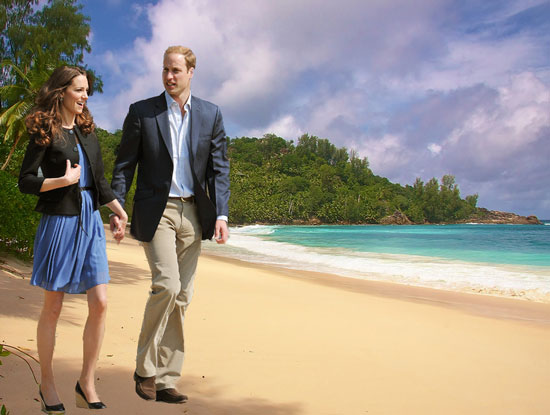 We knew plenty about the royal wedding before it happened and got instant updates about the dress, the guests and the parties as it all went down. But the royal family kept details about the honeymoon as secure as the crown jewels. Now that it's over and the duke and duchess are back to military life and grocery runs, some details have emerged about William and Kate's trip to islands off the coast of Kenya fit for a future queen and king. Here's what we know.
Keep reading for the details . . .
Who: William, Kate and a bunch of wild animals. The pair saw newborn turtles hatch and run to sea and swam with sharks and stingrays while out on a scuba dive.
What: Relaxing in a US$6,000-a-night luxury villa that includes a freshwater pool, private garden and outdoor yoga pavilion, plus a personal chef and butler.
Where: In the Seychelles, a string of 115 islands in the Indian Ocean and a place they had already visited in 2007 when they allegedly made a secret agreement to marry one day. The locals presented the royals with a Coco de Mer "love nut," an aphrodisiac coconut and fertility symbol unique to the island.
When: After delaying their honeymoon, the newlyweds left on May 10 to enjoy 10 days of peace and privacy.
Why: To celebrate their marriage and enjoy time together, of course! A spokesperson said it was successful: "The couple thoroughly enjoyed their time together." How could you not with a trip like that?