Did the Dragon Die on Game of Thrones?
Game of Thrones: We Will Lose Our Sh*t If Drogon Doesn't Survive That Wound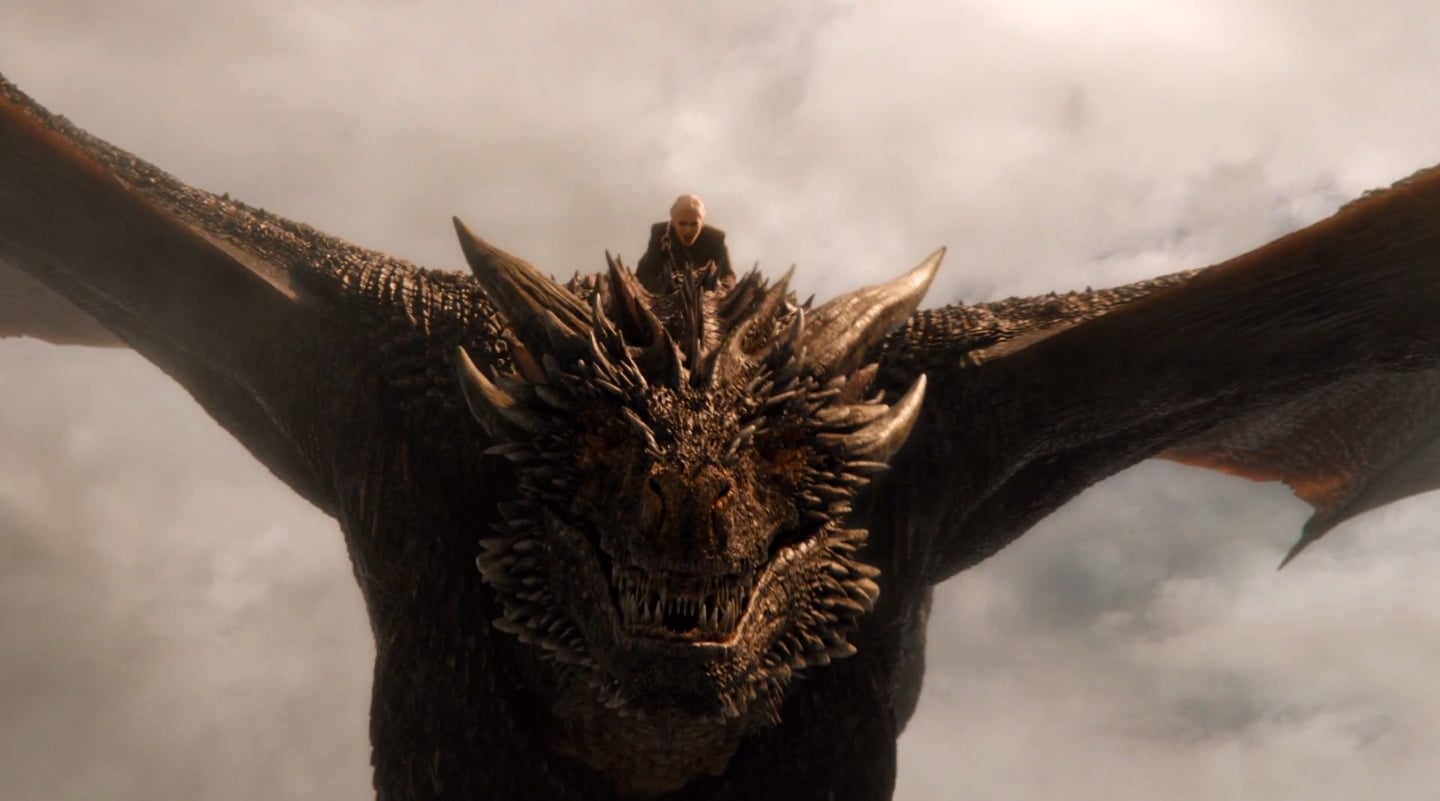 Epic battles aren't a new phenomenon on Game of Thrones, but the one featured in "The Spoils of War" might be the most satisfying to watch yet. Why? One word: dragon. After hanging back on Dragonstone and handling the war with a more tactful approach, Daenerys finally has enough of her losses and impulsively decides to deal with matters by force. With Dothraki soldiers following, she flies one of her dragons to the Reach, where Jaime and other Lannister soldiers are stationed. Once the surprise attack ensues, it's complete and utter chaos (a ladder, if you will).
The dragon Daenerys rides on is Drogon, so named for her late husband Khal Drogo. Sporting black and red scales and wings, he's the largest and most aggressive of her dragons. His personality's no different in battle as he shows no hesitation to burn nearly everything and everyone to bits. Unfortunately, things don't go quite as planned for Daenerys, but one could say they do for Bronn, who manages to injure Drogon. While the Lannister arrows do nothing to impede Drogon, a bolt from a massive crossbow-like weapon does. It's called a scorpion and had been presented by Qyburn for the sole purpose of killing Daenerys's dragons, but it seems it may not get the chance, since Drogon angrily spit fire at it and destroyed it with his huge tail.
When Cersei and Qyburn previously test out the scorpion, they fire it right into a dragon skull. However, Bronn only manages to hit Drogon in the wing area, which brings him crashing down. Like a dedicated Mother of Dragons, Daenerys pulls the bolt out, showing that it cut in pretty deep. He seems to be OK, though, considering he still succeeds in attacking Jaime and Bronn while grounded. But even with an injured dragon, Daenerys still has two healthy ones, and Cersei has no dragon-killing weapon. It looks like the former may now be in the lead. We can only hope it means more dragons in battle because, if viewers losing their minds on Twitter is any indication, who doesn't love dragons?
Watching that dragon fly in like #GameOfThrones pic.twitter.com/UlD0A4jJlW

— CalebJordan (@CalebJordan360) August 7, 2017
Me watching Dany/Drogon burn them all #GameOfThrones pic.twitter.com/WmHHdInzpt

— dragon's daughter (@yeahclarke) August 7, 2017
Me when the dragon got hurt #GameOfThrones pic.twitter.com/PfqhCQ6PLH

— Frederic (@egcaocr) August 7, 2017
Thousands slaughtered, disemboweled, gutted: no reaction.

Dragon or dire wolf gets hurt:#GameofThrones pic.twitter.com/mqYtsJDQRW

— Rebecca Ritchey (@eatingb00ks) August 7, 2017
Still the best damn thing I saw... #drogon #GameOfThrones pic.twitter.com/6IaZ7S8hyI

— Umair Siddiqui (@OfficialUmairS) August 7, 2017