Django Unchained Movie Review
Django Unchained: Tarantino Delivers Another Instant Classic
In Django Unchained, Quentin Tarantino mines the Western genre and a chapter of painful American history for a violent story of revenge and a tale of one of the most enjoyable friendships seen on the big screen. Jamie Foxx and Christoph Waltz play title character Django and bounty hunter Dr. King Schultz, respectively, who meet when Schultz frees and recruits the enslaved Django to help him track down his latest targets. The two team up, and when Django confesses his plan to find his enslaved wife, Broomhilda (Kerry Washington), Schultz takes an interest in his tragic love story and decides to help Django find her. It's a surprisingly tender setup for the murderous adventures to come, and that juxtaposition is just one of the many crazy delights of Django Unchained.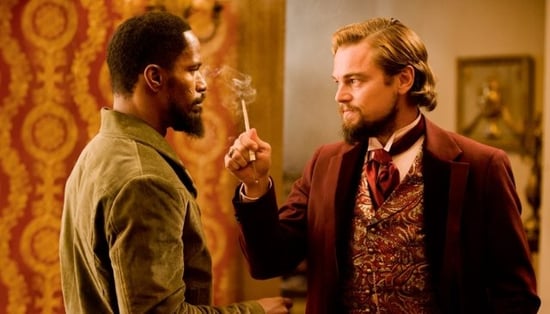 Leonardo DiCaprio also stars as Calvin Candie, who owns a grand plantation called Candyland and who happens to be the current owner of Broomhilda. With his flamboyant dress, love of French culture, and charisma, Calvin is full of personality and is completely unpredictable. Calvin's far from the only dynamic character, though; each of Django's major players make this film as exciting as it is brutal. In exploring a new genre, Tarantino has created yet another mind-blowing, distinctive film. Find out what else makes this movie a must see after the jump.
Django Unchainedis full of unforgettable performances, not the least of which is DiCaprio playing against type as a sadistic rich boy. The role is memorable enough for Calvin's accent and perfect Southern gentleman behavior, but DiCaprio really gets to shock when Calvin shows his stripes — as a man who coldly forces men to kill one another for sport. His ugly disregard for humanity is rivalled only by Stephen, Calvin's manservant, who's played by Samuel L. Jackson. Stephen's hatred for his own race marks a chilling performance that magnifies the horror of American slavery.
In the grand tradition of Tarantino, Django Unchained is graphically violent, in ways that are both true to the barbaric practice of slavery and mildly unnecessary. Buckets of blood erupt out of gunshot wounds, a man is torn apart by dogs — this is not your grandfather's Western. Don't be surprised if you're covering your eyes.
All that blood and gore is countered, however, by the humour. It's not just subtle, satiric humour either: there's slapstick comedy and laugh-out-loud dialogue. It's one of the elements that you keeps you steadily entertained, which is not necessarily expected with a Western or a drama dealing with slavery. The excellent soundtrack also sets the tone for the film: the music is deliberately anachronistic with rap songs and soul jams from the '70s, yet each song fits its scene perfectly. It has the mark of a great soundtrack: you want to run out and buy it, but you're not taken out of the experience.
While the flashy elements enhance the film, it's the development of Django and Schultz's friendship that's the heart of the movie. They're the kind of pair whose unlikely match becomes complementary, and Foxx and Waltz's chemistry is so strong and apparent that they seem like real friends. Each actor gives a fantastic individual performance as well, creating three-dimensional antiheroes: Django is a mix of bravery, arrogance and passion, while Schultz is witty with the kind of cloudy morals that make you unsure about rooting for him. Their bond, which transcends cultural and racial boundaries, is ultimately what makes Django Unchained so memorable. Tarantino's trademark thrills are just an added bonus.
Django Unchained is released on Jan. 24.