Ed Sheeran Rolling Stone April 2017 Cover
Ed Sheeran on His Friendship With Taylor Swift: I Will "Always" Stick Up For Her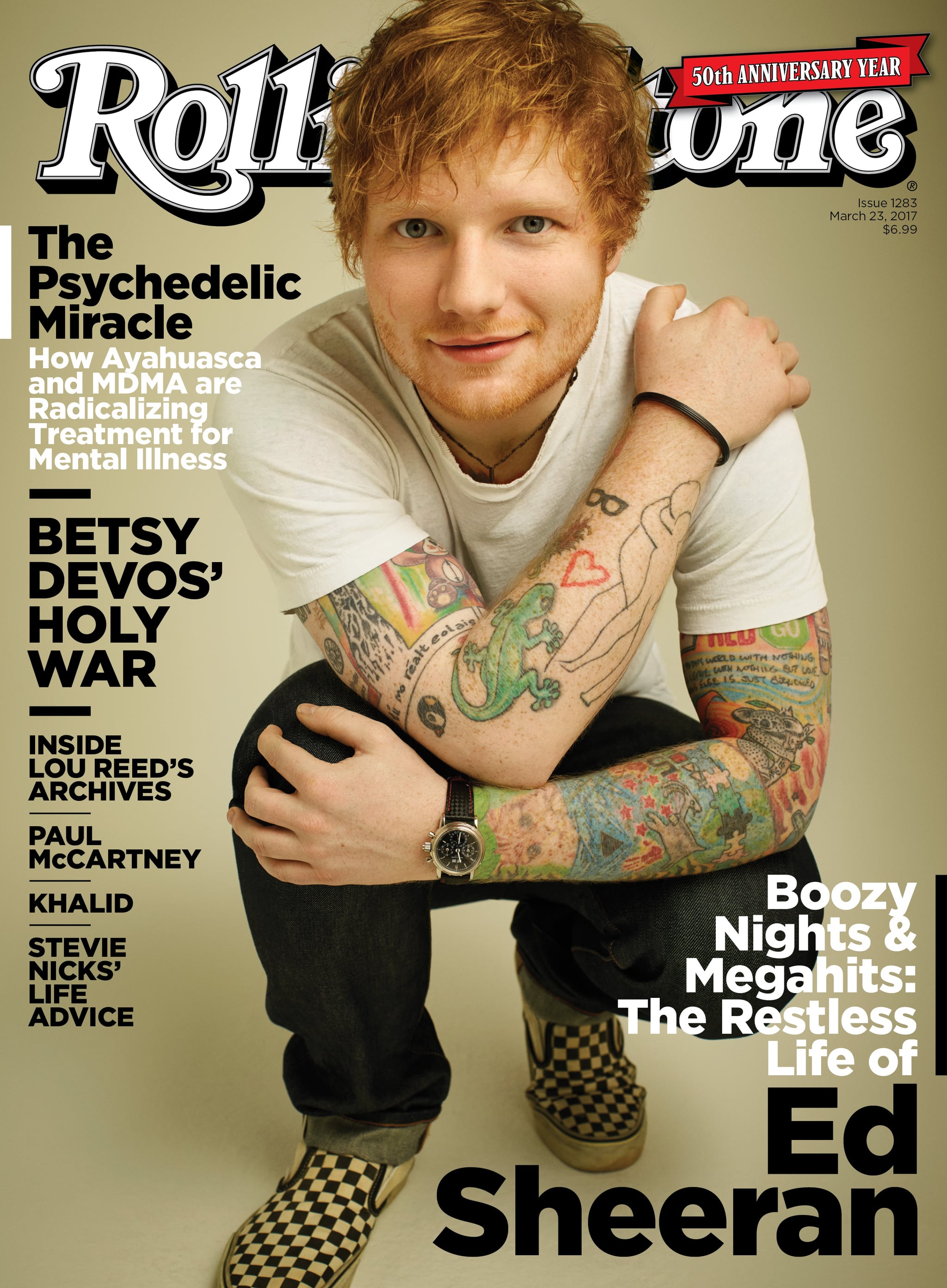 Ed Sheeran is basically taking over the world in 2017. In addition to his smash hit "Shape of You," his new album Divide, and his romance with Cherry Seaborn, the singer also graces the cover of Rolling Stone's April issue. While Ed looks incredibly cute on the cover (with that facial scar and all), his accompanying interview is what really caught our attention. He opens up about everything from his friendship with Taylor Swift (she says Ed is "the James Taylor to my Carole King and I can't imagine a time when he wouldn't be") to why he's not that into being famous. See his best quotes below.
On long-time pal Taylor Swift: "She would be there if everything ended for me. Taylor is kind of an anomaly in that sense. She's omnipresent because she's the most famous woman in the world, so she can't make the decision to not be in the press. I always stick up for Taylor."
On hooking up with some of Taylor's famous friends: "Taylor's world is celebrity. I was this 22-year-old awkward British kid going on tour with the biggest artist in America who has all these famous mates. It was very easy. I would often find myself in situations just kind of waking up and looking over and being like, 'How the f*ck did that happen?'"
On those rumours that he and Taylor dated: "I found that aspect quite lazy journalism. There wasn't any truth to it whatsoever."
On his girlfriend, Cherry Seaborn: "It's awesome meeting famous people. But that's not life. That's not reality. One day this will f*cking end. And I know the one person that's going to remain constant is Cherry. I should just enjoy this while it's there, but not let it become my reality. Because that's not the reality I want to live in. One of the main points of being in a relationship with me, you have to be really f*cking sociable and good at talking to people, because I will be dragged away loads at parties and events. And Cherry's perfect at it. She makes friends with everyone."
On losing friends after becoming famous: "The Forbes list actually f*cked it up," he said, referring to when they reported that he made $57 million in 2015. "I was getting texts from people with pictures of cars going, 'I'd like this for my birthday, please. This one's only .06 percent of your annual income.'"
On how rapping to Eminem helped his stutter as a kid: "You'd put your hand up and not be able to speak. And kids are cruel. So once that would happen, someone would imitate it. And then you'd be like, 'I'm not going to put my hand up next time.'"
On assembling a new boy band: "Super pop, but obviously credible. I'm gonna put three or four boys together and do all the songs, take them on the stadium tour with me."
On his attitude toward playing weddings: "I always say, 'It's free if I'm free.' As long as you sort me out with a lot of booze and a bed, I'm there."
On ignoring his critics: "I could give a f*ck about what people think. Anytime anyone has a problem with me, I'm just like, 'My heroes like me. The people I started music for are fans of my music. So why the f*ck would I care about what anyone else thinks?'"
On his red hair: "Most ginger-haired people I know are very outgoing and comedic. They basically say the joke before you can. Like, my first album is orange. There's a reason it's orange — I'm getting there before you can."
On wondering whether he drinks too much: "Often, I'm like, 'Is it bad that I drink almost every single day?' And then I look at my friends and most of them do the same. And they're actually worse than me. The first thing Americans say is, 'There's a problem, and you need to go to rehab.' But I don't wake up and drink. I don't depend on drink. I can go without it completely. I just enjoy going out and having fun, being 25. And I think that's a normal thing."
Image Source: Peggy Sirota for Rolling Stone Magazine