Elimination Interview With Ali From The Bachelor Australia
Ali From The Bachelor Talks Show vs. Real-Life Dating and Getting Over Heartbreak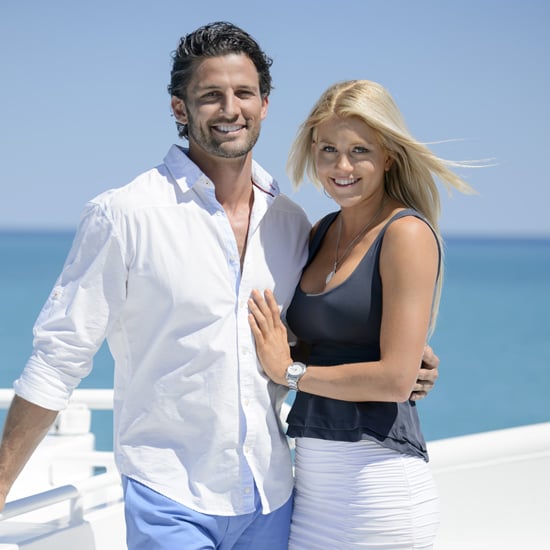 From the beginning of the series, 27-year-old real estate agent Ali was one of the standouts on The Bachelor. She wasn't afraid to put herself out there — some may have seen her actions as a little desperate — and was the first single lady to score a passionate kiss from Tim Robards. She shared many more special moments with Tim, even after hurting her leg on a group date, but failed to go all the way when she didn't receive a rose during last night's emotional rose ceremony, leaving Tim to choose between criminal lawyer Anna and model Rochelle. We caught up with Ali recently to talk about how she got over her heartbreak, whether she's dated since leaving the show, what the girls got up to when they weren't on dates, and what she learned from the whole experience.
POPSUGAR Australia: How's your leg?
Ali: Yeah, it's OK. [Shows bruises.] You can see the scars there. I still can't straighten it.
PS: It's weird to think you spent the rest of the series on crutches — not the most romantic of situations, and yet it opened up potential romantic moments.
Ali: Yeah, I was just really determined, and I definitely wasn't going to go home. That wasn't going to stop me. And I think it brought us together in a different way, and it showed his caring and nurturing side. I don't think many couples go through that sort of thing. Because it's such a big, traumatic thing that happened, and for him to be there for me, it showed me he's an amazing person.
PS: Do you ever think Tim felt pressure to always be this Prince Charming figure? Did you or the other girls ever put him on a pedestal?
Ali: Knowing Tim, he's very rational, and he wants something really real at the end of this, and he wants it to be lasting and genuine. I think he would always look at it very rationally and know that we're there for the right reasons. I don't think he was that worried. He obviously knew what the situation was, being that he was the only guy in the situation.
More from Ali when you keep reading.
PS: I think what seems to be hard to get our heads around, since we're not in your situation, is getting to know the other girls the guy you're seeing is dating.
Ali: I think it was better, definitely. I think it was definitely better knowing what girls he was dating. In the real world, I think it's horrible when you're double-guessing, 'Are they seeing someone else?' Here it's just straight-up — you know exactly what's happening, you know the situation, you can really mentally prepare yourself for that, as well. You can know that all the other girls are really different and offer something different to Tim, and he's got to choose which connections and girls suit him the best. We all know what the situation is — I think that helps. I would like that in the real world! Like, "I'm not sure whether I'm into you, so I'm kind of dating a couple of other girls . . ." I wouldn't mind that! I like being upfront.
PS: Is that something you've realised from this?
Ali: Yeah. I'm really upfront with how I feel. I think this show's definitely made me even more truthful and upfront. There's no point beating around the bush.
PS: In the 'Meet the Families' episode, you used the L word, and Tim said he couldn't say it back but was hoping your chemistry and body language might have said something. Were you expecting him to say something?
Ali: I wasn't expecting him to say the L word back, because I don't think he could do that at that stage. By him saying that he's falling for me back, and by him kissing me and hugging me, it was a reassuring thing for me. It made me still feel at ease.
PS: How hard was it saying goodbye?
Ali: I did not want to say goodbye at all. No way. I wanted him to stay a lot longer so we could spend more time with my family, so I could really show him around Adelaide. It was so great bringing him home, showing him my real world, and bringing him into that just made everything even more genuine. And I wasn't afraid to say it at that stage because family is really important to me, and seeing that my family really liked him, and that my dad approved of him, just reassured everything in my mind.
PS: How often did you girls get to see him? What were the intervals like between seeing him?
Ali: A few days. So every four days.
PS: So what did you all get up to when you didn't see Tim?
Ali: Lots of cooking. Lots of baking. Lots of exercising, weights, sauna, running around, doing aerobics classes. Watching DVDs. Chatting a whole lot. Lots of writing in my journal. Lots of reading. I wrote a song while I was in there.
PS: Are you a music person? Do you play an instrument?
Ali: I used the play the piano, but I sing. That's what I do.
PS: Do you have aspirations to be a singer, or do you just do it on the side?
Ali: I just do it on the side. I love kids as well — when I was younger I performed on The Humphrey Bear Show, and I sang and danced for the little kids, and that brought so much joy to me. Now it's just a creative element I can release, like I can write lyrics, because I'm so in touch with my feelings — that's, I suppose, all I was feeling about: my feelings, all the time. [Laughs] So it was a good release.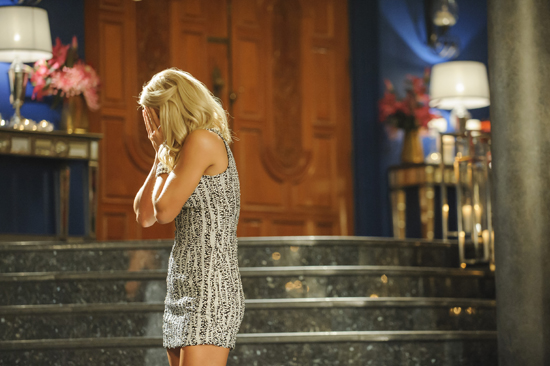 PS: How did you get over the heartbreak? Are you over it?
Ali: Well, of course it was heartbreaking, but at the same time I knew that there were two amazing girls left. I love Tim — I was aware of the situation, and obviously I wasn't right for him, and I had to get my head around that. Once I did, I was like, 'You have two gorgeous women here, and I know them, and I love them as well, and I want you to be happy.' And that's what I took out of it. Coming out as well, after a few weeks, I was more looking at it as a TV show. That made me get over it and heal.
PS: Did you feel any differently towards Anna or Rochelle knowing they were his top two?
Ali: No, not at all. I have my favourite. My best friend out of the two is Anna, so I wanted the best for her, but Rochelle, equally, is beautiful.
PS: Do you still keep in touch with the other girls?
Ali: Yes, still love them. We went through something that no one else would really go through together, and when you live in each other's pockets for that long, there's a bond that you form, and you become family. I've had friends since school but never spent that intense time together, and that emotional journey. So that's special.
PS: What's your dating life like now? Has being on the show affected it?
Ali: I haven't been dating, really. [Laughs]
PS: Do you want to put yourself back out there?
Ali: No, not yet. I want to concentrate on my career as a real estate agent. I haven't gone back to work because of my leg, and I won't be able to go back until about end of January, because I'm having my reconstruction surgery at the end of November. So I'll be out for a bit. But that's what I want to concentrate on, because I've been in relationships most of my life, and I really want to concentrate on me. When I'm in a relationship, it takes over.
PS: How are you going to try and occupy yourself over the next few months?
Ali: It's about putting my mind in other places, so really researching the real estate industry, writing music . . . I'm going up to Noosa for a whole month to live with Mum and Dad for rehab, because they have to look after me [laughs]. And they've got a pool, so I'll be doing rehab in there. Then Christmas will come, and it will make things fly by.
PS: What has the reaction from the public been like?
Ali: It's been absolutely, 100 percent positive. No one has said anything bad, and being in Adelaide, because it's a smaller city, everyone does recognise, and says things like, "We're rooting for you, Adelaide girl!" Everyone around me has smiles on their faces, coming up and saying hello. I'm in a good place.
PS: If Australia was to do The Bachelorette and asked you to do it, would you be up for it?
Ali: [Laughs] Yeah, I definitely would. I want to find the man of my dreams. [The show] would know my type. I think it would be something really exciting to do.
PS: What did you learn from the experience?
Ali: Probably the most valuable lesson is that I found out exactly who I was. That is so invaluable, and money can't buy that. I found out I was a stronger person than I ever imagined, and I'm a really positive person. It was really reassuring and comforting. It made me have so much more confidence in myself, and I know exactly what I want in life.
The Bachelor Grand Final airs Wednesday night at 7:30 p.m. on Network Ten.